As I prepared to encounter the first of three food challenges at three different Rochester area restaurants, it occurred to me: I love food and I love to eat, but for me, eating is more about frequency rather than amplitude. Even though the goal was to simply savor the experiences — this would be merely an exhibition, not a competition — intimidation set in. Yes, I was intimidated by a burger.
As an optimist, I walked toward Blu Wolf Bistro, at 657 Park Avenue, thinking, "Nothing's impossible." Then I recalled the quick response of a childhood friend, who, upon hearing "Nothing's impossible," would utter brashly, "Oh yeah? Eat the sun." I was about to try to eat the sun — between an innocuous bun.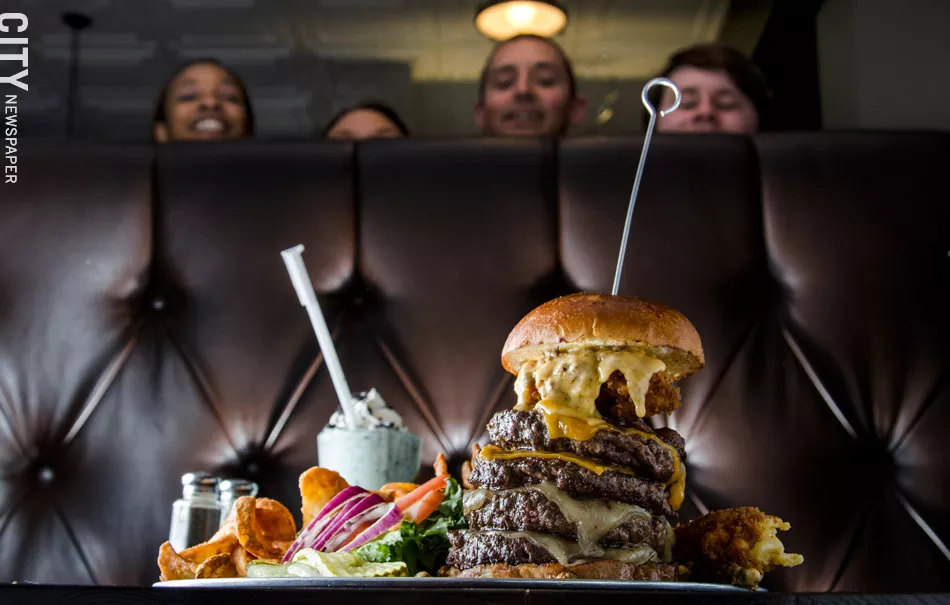 PHOTO BY MARK CHAMBERLIN
At Blu Wolf Bistro the challenger must eat everything within 40 minutes.
The Blu Wolf Burger Challenge held four 8-ounce burgers, one 4-ounce Mac Daddy Patty (a pan-fried disc of mac-and-cheese), 4 slices of onion, 4 slices of tomato, lots of lettuce, 3 strips of bacon, 2 ounces of cheddar, and an ounce of meat sauce. It's accompanied by pickle spears, a milkshake, and a pound of Blu Wolf's Bent Arm fries. The deal is to eat all of this in 40 minutes or less and win a t-shirt, the $35 meal for free, and public recognition through the restaurant's website, Facebook, and Twitter. Finish or not, Blu Wolf donates $3 of the cost to Crisis Center Nursery. Only two people — one in a remarkable 18 minutes, 54 seconds — have completed the challenge since the restaurant opened last November. I was not to be the third.
As I waited for my friend, I selected a discreetly positioned booth — I did not want to draw attention to my gluttony. But of course, when my order came out of the kitchen, it was accompanied by the ringing of a cowbell, employees clapping, and a server carrying not only my food but also a timer. As other patrons turned their heads toward our table, they could see my friend with a Caesar salad opposite my behemoth burger. Nice contrast; so much for discretion.
Eating the burger required careful deconstruction and attack strategies, including tipping it on its side and cutting out wedges with a knife and fork, and alternately picking up chunks of burger with lettuce leaves as the bun grew saturated. As my time crawled on, the whole conglomeration progressively lost its form.
Blu Wolf does some serious work with burgers, and this one was no exception. Expertly cooked, with complementary components and attention to detail, it invited consumption. By the end, however, savory satisfaction turned to aversion, as the sharp and smoky flavors faded into an abyss of only mass and density.
The primary obstacle to finishing this meal is the sea of fries. Blu Wolf's are unique, and they are tasty, but a pound of those starchy carbohydrates in one's digestive system is hard to fathom. Bloated as I was, I tried to imagine how I would get through the next challenge.
Final results: I finished about 40 percent of the burger, about 30 percent of the fries, 100 percent of the milkshake, and ate the rest of the burger — sans remaining bun — for the next day's lunch.
PHOTO BY MARK CHAMBERLIN
The Burritosaurus challenge — a five-pound burrito — at Burrito Fresco in Brockport.
My next challenge would be a five-pound burrito at Burrito Fresco in Brockport, 77 Main Street. Prior to the visit with friends — one of whom also tried the challenge — I tried to envision just what a five-pound burrito would look like. How much actual volume it would have? About the size of a football, the beast looked more like a giant Stromboli than a burrito. The Burritosaurus consists of either beef or chicken (I chose chicken), rice, corn, black beans, cheese, sour cream, and hot or mild salsa (hot for me) and taco sauce, all stuffed into four tortillas. Burrito Fresco also provides competitors unlimited beverage refills. The deal is to finish the burrito — $30, with a 10 percent discount if paid in advance — to get your photo on the wall. Although you are timed, there is no limit. Seven people have finished it since October 2012, one in a record 12 minutes, 40 seconds. Inconceivable.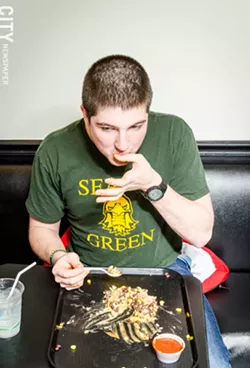 Kenton Decross eats a 5lb burrito at Burrito Fresco in Brockport. He finished in 34 minutes 50 seconds.
Burrito Fresco is a pretty bare bones kind of place, and the Burritosaurus is served in a similar fashion: unadorned atop a blank canvas of a brown, plastic cafeteria-style tray with plastic utensils, which were a bit paltry for the job at hand. Thankfully, there were few other people in the small restaurant on this evening, and I was not the only one indulging, so drawing unwanted attention to myself was not much of an issue at all.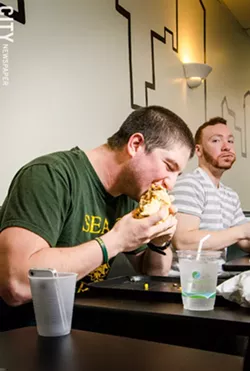 PHOTO BY MARK CHAMBERLIN
Dan Vadnais (right) has completed the burrito challenge in 14 minutes 40 seconds. Here he attempts a 3-pound cupcake challenge at Burrito Fresca.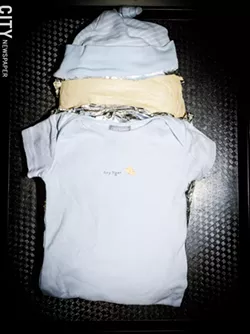 PHOTO BY MARK CHAMBERLIN
The burrito, not un-similar in size to a small child.
As with the burger challenge, an attack strategy was necessary. The best advice came from my partner in excess who offered, "Don't think of it as a five-pound burrito; think of it as five one-pound burritos." It didn't matter. Despite its size, this was a finely concocted, well-balanced burrito, especially when topped with some of the restaurant's tasty, and humorously named, Zack Morris sauce. If I closed my eyes, I could focus on the melding of flavors alone; as time passed, opening them brought home the reality how little the burrito was shrinking and how much my friends' eyes began to look like black beans. It was time to wave the proverbial white flag.
In the end, just like cotton candy at the carnival, too much of a good thing is not a good thing and the burrito's taste became indistinguishable from the tray on which it sat. My stomach warned of revolt by the time I had consumed about 40 percent of the burrito, and several glasses of root beer. I had leftover burrito for lunch the next three days.
PHOTO BY MARK CHAMBERLIN
Greg Davis attempts to eat a seven-pound bowl of Pho at The Soup Spoon in Victor.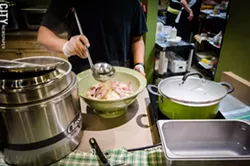 PHOTO BY MARK CHAMBERLIN
The SOUPer Bowl Challenge involves consuming seven pounds of pho in less than 45 minutes at The Soup Spoon in Victor.
At The Soup Spoon, a Cambodian restaurant at 10 East Main Street in Victor, my stated objective would be the $25 SOUPer Bowl Challenge. I had to consume seven pounds of pho in 45 minutes or else have my photo posted on the restaurant's wall under the title of "Pho-tality." Winners are anointed as "Pho-natics" and receive a commemorative t-shirt. This wall of fame and shame currently had one photo in each category. Still aspiring to anonymity, I was chagrined to find that they had a chair ready for me. How did I know it was mine? It had helium balloons tied to it. My friends laughed; I sighed.
Upon receiving the trough-like bowl of soup, I had three children watching every pass of spoon from bowl to mouth. Every group that entered was greeted with, "Look — we've got a challenger." Lots of fanfare, lots of encouragement — they even offered me a small cup to scoop out soup — but no beverages, no going to the bathroom, and no regurgitation, as stated in the waiver I had to sign.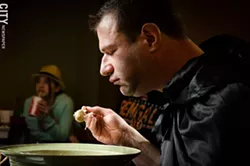 PHOTO BY MARK CHAMBERLIN
Greg Davis.
It began as a steaming, delicious bowl of pho, which I carefully seasoned and adorned with the accompanying accoutrements, but by the end, in my liquid-induced delirium, the complex broth seemed like so much dishwater and the contents of my stomach had turned into a gelatinous noodle glop. I needed to throw in the towel. I felt a sense of defeat and that I had disappointed the kind and supportive people at the restaurant. Final tally: I finished about half of the bowl and still had enough for three more lunches. And there's a new Pho-tality on the wall.
All in all, a set of fun experiences, but I was glad the mass consumption was over. I'm not sure who succeeds at these challenges or how they do it, but I think I'd need to subtract about 20 years and add one solid case of the munchies to have any shot at the title.