The smell of wet cereal and yeast is in the air at Rohrbach's Railroad Street brewery.
It's 9 a.m. on a Thursday and the staff is well into the first of two daily brewing shifts. Workers run hoses between the brewing and fermenting tanks, while Jim McDermott, Rohrbach's director of brewing, tests samples at a workbench that looks part chemistry lab, part kitchen.
Rohrbach bills itself as Rochester's first craft brewery, and in its 25 years in business, it has grown from a small operation in the German House to two brewing sites, one on Railroad Street and one on Buffalo Road in Ogden. Combined, the operations will produce about 10,000 barrels of beer this year.
The Rochester region — New York as a whole, really — is experiencing a beer boom, to the point that it sometimes seems as if a new local brewery opens every month.
The latest: Three Heads Brewing will throw a three-day shindig starting June 16 to celebrate the opening of its long-awaited brewery and tasting room on Atlantic Avenue, roughly a mile from the Rohrbach beer hall. The opening coincides with the tail end of Rochester Real Beer Week; Rohrbach and Three Heads will release a collaborative brew at the event.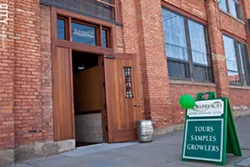 FILE PHOTO
When Rohrbach opened its Railroad Street brewery, it wasn't able to sell beer by the glass. After a change in state law, it opened up a beer hall.
"As long as people are making good products and stuff, I'm optimistic not only about the industry as a whole, but where Rohrbach's fits in or where these new companies fit in," says Rohrbach founder and owner John Urlaub. "I think it's all been good."
Monroe County has more than 15 licensed breweries, according to the State Liquor Authority. Statewide, 240 breweries are up and running, with another 40 in the works, says Paul Leone, executive director of the New York State Brewers Association; compare that to 2012 when there were 95 breweries in New York State. The 240 breweries generate $4 billion of economic activity in the state, Leone says.
"Before Prohibition, there were 350 breweries in the state of New York, and the population was only five million," Leone says. "We have a population of 20 million now and we have 240 breweries, so there's room, as long as the quality stays high."
The breweries, from craft giants such as Saranac and Brooklyn down to small operations such as Roc Brewing, produced about one-million barrels of craft beer over the past year. New York is now a top five beer-producing state behind California, Colorado, Pennsylvania, and Oregon.
But those one-million barrels don't include the state's large, mass-market breweries such as Genesee — though it includes some of its smaller craft lines — and the Anheuser-Busch plant outside of Syracuse. Between them, they add millions of barrels to New York's brewing totals (neither discloses actual production figures).
New York's beer boom has to do with market trends and the preferences of millennial and Gen-X drinkers; they want to know where their beer comes from, and they prize local brews. The Brewers Association, which is a craft beer industry group, says that overall beer sales by volume declined by 0.2 percent in 2015, but craft increased by 12.8 percent and now holds 12.2 percent of the market.
PHOTO BY MARK CHAMBERLIN
Swiftwater Brewing co-owner Andy Cook says the brewery sells most of its beer through its Mt. Hope Avenue tasting room.
The Legislature and governor made important changes to state laws in 2012 which allowed breweries to sell beer by the glass in their tasting rooms. Before that, brewers could only offer samples and sell products to customers to take home, which is what Rohrbach did when it opened its brewery next to the Public Market. Now it has a full-blown beer hall where customers can have pints and a bite to eat.
The changes in state laws opened up a new business model for New York breweries, which provides higher margins on breweries' products, says Leone, of the State Brewers Association.
Swiftwater Brewing Company, which opened in January 2015, sells most of its beer through its restaurant and tasting room on Mt. Hope Avenue in the South Wedge, says co-owner and co-brewer Andy Cook. This approach was always a key part of the brewery's model, and the tasting room is its biggest revenue stream, Cook says.
Two countervailing forces shape the business of New York beer: massive brewery consolidation and the growth of hyper-independent brewers who want to make interesting beers. Sometimes, those trends overlap: Anheuser-Busch InBev, which bought Goose Island, a craft operation still held in high regard by many beer drinkers, is currently in talks to consolidate with another beer behemoth, SAB Miller. If the deal goes through, the world's largest brewer will combine with the world's second-largest brewer.
PHOTO BY MARK CHAMBERLIN
The Genesee Brewery is still producing large quantities of its iconic beers, but with the opening of the Genesee Brew House, it's started producing small batches of craft beer, too. Some of those offerings are scaled up for production in the main brewery.
Craft beer's definition has gotten a little fuzzy because of those dynamics. And several breweries, including the Genesee Brewery on St. Paul, now produce mass-market beers and craft lines.
The Genny brewery is New York State's oldest, and one of the oldest continuously operating breweries in the country. It still cranks out its iconic brews: Genesee Beer, Genesee Light, Genesee Cream Ale, and the seasonal Genesee Bock, in huge quantities. It also runs its Dundee craft line, which started in 1994 with J.W. Dundee's Honey Brown Lager, and has a big contract brewing business; company reps won't disclose their clients.
But Genny is acting more and more like a craft brewer these days. The shift started with the 2012 opening of the Genesee Brew House and its pilot brewery, where brewmaster Dean Jones developed a growing list of highly acclaimed brews. Some of the beers have been scaled up and produced in small runs at the main brewery, including a limited-release salted caramel chocolate porter produced in partnership with Hedonist Artisan Chocolates; a Scotch ale that's now a mainstay; and a well-received North German-style pilsner.
And Genny's parent company, North American Brewing, is investing $39 million to modernize the plant's brewing systems. The brewery's current system brews in 1,000 barrel batches; it's meant to produce large amounts of a few recipes. But since Genny now wants to produce a greater variety of products in varying batches, the brewing staff needs flexibility. That ability is vital to grow Genny's craft lines as well as its contract brewing business.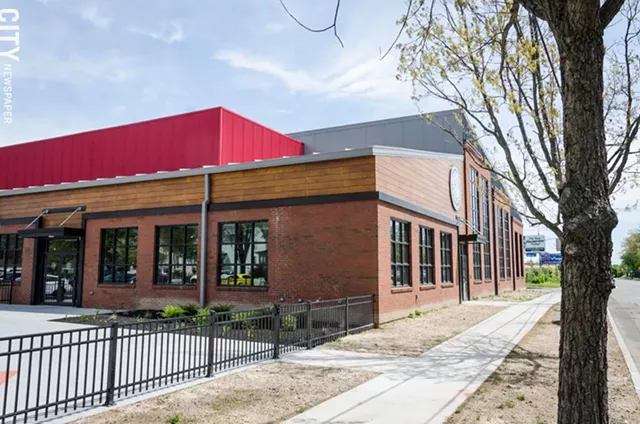 PHOTO BY MARK CHAMBERLIN
Three Heads Brewing will open its Atlantic Avenue brewery and tasting room later this month.
The new system is based on 500-barrel batches, which means it can easily produce smaller runs of a new brew while still cranking out the classic Genny styles.
"It's kind of like the latest iPhone in brewing," Jones says. "It opens up a lot of processes we can do that we can't do now."
The system will also use less water, fewer raw materials, and less energy. That means the upgrades will lessen the brewery's environmental footprint and provide better margins on Genny's products and the contract brewed products, says Mary Beth Popp, North American Brewing's director of corporate relations.
So why does a mass-production brewery, which at one time was neck-and-neck with Budweiser in terms of beer output, care about craft? Prestige plays a role; brewers take a lot of pride in what they make and often jump at the opportunity to show consumers what their breweries are capable of. That's what Genesee's craft Pilot Batch series is all about.
"The first beer I ever drank in my life was a Genny Cream Ale," Jones says. "That's what I grew up with and it was awesome. I think with the addition of the Brew House, it's allowed people to go 'Holy cow!' and think of Genesee in a different light."
The Rochester region's beer industry is more aptly viewed as a brewing community. And the Genesee folks don't want to wall themselves off in their cream-colored brick complex. They want to work with small brewers across the area to help boost the quality of everyone's products, including their own, they say.
And quality is not the same as preference, though brewers and beer drinkers sometimes equate the two. There's a difference between drinking an IPA and not liking it, and drinking an IPA and tasting some out-of-place buttery flavors, which mean that the beer didn't ferment properly.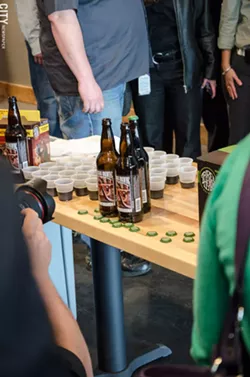 PHOTO BY MARK CHAMBERLIN
A selection of bottled beers at the new 3 Heads Brewery site.
Genesee has valuable brewing and quality control experience to share, and staff members have opened Genesee's doors to the region's smaller brewers. They run monthly taste panels where local brewers can learn how to identify off flavors in their products as well as what those notes mean. The brewers can also bring their products to Genesee's quality lab, where techs will analyze qualities such as color and the bitterness unit level (generally a measure of a beer's hop character). And it's all free of charge.
Jones has also helped some of the new breweries install or locate equipment. But he occasionally asks for favors, too, like when he recently called on other brewers to help him get his hands on a certain kind of hop.
"At the end of the day, yes, we're competitors, but we really want to help everyone," says Joe Bustos, Genesee's senior manager of corporate quality assurance.
But there's something else in it for Genny that will benefit other brewers, too. Ultimately, the company sees Rochester as a beer destination. If everyone in town produces high-quality beer, people will come to the city or region to tour the breweries, not unlike what happens in Portland, Oregon, or Asheville, North Carolina.
This approach worked well for Finger Lakes wine. As more small wineries with top-notch vintages came on the scene, more people started making trips to tour the region; the scenery helped. Local brewers say that they want to replicate that success.
"Typically, when people make beer trips, they don't go to go to one brewery, they go to multiple breweries," Popp says. "The attraction is really to have multiple quality breweries in close proximity to one another.
PHOTO BY MARK CHAMBERLIN
Three Heads Brewing co-owner Dan Nothnagle says that Rochester has a healthy market for craft beer.
Swiftwater Brewing Company is about 1.5 miles south of the Genny brewery, just across the road from the Genesee Riverway Trail.
The brewery and tasting room grew out of co-owner Cook's home brewing. He was convinced to pursue the establishment after he saw Tap and Mallet's success and the growing popularity of online beer groups.
Swiftwater brews playful beers — one current offering blends kiwi and hard cider with the brew — many with a strong Belgian influence. In its first year, Swiftwater produced 500 barrels of beer.
Cook's idea was to build a neighborhood-focused brewery; he talks about a "third place," which is a public spot outside of home or work where people gather. Swiftwater's growth will stay close to that vision, he says.
"We're not planning on being the next regional brewer," Cook says. "We're really planning on making what we are now as awesome and big as we can in the space that we have right now."
Swiftwater is one of six farm breweries in Monroe County, according to Liquor Authority data. The others are Lost Borough on Atlantic Avenue in the city, Knucklehead Craft Brewing in Webster, Fairport Brewing Company, RG Brewery in Sweden, and Griffs Brewery in Parma.
The farm breweries play an interesting role in New York's beer economy. The farm brewery license is a little cheaper, and it allows the breweries to sell other New York-made wines and spirits. In return, their beers must be made with a certain percentage of New York State ingredients: the current requirement is 20 percent, but it goes up to 60 percent in 2019 and then 90 percent in 2024.
The idea is to provide farmers with new marketable crops, namely hops and barley. And those products are valuable commodities: farmers in Oregon grew eight-million pounds of hops in 2014, with a value of $35.7 million.
PHOTO BY MARK CHAMBERLIN
The Genesee Brewery is still producing large quantities of its iconic beers, but with the opening of the Genesee Brew House, it's started producing small batches of craft beer, too. Some of those offerings are scaled up for production in the main brewery.
New York has nine malt houses and a growing number of hop farms. State growers have produced high-quality hops for a long time, says Rohrbach's Urlaub. But the hops often weren't in a dried, shelf-stable form, so they had to be used immediately. That's changed, and Rohrbach now buys as much local material as it can for its seven-barrel brewery at its Buffalo Road restaurant.
Cook grew up on his family's farm and his father grows the barley used in Swiftwater's beer. The family sells the barley to Pioneer Malting on Paul Road in Chili, which processes the grain for brewing and sells it back to Swiftwater.
Three Heads Brewing's origin story is not too different from Swiftwater's. Neighbors Dan Nothnagle, Geoff Dale, and Todd Dirrigl started getting together about 10 or 15 years ago to drink some of the beers that Nothnagle acquired as he traveled around the country.
The men decided to learn how to make their own beer, and eventually decided they wanted to pursue a brewery. But the economy was in the dumps, so they hired CB Craft Brewers to produce their recipes.
Now, however, Nothnagle, Dale, and Dirrigl are about to open their own brewery, and they're excited about the opportunities. Higher volume is one benefit: Three Heads brewed about 3,400 barrels in 2015, and the company expects to double that figure in its first full year at the brewery. It also expects to employ approximately 15 people.
Three Heads is known for its IPA's, a style that the founders enjoy, but it also makes seasonal stouts, porters, wheat beers, and brown ales. And the men will now be able to make lagers, which they did only occasionally at CB's, since the style has to sit in a fermenting tank longer than others.
"We've always wanted to build the brand and then build the brewery, so this is just a natural evolution of our path," Nothnagle says.
Each new brewery makes the market more crowded, Nothnagle says. And it's up to the breweries to make sure that they're making high-quality beer that the public enjoys, since bad experiences with one brewery may reflect poorly on others, too, he says.
But Rochester has a healthy market for craft beer, which is helped by its white-collar workforce, which is the prime demographic for the industry, Nothnagle says.
To thrive, Three Heads and other local breweries need the support of Rochester's beer drinkers. In return, the breweries want to provide something of value to the community.
"I think having good, local craft beer is a vital part of the economy," Nothnagle says. "What you've seen with the craft beer movement is a return to pre-Prohibition states where each community had several breweries where they could get good, fresh beer."
[embed-1]