Sipping coffee in Boulder Coffee on Park Avenue, Kate Royal sits at what she determines is "the best seat." She's surrounded by local art, and it's a suitable vibe for her. This could be her office.
Ask Royal about modern theater or female playwrights and she'll jump in and debate like a seasoned erudite. And when she stakes claims, like, "Tennessee Williams is better than Arthur Miller," Royal isn't blowing pompous air. Rather, she genuinely wants to have these discussions. It's a passion that's contagious, and it's led Royal to write four full-length plays, three of which have been produced. The latest — "Girls Can Tell," a drama about campus sexual assault — is set to premiere April 18 at SUNY Geneseo.
Like most artists and writers, Royal is hardest on herself. She's only 23 years old, but that's a problem: she's somehow behind schedule. "Lucy Prebble had a play on the West End by 23," Royal says. "Lena Dunham had her own show by 23. I'm behind."
But that's hardly the case. Royal has emerged as one of Rochester's most exciting new playwrights. Capturing the spirit of today's millennials with a ferocious authenticity, her characters are often transparent, neurotic, and on their phones. Royal's work has earned her an artist-in-residence position at the Multi-use Community Cultural Center, where she's developed and workshopped a number of projects. During last year's Rochester Fringe Festival, she debuted "The Nameless Days of Gumdrop Smith," an absurdist play with an androgynous lead who subverts gender and sexual identity. Most recently, Royal premiered "Mammoth," a millennial drama about a group of estranged siblings who reunite to clean out their parent's home. "Mammoth" showcased Royal's potential to construct powerful, realistic 21st-century characters, and it built up a buzz around town about her.
"It was in process for so long," Royal says about "Mammoth," rolling her eyes and thinking back. She's proud but exhausted. "I tinkered with it for close to four years."
"Mammoth" was effective because it felt so easy: a couch, a kitchen table, two brothers, and a sister. Characters watch TV together, drink, and check their phones. A rock band, The National, serenades scene changes, and throughout the play, these siblings attempt to confront the issues that once drove them apart. But communication doesn't come easy.
"When I first heard Kate Royal's 'Mammoth,'" says John Borek, director of artistic development at MuCCC, "I knew that I was witnessing the work of a young playwright with extraordinary gifts. I had a sense of discovery ... someone who can capture the idiom of her generation and can also capture the silence as well."
At times, "Mammoth" seemed scriptless, as if it was all just improvised. However, every verbal pause or hesitation — "Ums," "f**ks," "I just," the diatribes of a Facebook generation — was written in to the script. It's a sharp voice with a finger on the pulse, seizing the spirit of today's neurotic, hyper-connected-but-disconnected millennials.
"I love human speech," Royal says. "I love how strange it is. How funny it is. How you can have these intense, big moments, but they can be so easily undercut by something silly and stupid. Young people, specifically, have the most absurd language and speaking rhythms."
Royal describes her own writing voice as an "uncynical realist." This notion fits her personality, too. At first glance she's reserved, but at unexpected moments her quirky and almost whimsical sense of humor seeps out. Royal has an understated smile that basks in the spotlight of awkward silences — it's hard not to think of Liz Lemon, Tina Fey's character on the TV show "30 Rock" (but that might be because of the glasses).
She scoffs at the contemporary notion that reality driven narratives must be wholly negative, calling this pervasive (often male-driven) theater, "masturbatory pessimism." Rather, Royal is more concerned with writing character driven stories that directly reflect both the immediate audience and the wider culture at large.
"My goal as a writer is always to create characters whose chief objective is to be understood," Royal says, "discovering the extent to which that is or isn't possible is the source of [my] drama."
Unlike her plays — with characters who often scream at each other, desperately trying to be understood — Royal seems completely comfortable in her own skin. She's a native of Tappan, New York, a suburb not far from Manhattan. She came to SUNY Geneseo originally targeting a career as an English teacher. And while it's not farfetched to see Royal teaching English, SUNY Geneseo introduced her to student theater and the relationship blossomed.
"At SUNY Geneseo there was a lot of learning-by-doing," Royal says. "Student theater gave me chances to make my own opportunities."
This is where she wrote her first full-length play, "Other Women," a drama about a grieving widow who invites over the mistress of her deceased husband. The story came from a real-life scenario that Royal had overheard, and the production was only meant as a one-off experience. But after seeing "Other Women" produced (she also directed it), Royal knew that she was hooked. "I saw my characters on stage, and it was just ... Well, I'll just say that I have only written plays ever since. I don't know why people don't write only plays. Your characters are alive and in front of you. Did they not tell you how this worked?"
Royal graduated in 2013 from SUNY Geneseo with a Bachelor's degree in Theater and English. Since, Rochester has played an essential role in developing Royal's young career, where in addition to her artist-in-residence at MuCCC, she works in the box office at Geva Theatre Center.
"Rochester is a smaller scene but professional," Royal says. "You can get good work done here. There's a freedom to produce what you want. It's helped me to build a solid foundation."
Royal's latest play, "Girls Can Tell," is her most ambitious work yet. It's also her most present, focusing on the outbreak of sexual assault on college campuses around the U.S. In the play, the character Michelle is only weeks from graduation. At a party she finds Jason, an amiable lacrosse player with whom she has a crush. They both get drunk and begin to make out, but Michelle draws a line that Jason crosses. In the aftermath, Michelle discovers that rape isn't as clearly defined as she once thought, not in today's society, not in her own mind. She's met with a culture of friends and professors that either doubt her, try to lighten up the situation, or motivate her to just forget the thing entirely.
Royal considers herself a burgeoning activist, so the motivation for writing "Girls Can Tell" was innate. She says she was weary, however, of the downfalls that come from writing an activist play: that the finished product can sometimes suffer when an overt agenda is prioritized over the development of characters. In the writing process she confronted this problem directly and committed to keeping "Girls Can Tell" character-centric.
"No one is writing about college sexual abuse, unless they're intentionally trying to be controversial about it," Royal says. "As a writer I'm offended by this. You're not doing it for the right reasons.
"These 'issue-plays' are political, but they're not very compassionate," she adds. "Don't make these people feel even more alienated."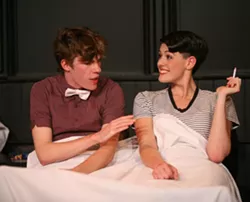 PHOTO COURTESY ANNETTE DRAGON
Scene from "The Nameless Days of Gumdrop Smith": Liam Enright , Melyssa Hall.
Like in her other plays, Royal has committed to building characters the audience can believe in. Michelle and Jason are innocent in many ways, and guilty in others. They are products of their environment, and yet, are entirely accountable for their own actions. "I had to be careful not to settle on easy character definition," Royal says. "It was important to me that both characters are sympathetic. We can't keep talking about rape in these absolute terms. We can't keep looking at people as only rapist and victim — instantly victimizing one person and demonizing the other."
"It's hard to walk away from a Kate Royal script without empathizing with multiple characters," says Emily Putnam, a local actress who appeared in "Mammoth," and will soon play Michelle in "Girls Can Tell." "She creates honest, fully realized worlds in which her incredibly thoughtfully-written characters thrive."
Royal hopes that college audiences, specifically, can identify with her characters and this story. "Students should be able to watch this and feel like their experiences are being accurately portrayed," she explains. The performance on April 18 at SUNY Geneseo will feature a talk-back after the show, and potentially a panel to discuss the topic in more serious detail. Royal hopes, in the least, that "Girls Can Tell" will start a conversation.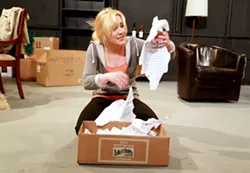 PHOTO COURTESY ANNETTE DRAGON
Scene from "Mammoth": Emily Putnam.
In the fall, Royal is moving to Evanston, Illinois, to work on her MFA in Writing for the Screen and Stage at Northwestern University. It was a decision she labored over, whether to even pursue a master's degree at all. "I was expecting to just move to New York," she says. "I wasn't hearing back from schools, and I had this friend on the Upper West Side with a room opening up. I got this interview at Northwestern. I honestly didn't think much would come from it. I had nothing to lose, really."
Royal was accepted into a Northwestern program that admits only 12 people. She decided that she belonged in academia, at least for a couple more years, finding great value in the motivation that comes from writing in a network — like what she's experienced here in Rochester.
"I love what Rochester has done for me, and what I've been able to do here," Royal says, admitting, however, that she's ready for a bigger stage. "I'm looking to be challenged. I'm looking to grow — even if it means being kicked to the curb a few times."
Until her move, Royal will use her time to keep working. She is hoping to pull a production of "Girls Can Tell" together within Rochester city. She'll also keep pondering about what it means to be a writer.
"All writers are perverts," she asserts with a laugh, echoing the sentiments of one of her favorite authors, Ian McEwan. "The writer's job is to empathize, foremost, but at the end of the day, we're all just voyeurs. We take sick pleasure in appropriating other's tragedies."