PHOTO BY JOHNY EDOUARD PHOTOGRAPHY
It is barely spring, and I already cannot wait for the end of summer. August 10 marks the annual Carifest Parade and Festival, a day-long celebration of Caribbean culture with music, dancing, food, and art. This is exciting to me, not only because it is one of the many good excuses to go outside and enjoy a summer day during Rochester's packed festival season, but also because it is New York's largest Caribbean heritage festival north of the Five Boroughs. Additionally, this year's festival is a milestone: the 35th Carifest celebration.
The Caribbean population in Rochester is also the largest in the state, next to New York City. As with millions before them, Caribbean families came from their home lands to New York with hopes for a better life. As a major hub, however, NYC can be a bit overwhelming, and some sought refuge from such a fast-paced environment but still wanted the opportunity for their families to flourish. Rochester is ideal for that.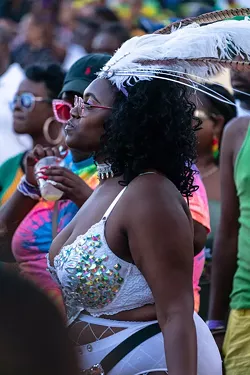 PHOTO BY JOHNY EDOUARD PHOTOGRAPHY
A Caribbean community took up roots in the area, and in 1983, The Rochester West Indian Festival Organization was born. RWIFO's purpose is to promote Caribbean culture in the Greater Rochester area through educational workshops, public celebrations, and engagement with other cultural community organizations. The ultimate goal is to instill their children with cultural pride and an understanding of their roots while empowering them to succeed in the modern world.
That goal is realized in part through scholarships that the RWIFO grants to qualifying, college-bound students every year. The proceeds of events like Carifest go directly to the RWIFO scholarship fund, which is all the more reason to attend. It is not often you can soak up some late summer sun, sing and dance during the day, eat food from other regions, and help a kid get money for school at the same time.
Carifest boasts a packed schedule. The kick-off parade starts at 11 a.m. at the Liberty Pole. The parade travels west down Main Street, across the bridge, and then right onto South Plymouth Avenue. Caribbean festival parades are must-see events. Photos and videos do them no justice. The work that parade participants put into their lavish, Carnival-style wardrobes and floats deserves a live audience. The parade ends at Brown Square Park, this year's festival ground. There, patrons will be greeted with numerous food options, a large performance stage, and activities all day until 10 p.m.
PHOTO BY JOHNY EDOUARD PHOTOGRAPHY
The food will be from local vendors who specialize in their native cuisine, so you can expect choices from Jamaica, Barbados, Antigua and Barbuda, Cuba, Guyana, Dominican Republic, Puerto Rico, and more. The music will be from all over the Caribbean as well, primarily focusing on reggae, dancehall, calypso, and soca. Two years ago, the headlining artist was dancehall superstar Elephant Man. Last year, world-famous reggae star Barrington Levy headlined the show. As of the publication of this festival guide, RWIFO President Arianne Walker-Samuels was tight-lipped on who this year's headliner will be, but she did promise it would be a well-known soca star.
The choice to host the festival at Brown Square Park, instead of the previous two years' Martin Luther King Square Park location, is partially a callback. According to Walker-Samuels, Brown Square Park was the site of the first Carifest. With this year's theme, "For the Culture," she wants the festival to get back to its roots and not only celebrate how far the community has progressed, but also embrace where it's come from.
Brown Square Park is in the neighborhood where many expatriate Caribbean folks settled, so much so that Walker-Samuels likes to call that part of the West Side "Little Jamaica". This is exemplified by the number of Jamaican and other Caribbean food venues in the area. People's Choice Kitchen is just a few blocks from both It's All Love and African Caribbean Market, which is a neighbor to Livie's Restaurant. Down the street from Livie's, one can find D'Mangu, Jamaican Soul, and Pop Style International. The community is rich with food and Caribbean culture, because the community members built it to support each other. Many of these businesses are also co-sponsors and vendors for Carifest, as all RWIFO members work on a volunteer basis.
PHOTO BY JOHNY EDOUARD PHOTOGRAPHY
Hosting Carifest in a green space like Brown Square Park also encourages the all-inclusive spirit that President Walker-Samuels plans to promote. This year's Carifest is set to be even more of a family affair than usual. Artists booked will span multiple genres and decades. Elephant Man appealed to younger festivalgoers, and Barrington Levy was a big hit with lovers of classic reggae. This year's soca artist is meant to be a universal bridge; all generations should have a good time at Carifest. The parade is always free; pricing for other Carifest activities, including the headlining concert, is yet to be announced. As it becomes available, more information can be found at rwifo.org.