Friday on the Fringe was full of free offerings, but fun, not free, is the word that epitomized the night for me. I left feeling happy, energized, and excited about the festival; music, dance and photography cavorting in my brain.
Sisters of Murphy, a local band that fuses traditional Celtic drinking songs with rock 'n' roll played at that Manhattan Square bowl, a venue that worked well acoustically. I have been meaning to hear this band ever since I heard its name -- the play on the classic Goth band Sisters of Mercy spoke to me. These guys obviously had a biting sense of humor with a touch of Sesame Street. And they did not disappoint.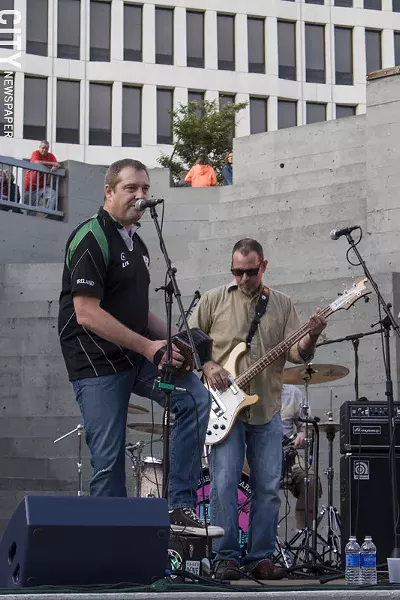 PHOTO BY ASHLEIGH DESKINS
Sisters of Murphy.
Frontman Mark Tichenor (on concertina) frequently drew laughter from the crowd with his spot-on humor -- humor that also found its way into the lyrics. The refrain of the group's original "The Rehab Song" had me chuckling. "Johnny, I can save you. Johnny, I can save you. But first you have to put the whiskey down."
Then there was "Katie Dear," off "Holy Show."
"This one goes out to every girl named Katie," Tichenor quipped to the audience. "How many Katies do we have tonight? We love you Katies."
The huge audience was enjoying themselves immensely, dancing to the music with moves from hip-hop to simple rhythmic swaying. The band was good at connecting with its listeners verbally; plus the members were fun to watch. The band's other frontmanJona Chartrand (on electric guitar) had the rock 'n' roll moves to keep the audience on their feet. Besides, the music was too good to sit still too. It went from tender to ribald emotionally and just grabbed and held you musically.
PHOTO BY ASHLEIGH DESKINS
Sisters of Murphy at the Manhattan Square Bowl.
Next, I caught FuturPointe Dance and Carrie Mateosian in "Unbridled" which took place in the Spiegelgarden. This high octane production had a juicy voyeuristic vibe since we were basically seeing a live photo shoot of gorgeous, scantily-clad dancers moving sensually as fine arts photographer Mateosian snapped away, her shots projected immediately upon a large screen.
The featured dancers, Liam Knighten and Melinda Phillips, were turned into other-worldly creatures via body art before Mateosian started capturing their images. First, Mateosian smoothed a white cream onto their bodies, then poured colored sand over them, the dancers assisting in the transformation. The audience gathered close, watching spellbound as first Phillips, then Knighten, seemed to revel in their new identities, losing themselves (and us) in exalting movement -- crouching and rising, writhing and extending -- exploring physicality and movement in their changed state. And, finally, moving together in skin-tingling connections.
Guy Thorne, co-founder of the five-year-old company, played the role of commentator in this production. While his dancing was missed, he contributed humor and depth to what we were observing.
"The play of textures -- the sand versus the complexion of the body -- helps create a dynamic image," he said.
Although this show featured less choreographed dancing than most of its contemporary-based performances, the show opened with six FuturPointe dancers enthralling us with their loose-limbed rhythmic moves, sassy and sexy. They looked to be enjoying themselves too, perhaps even as much as we were enjoying watching them.
FuturPointe Dance and Carrie Mateosian will perform "Unbridled" again on Friday, September 26, and Saturday, September 27. Both shows are at 8:30 p.m. and are free.
PHOTO BY ASHLEIGH DESKINS
"Unbridled" by FuturPointeDance and Carrie Mateosian
PHOTO BY ASHLEIGH DESKINS
"Unbridled" by FuturPointeDance and Carrie Mateosian
PHOTO BY ASHLEIGH DESKINS
"Unbridled" by FuturPointeDance and Carrie Mateosian