PUSH Physical Theatre is always entertaining, but it has deep ideas to communicate as well. Through movement, of course. The company's new piece, "Strangers," is still a work in progress. But judging from the excerpt the award-winning, Rochester-based group premiered at Fringe Festival on Saturday afternoon, it is going to be a work of powerful impact.
I was a bit distracted trying to discern the voice-over of a child intoning (I think) "Once I was there. I wasn't there. And I am really there." But it seemed integral to the theme of the piece: isolation. The solitude of existence. Our lack of real connection.
On stage, PUSH co-founder, Heather Stevenson and her partner, Avi Pryntz-Nadworny, move through their daily routine, but even though they are in intimate physical contact, always touching, they seem to lack any deeper connection or awareness of each other. They brush their teeth in unison and Stevenson reclines over her partner's body to spit, but doesn't really even acknowledge his presence. Sad -- and definitely something to think about. Pryntz-Nadworny developed the concept and a good deal of the choreography for this one.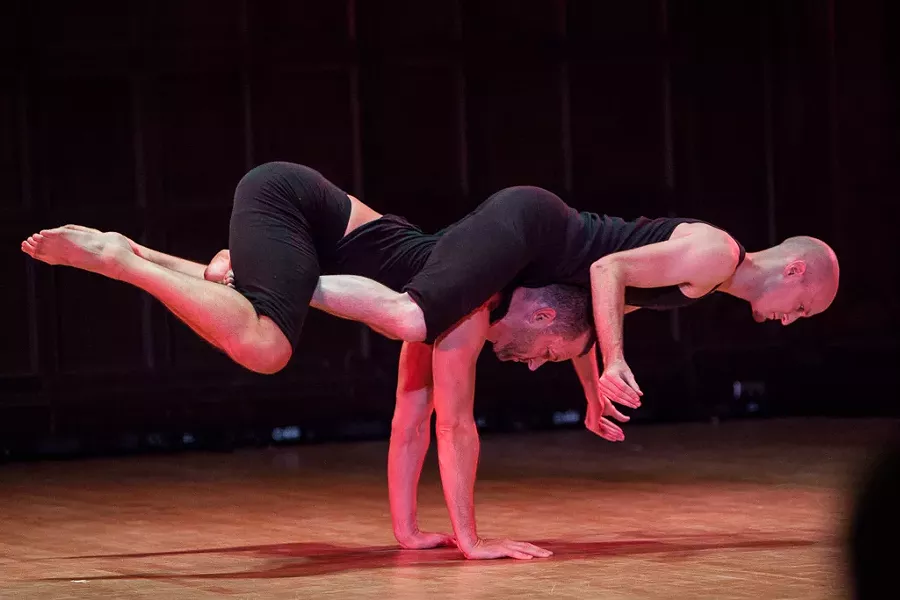 PHOTO BY JOHN SCHLIA
PUSH Physical Theatre
"The Visit" is also a call for awareness, compassion and involvement. Stevenson portrays an old woman with Parkinson's, alone in her world but imagining entertaining a visitor. Stevenson is brilliant in her depiction of both advanced age and the ravages of this particular disease. She moves slowly, bent and shaking, sometimes confused-seeming. The audience reacted with wild clapping when this one ended.
I must say, however, that I enjoyed "Natural World" the most. Perhaps because it's the most fantastical, but also, in some ways, the most convincing. The dancers appear other than human in this piece. Frog-like is probably the closest I can come to describing their movements and mannerisms. Jonathan Lowery is especially compelling; his leap-frogging movements appear both natural and effortless. Darren Stevenson dances in this piece as well, bringing the hilarity of his miming to the struggle for supremacy between these creatures.
The program ended with the full-house giving PUSH yet another deserved standing ovation.
"Germination," which took place in Gallery r, Saturday evening, was an opportunity to immerse yourself in the visualization of a concept intrinsically both organic and dramatic. Birth -- or perhaps rebirth. The piece was abstract enough to let you flow somewhat in your own direction. In any case, it moved me deeply. And judging from the absolute hush of the overflowing audience, I think it moved many others as well.
Artistic Director and choreographer Eran Hanlon paired with visual artist Joseph Tarantelli to create "Germination" just as he did last year to produce the beautiful "Transient Being." Like "Transient Being," "Germination" is a lushly textured, incredibly moving, kabuki-like piece which toys with the concept of transformation of self. The three dancers -- Alaina Olivieri (who soloed in "Transient Being"), Julie Rossette, and Yuko Hashimoto -- all possess the strength, grace, and emotional depth to bring the piece to life (pun intended). Asuka Hiraoka is to be complimented on the minimalistic costumes.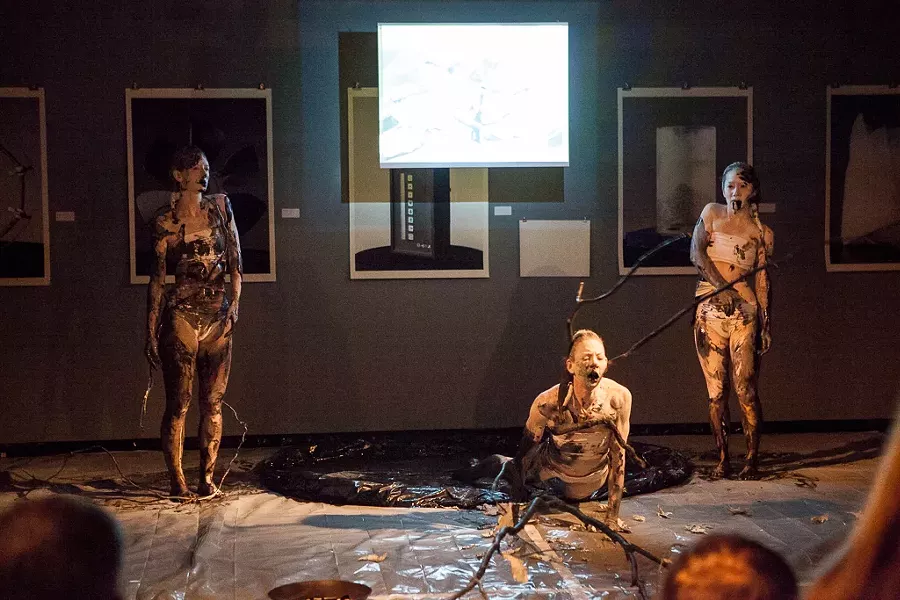 PHOTO BY JOHN SCHLIA
"Germination"
The piece begins with all three dancers hunched together in a sort of black pit, the black being finger paint which you smell as soon as you enter the small studio, the acrid odor somehow contributing to the solemnity of the scene. Before there is movement from any of the figures, Tarantelli's painting "Torrit Oak" appears on a small screen overhead. Or rather, the beginning of the painting, for it is a video of the creation of that work. It starts with patches of dark brown that are soon overlade with sweeps of white. I did worry that I was not connecting enough between the artwork and the movement as the piece progressed but then, there are no cliff notes to art.
"I tried to create the world I thought the painting depicted," Hanlon said after the performance.
One by one, the dancers struggle to free themselves from the pit, first merely twitching, then extending an arm, finally rolling over and so on. By the time they all extricate themselves, the black paint is smeared all over their bodies. The profound depth of the struggle is clear, the dancers moving in agonizing slowness, struggling against unseen forces.
Olivieri is literally wrapped in large tree branches which encircle her chest and extends up into two antlers giving her something of a mythological feel. By the end of the performance, she is able to simply reach up and remove them, that part of the germination process complete. I might add that she was so completely into her work last night that when the lights came back on, she remained stationary, eyes still closed, until tapped on the shoulder. That is the kind of intensity you don't often get a chance to witness.
PUSH Physical Theatre will perform again on Saturday, September 27, at Kilbourn Hall. 3 p.m. and 7 p.m. $16.