When artist Aaron Delehanty relocated from Chicago to Rochester last autumn, he immediately wanted to get acquainted with other makers in the art scene. Though his bread-and-butter occupation was familiar — he had been an artist on staff at Chicago's Field Museum, and moved to take a job as a staff artist at the Rochester Museum and Science Center — he missed the DIY social art party scene. It was something he couldn't seem to find an equivalent for around here.
"Moving to Rochester, I didn't know what my art career was going to look like," he said in an interview with CITY back in the spring while strolling around his Loud Cow exhibition space, which includes an old barn behind his Spencerport house and the surrounding 1.3 acres of semi-rural land. At the time, Loud Cow was showing its inaugural exhibit, "How Did We Get Here?," featuring work by five local artist-professors.
Delehanty had been pretty entrenched in the art scene in Chicago, and in San Francisco before that. "I love contemporary art, so when I got to Rochester, I looked around for the type of art spaces I was connected to — alternative art galleries, artist-run spaces, experimental centers, apartment galleries," he said.
Unable to find exactly what he was looking for, he decided to start it himself. Now rebranded as 2 Loud Cows, the DIY space is currently hosting its second exhibit of work by local artists.
2 Loud Cows isn't a non-profit, but it's not a commercial gallery, either — if any work is sold, Delehanty doesn't take a cut. "It's kind of like the wild wild west, where you can just make your own way, experiment, and be a little edgy," he says in an interview in mid-October.
Surrounded by thick copses of older trees and with an idyllic creek tripping through it, the property is a just short hike from the city lights and the ordained white walls galleries that art fans float toward, moth-like. At 2 Loud Cows, exhibitions are installed on the lawns and on walls and in the nooks of the ground level of the barn — the lofted area above houses Delehanty's studio.
For museums, Delehanty creates hyper-detailed dioramas of animal habitats, archeological digs, and the like, as well as a range of replica artifacts. His studio work reflects an interest in animals-within-environments, but the tone takes on dystopian narratives that range from violent chaos to the more subtle, like in a series of ink drawings that depict the precise moment escaped animals realize they are free.
The space is based on the apartment gallery models in other cities where he'd shown his work, like Chicago's Co-Prosperity Sphere and Floor Length and Tux. "That's a very normal thing for people — artists mostly — to have art shows in their apartments," Delehanty says. "It does a few things: it gives the artist who's running the space an opportunity to engage with the art scene, to meet people, to provide a new resource for the artist community, and it's also just a fun social party."
One of his favorite things about running the space so far is the prep work of curating, "just go to artists' studios and talk to them about their work," he says. "It's given me a new avenue to understand how they make their work, why they make their work, the meanings behind their work."
Delehanty began gathering interest in his space by getting to know artists working in regional colleges and universities, "assuming that they were doing good enough work to be professors, that they'd make challenging work for a group show," he says.
"How Did We Get Here?" featured work by Clifford Wun, Dara Engler, Debra Fisher, Evelyne Leblanc-Roberge, and Megan Armstrong, with a focus on the human negotiation of interior (mental and physical) and exterior (architectural and natural) spaces. The art ranged from sculpture and installations to two-dimensional work and a video piece projected onto the barn's second level window.
2 Loud Cows' second exhibition, "Place Makers," opened on October 21, and features the work of sculptors Allen Topolski and Jappie King Black. They both repurpose found objects, but they take different approaches, Delehanty says.
"Jappie finds her objects in the natural world — things like vines, sticks, and twigs — and mines that space to make her artwork; Allen on the other hand mines what I guess we'd call the techno-sphere — left-over appliances, and man-made objects that have accumulated over the decades."
Installed throughout the property, both bodies of work reference some sacred human practice. While King's figurative wood assemblages contains what Delehanty calls "pagan-istic, Wiccan, earthiness," Topolski's stacked bowling ball project alludes visually to cairns — stacks of stones historically used as markers by many different cultures.
In addition to the two annual shows, Delehanty wants to expand the arts programming to include lectures, performances, and film screenings. As DIY-spaces notoriously get shut down by kill-joy officials, it only seemed right to ask Delehanty if he was worried about getting targeted.
"It's just like a party at my house, except people are putting up artwork," he says. "I'm not even selling beer or alcohol."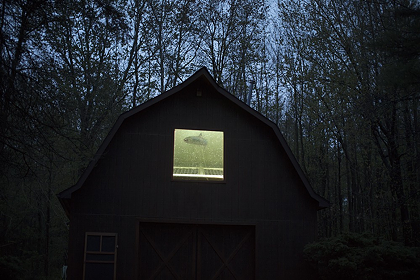 14 slides