PHOTO BY GOOD KNEWS PHOTOGRAPHY
SKYWAY hosted a Michael Jackson vs Prince dance party on New Year's Eve.
On New Year's Eve, nearly 200 revelers packed the dance floor and lounge of SKYWAY, Rochester's newest club in Center City, for its sold-out Michael Jackson vs Prince dance party. Opened in early November by co-partners James Tabbi, Tom Ferrara, and Anthony Molina, the space is one of only a few in town that makes a drastic shift from a daytime business, as Café SOL, to serve as a spot for nightlife in the evenings.
"People are out of the habit of coming downtown, because there was nothing here for so long," Ferrara says. "But now with Branca, Bar Bantam, Native, and us, there's starting to be a little bit of multi-purpose synergy."
Café SOL provides espresso-based drinks, beer and wine, pastries, soups, panini, and salads, as well as a calm working environment for downtown's daytime workers, while SKYWAY gives people a reason to stick around downtown on weekend nights.
"We get a lot of people who come here after dinner at one of these places to dance or have a nightcap," Tabbi says.
The unique building is basically a glass cube, but like Doctor Who's TARDIS timeship, it's deceptively bigger on the inside. Built as part of Midtown's SKYWAY pedestrian transportation hub in the 90's, the building was an entry point to the enclosed, elevated bridges that connected various buildings, the underground tunnels, and parking garage. The main space inside the cube is filled with café tables and chairs under a soaring ceiling. There's a second-level, "crow's nest" mezzanine bar, called Beso Vista ("kiss view") and a third-level lounge, Cielo ("heaven"), which are both closed during daytime hours. This lounge is situated in one of the connective bridges, so the space is a narrow corridor lined with intimate sections of seating and tables.
PHOTO BY REBECCA RAFFERTY
A view of Cielo, the third-level VIP lounge at SKYWAY.
During my sleepy Saturday morning visit, washed-out, milky light bathed the calm space, pouring in through the building's huge walls of windows. On all sides those walls provided sweeping views of the city being consumed by a dense fog. Some of the large windows are lined with curtains of tiny, strung silver beads, which at night provide a level of privacy while allowing glimpses of the lit-up downtown buildings and Liberty Pole.
There's something humorously disorienting about dual-purpose spaces: Sometimes I'll get a coffee from Java's at the Public Market on Saturday morning, then pop by the same space for a cocktail or dancing on a DJ night when it's transformed into Cure later the same evening. I'm always amused to remember, "Oh yeah, I was just here this morning." I'll compare the sleepy yet bright energy of the morning to the low-lit, club vibe of the night, and marvel at how it feels like an entirely different place. It's the same at Café SOL and SKYWAY, but the common denominator, of course, is enjoying moments with friends away from the hustle of the workday.
And even at night, there's an entirely different atmosphere on each of SKYWAY's three different levels. Ferrara says people gravitate to Beso Vista during happy hour and early club hours, and it's easy to see why: It's a great place to grab a drink, perch on one of the stools overlooking the dance floor, and watch the crowds.
Reservations are required for a spot in Cielo, which has a server's bar station with table service and bottle service. Wallpaper printed with tropical plant fronds add a warmer touch to the lounge, which is swathed in cool gray tones and outfitted with chic, stark Italian furniture.
Though the space has staircases leading to the upper levels, there's built-in accessibility with an elevator that travels from the parking garage below ground to the ground level and up to the lounge (there's no stop on the mezzanine level, though). There's a unisex bathroom below ground, with a bathroom attendant when the biz is in club mode.
"Figuring out how to make this all work was a real challenge because it was literally just an empty shell of a building that had no restrooms, no running water, minimal electricity, minimal ventilation," Tabbi says.
Ferrara planted the seed of making the odd building into a club. The space was purchased as part of the deal when Buckingham Properties bought Xerox Tower in 2013, when the late Larry Glazer was Buckingham's CEO. Since Ferrara works in commercial real estate, Glazer showed him the space, and Ferrara thought it would make a great restaurant. After conversing with some local restaurateurs, they identified a number of practical issues, and the restaurant idea didn't take off.
One night after The Heroic Enthusiasts had band practice (Ferrara, Tabbi, and Molina all play in the group), Ferrara showed the space to his bandmates. "Immediately when we walked in, we were all like, 'Oh my god, this would make the most incredible club,' Tabbi says, adding that Molina envisioned the 40-inch mirror ball that's suspended over the dance floor.
"We thought it would make a great lounge, great nightclub, and we could do a café during the day," to serve all of the new businesses and residences taking off downtown, Tabbi says.
The partners say they space is available to host special events such as wedding receptions, birthday parties, marketing meetings, and corporate team gatherings.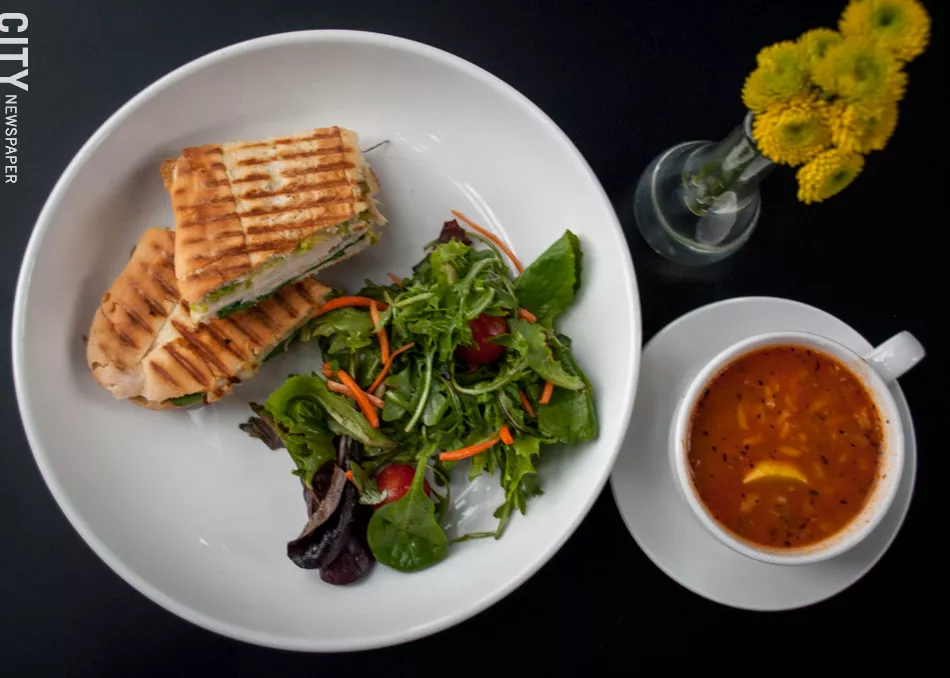 PHOTO BY REBECCA RAFFERTY
During the daytime hours, Café SOL's menu features panini, soups, and other light fare.
At the moment, it's a bit of a destination place, Tabbi says, "But it's a relatively easy destination to get to." An incredibly fortunate amenity is the underground parking garage (with 680 spaces on the top underground level and a total of 1,800 spaces on the three underground levels), which is accessible from the business, and has 24-hour security. And the business will validate customers' parking garage tickets.
Because the building has limited by space for storage and prep, the daytime café has a limited menu, Tabbi says. "We decided to start as simple as possible and then build," he says. Ferrara adds that they'll keep expanding, and are exploring charcuterie plate options. Though there's no evening menu, the partners have a relationship with Max of Eastman Place, and have developed a menu called Max at SKYWAY for some special events and happy hours. And they say they're strongly considering adding outdoor seating on the patio in the spring.
In the evenings, the center row of tables and chairs are removed from the café level, and the space becomes a dance floor. The business has booked Thursday, Friday, and Saturday nights well into the future: "Thursday Nights Out" feature DJs Hector and Henry providing vocal house music, with cameo performances by Miss Gay Rochester Eva Flow; on Fridays the vibe shifts toward EDM and Electro; and Saturdays feature Pop dance tunes.

Café SOL / SKYWAY
90 South Clinton Avenue
Café SOL: Tuesday through Saturday, 8:30 a.m. to 4 p.m.
SKYWAY: Thursday, 4 p.m. to midnight; Friday, 4 p.m. to 2 a.m.;
and Saturday, 8 p.m. to 2 a.m.
cafesolroc.com; skywayroc.com