Depending on who you ask — or when you ask the question — you'll get a variety of explanations of what the Sound ExChange Project really is: A local contemporary classical ensemble; a chamber group; an artist collective; composers; curators; educators; community-investors.
"I try to avoid as much as possible defining what we do," says Kurt Fedde, the group's percussionist. "Right now, there is no box. I guess we're still building the walls."
"People do ask us all the time: 'What is Sound ExChange?'" Emily Wozniak, the project's executive director, adds. "Ok, but that's a loaded question. Because it's a lot of things from a lot of different people."
At its very core, Sound ExChange is a group of seven young Eastman graduates who are looking for new ways to present music and connect with audiences. It could be through the use of interactive technology and social media, close collaborations with diverse community arts groups, passionately-performed contemporary works, or its residency with the ROCmusic program, but Sound ExChange wants to break down any barriers that exist between the audience's world and their own.
An adventurous example of the group's innovation was seen during the 2014 Rochester Fringe Festival, when Sound ExChange launched "01X: Digital Intersection of Music, Art, and Audience." The project — funded through a $100,000 grant from Max and Marian Farash Charitable Foundation's Cultural Creative Collision program — featured two concerts on Geva Theatre's Nextstage that sought to explore how audiences could interact with the music through their mobile devices. To achieve this, Sound ExChange collaborated with RIT photography professor Susan Lakin and computer science professor Joe Geigel, and Katie Verrant, a new media design student at RIT.
The results were stunning.
The group's six core musicians — Fedde, violinists Molly Germer and Lili Sarayrah, violist Alexander Pena, cellist Nadine Sherman, and Matthew Cox on ukulele, voice, electronics, and toy piano — worked through a program of layered, evolving works. (Wozniak, a French hornist, is the group's director and seventh member, but did not appear in the "01X" concerts.)
PHOTO BY MARK CHAMBERLIN
The six core musicians of Sound ExChange are (clockwise from left) Matthew Cox, Alexander Pena, Kurt Fedde, Lili Sarayrah, Nadine Sherman, and Molly Germer. Emily Wozniak is the group's seventh core member.
The performance started out beautifully, but it was during the set's third piece, "For Melissa," written by Fedde, that Sound ExChange's mission really started to sink in. During an introduction to the piece, Fedde explained that he was inspired by the voicemails his friend, Melissa, left him. The two were separated by distance, but they were still always connected through the messages they would leave one another.
Voicemails from Melissa were projected over the music as it slowly began to build, resulting in an intimate moment as the audience got a peek into the intentionally private messages left for Fedde. As the song progressed, audience members were prompted to hold up their own phones and play their voicemails, ending "For Melissa" in a chorus of disjointed voices. The effort was simple, but the display of private moments and spots of light in the dark Geva theater, accented by the carefully crafted tune, was striking.
Before the performance, audience members were handed a sheet instructing them to use their smartphones to upload voice files of their name and first memory of Rochester, and the first street intersection they crossed on their way to Geva. The information came into play during the group's final work, the Matthew Cox-created piece, "Interscape." Video projections of hyperlapsed videos taken from Google Maps' street view were shown behind the musicians. Each video showed a path someone in the audience took to get to Geva, while audio of their Rochester memory played. The audience and their stories became integrated into the performance.
"We want to shed a new light on what's already out there and make it a little bit more approachable," Fedde says later, now in the brightly lit back room of Press Coffee during mid-March, "and help people understand the music through actual experience of it, and not just sitting and watching it far away on stage. We want that connection to be there, to have them really understand what the piece means through experience."
PHOTO BY MARK CHAMBERLIN
Emily Wozniak is the executive director of the Sound ExChange Project. Wozniak started pulling together musicians for the group in 2011, while she was still a graduate student at Eastman.
Sound ExChange started to come together in 2011, when Wozniak, then still a graduate student at Eastman, wanted to build an orchestra of friends and try different kinds of projects. "What we ended up starting was a group that has been devoted to experimenting with the way music is presented," she says, "and that's been true with an orchestra of 50 people in the first days to now a really core group of chamber musicians."
The core group of seven members gelled over 2012 and 2013, and they constantly add other performers and artists depending on the project.
"As the trajectory of the group shifted, it kind of attracted different personalities," Sarayrah says. "That's part of what's so cool about this: It's able to involve students and collaborators who are interested in different facets of the process and the organization. It can shift with the people that are involved. That flexibility is really important."
Huddled around a table in Press Coffee, four of the members of Sound ExChange — Wozniak, Sarayrah, Fedde, and Germer — all echo the same sentiment: Sound ExChange is the sum of its parts; its artistic direction is a result of the personalities in the group.
All classically trained, the young members of Sound ExChange simply want to show audiences that classical music can be interesting, fun, and enjoyable.
"Through our own experiences, we've all had those moments where we see this really cool music on the stage and we're all antsy in our chairs and are like, 'I wish I was listening to this music in a bar,'" Fedde says. "I don't want to overgeneralize, but quite a large number of these contemporary pieces come from New York City. But if you've never lived in New York City, you don't know the context of that. You don't know the soundscape and environment the composers live in every day. Why not bring a little bit of that to the audience so they can fully experience more than just the music on the page. I want to experience the whole life of these composers. I want to experience the entirety of what the music means."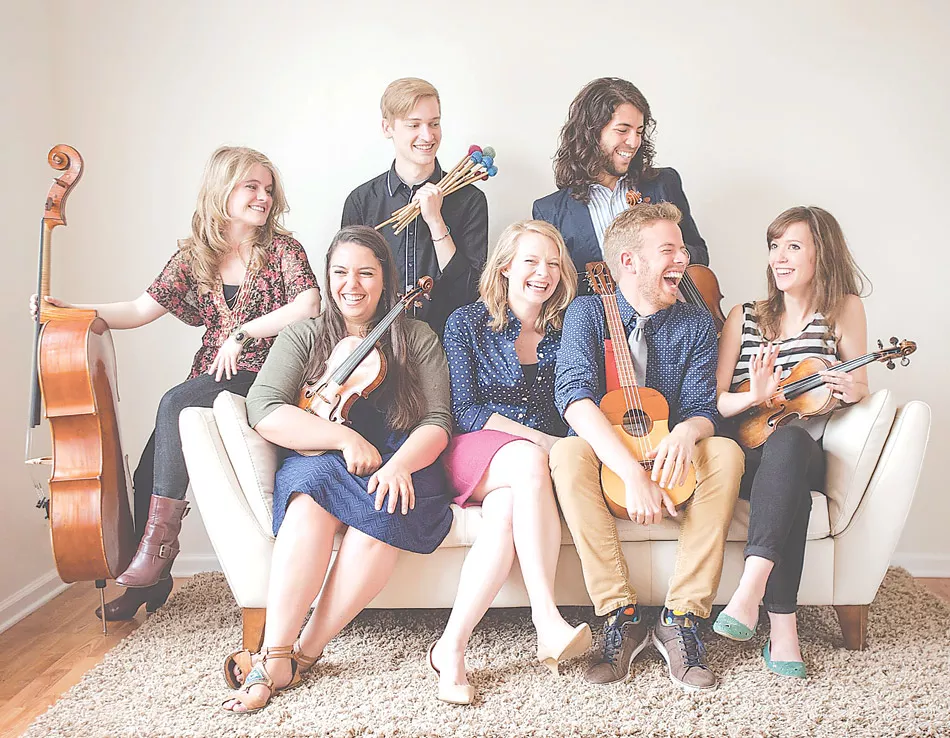 PHOTO PROVIDED
Sound ExChange has a busy 2015 ahead. The group will perform at ArtisanWorks on April, 26.
And Sound ExChange has performed in a bar: Skylark Lounge on South Union Street. But for a group that seeks out unconventional spaces, a bar doesn't amount to much. The venues the group has used are dynamic. Sound ExChange has turned the 40,000-square-foot ArtisanWorks into a free-flowing festival with around 60 performers; or on a more intimate scale, it has staggered instruments through Rochester Contemporary Art Center's main gallery to explore spatial constraints through music.
During the 2013 Fringe Festival, Sound ExChange staged "Anomaly" in the Rochester Museum and Science Center's Strasenburgh Planetarium. In a performance that City Newspaper called "a true sensorial experience," Sound ExChange played works by John Cage and Arvo Part while accompanied by the performance troupe BIODANCE. Topping it off, RIT Professor Michelle Harris created visuals that were projected into the four-story dome of the planetarium.
But performing in an unconventional space, or adding bells and whistles, isn't always enough, Sarayrah says. Audiences are looking for passion. "Maybe that gets lost in the conversation sometimes: Are the musicians presenting something they sincerely believe in with integrity regardless of genres?" she says.
"It's also about reinvigorating the idea of going out to a concert. Why should you leave your home if you can watch it on TV or listen to it on a recording," Germer says. "We all really enjoy the experience of creating an actual concert where you can connect with each other on stage and also with the audience member. Sometimes that can be done just by working on a piece carefully until it's performed energetically and convincingly. That's connection enough; it doesn't necessarily have to be a light show or something."
PHOTO BY MARK CHAMBERLIN
Cellist Nadine Sherman and violist Alex Pena.
From the beginning, along with a dedication to interesting performance, Sound ExChange has also had a commitment to education. Wozniak, Fedde, and Alex Pena each have degrees in music education, and have pushed for long-term partnership with schools and educational programs in Rochester.
In the fall of 2013, Sound ExChange worked closely with music teacher Lynn Grossman at Helendale Road Primary School to complement her teaching plans with live demonstrations. Wozniak will present the work the group did with Helendale during a workshop and presentation at the Research in Music Education conference in London this April.
As part of the group's 01X project, Sound ExChange is currently the 2014-15 Ensemble in Residence for the ROCmusic program, which provides free music and string instruction to about 58 city students ages 6 to 18. The program, which launched in 2012, is a partnership of the Hochstein School of Music and Dance, Eastman School of Music, Eastman Community Music School, Rochester school district, the City of Rochester, and the Rochester Philharmonic Orchestra. The pilot program takes place at the David F. Gantt Community Center on North Street.
"Something that's been really compelling is how close it is to Eastman, and yet how far it is at the same time," Sarayrah says. "The kids involved maybe don't feel as welcome in a setting like Eastman, where we give hundreds of free concerts every year."
And this fall, Sound ExChange is working with Eastman School's Arts Leadership Program to start a resident artist internship with the group. Each year a student musician will work on four different projects while being mentored by members of Sound ExChange. The goal, as Wozniak explains, is to root the Sound ExChange Project as a creative vehicle in Rochester that will allow more musicians and artists to collaborate as time goes on in the mission set by the current core group of performers.
PHOTO BY MARK CHAMBERLIN
Kurt Fedde suring Sound ExChange's "01x" performance at Geva during the 2014 Fringe Festival.
"But this current group could turn into maybe mentors, you would say, or people who have set the tone and the standard, and we're handing off projects on a yearly basis to a new group of people," Wozniak says.
Rochester is the group's home base, and wherever the future takes the members, they are committed to performing as Sound ExChange.
"All of us are committed to staying together," Wozniak says. "Personally, I want to see what these guys will come up with in 5 to 10 years. We're dedicated to leaving something in Rochester, because we're so grateful. We feel Rochester made this group possible. This community, the environment, and the students of this school made Sound Exchange possible."
Sound ExChange is already set up for a busy 2015. Along with launching its internship, the group is recording its first EP — all songs written by Sound ExChange members — and is preparing for a New Music Residency during the summer at Avaloch Farm Music Institute in New Hampshire.
In the immediate future, Sound ExChange will return to ArtisanWorks on April 26 for a performance with TIGUE, a Brooklyn-based percussion group made up of Eastman grads. The group will then perform its first concert outside of Rochester on May 23 at the DiMenna Center for Classical Music in New York City, again with TIGUE.
The members say they are excited about the future and opportunities that will open up as they continue to branch out. They've learned a lot, themselves, through the experiences, and they're still growing.
"It goes back to we're still building the walls of our box," Fedde says.
Sound ExChange @ Rochester Contemporary Art Center from Sound ExChange Project on Vimeo.