At The Red Fern you'll want to eat your vegetables
PHOTO BY THOMAS J. DOOLEY
283 Oxford St. | 585-563-7633
redfernrochester.com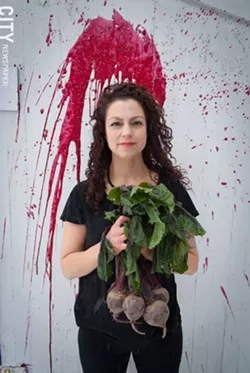 PHOTO BY RYAN WILLIAMSON
Andrea Parros
As Andrea Parros worked to open The Red Fern, she was apprehensive about launching with an all-vegan menu. She wondered whether vegan food was mainstream enough in Rochester for the restaurant she had in mind to survive.
But a conversation with Joel Capolongo, owner of the extremely popular Syracuse vegan fast-casual eatery Strong Hearts, changed her mind. He reminded her that a vegan restaurant would be more in line with her personal ideals, and encouraged her to take the risk.
Parros, a 42-year-old resident of the Park Avenue neighborhood, opened The Red Fern in September 2013 and the restaurant's menu of vegan comfort food was a quick hit. Now it's common to walk in at dinner time and see a dining room with few if any empty tables and a few people milling about near the counter as they wait for their take-out orders. CITY's readers have selected it as Rochester's best vegetarian/vegan restaurant for the second consecutive year.
"I made peace with the fact that even if I do this and fail, I just have to know," Parros said from a table in the corner of her establishment's cozy dining room.
With The Red Fern, Parros built on what she learned as a founding partner of The Owl House. She helped to ensure that that restaurant's menu had vegan-friendly and gluten-free options, and she observed a large number of customers gravitating toward those dishes.
PHOTO BY MARK CHAMBERLIN
The "Steak" Bomb from The Red Fern.
She broadened that approach to the menu at The Red Fern by providing vegan versions of familiar dishes and offering more options for people with sensitivities such as food allergies or intolerances. Parros said the restaurant's top selling dish is the Compost Plate — her take on a Rochester staple. The nachos and mac and cheese on the menu are made with cashew cheese. The "steak" in the steak and potatoes is seitan, a chewy and tasty meat alternative made from wheat gluten.
Parros believes that, above all else, her restaurant needs to serve good food. The Red Fern has seemed to hit the mark, and many patrons who aren't vegetarian or vegan have raved to Parros about the restaurant's food.
"We've had people in here — they'll almost drop their fork and be like 'Oh my god, this is vegan?'" Parros said. — JEREMY MOULE
Finalists: New Ethic Pizzeria & Cafe | The Owl House | Voula's Greek Sweets