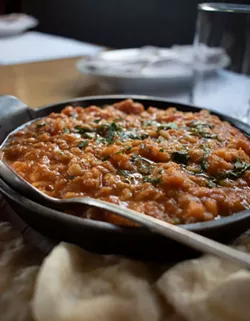 PHOTO BY RYAN WILLIAMSON
The Red Lentils from Restaurant Good Luck balances sweet with a little heat.
Good Luck
50 Anderson Ave. | 585-340-6161
restaurantgoodluck.com

Owner Chuck Cerankosky has made a name for himself on the local restaurant circuit for inventive, hip eateries, with the likes of Lucky's and Cure. But Good Luck is clearly his standout joint. This Neighborhood of the Arts staple specializes in rustic fusion dishes drawing influence from Italian, French, Japanese, and virtually every other culinary tradition under the sun, set against a backdrop of dimly lit ambience and one-of-a-kind cocktails that our readers voted to be the best in Rochester.

Finalists: Redd | Strangebird | Vern's
Or for something different . . .
Velvet Belly
3 Rochester Public Market | 585-413-0825
velvet-belly.com

Chef Jeremy Nucelli is a mad scientist, and Velvet Belly, the seafood-focused upscale restaurant at the Rochester Public Market, is his laboratory. His innovative approach to food leads to a menu that always feels new and fresh. From the decadent sushi, including the jaw dropping miso and scallop-topped TNT roll, to the deconstructed steak-and-potatoes take on beef tartare, Velvet Belly is a masterwork of culinary ingenuity. Words can hardly summarize the experience, but my best description came upon tasting the broth of the shellfish stew: "This is art." — GINO FANELLI