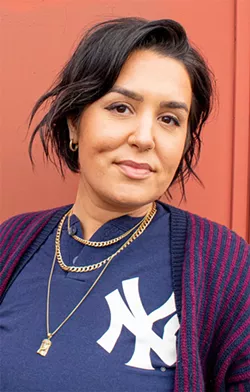 The Saucey Chef starts from scratch
1011 Culver Road | 585-705-5015
instagram.com/thesauceychef
When Margherita Smith founded her popular takeout and catering business The Saucey Chef in 2019, having a business model that allowed her to raise a family was a top priority.
Now an employer of seven and a mother of three (ages 14, 11, and 1), Smith relies on social media to get the word out about her business, but her operation on Culver Road resembles the Old World Italian kitchen of her roots.
"My 1-year-old is at work with me every single day, the whole day," Smith said. "My biggest accomplishment is being able to have a workspace that also allows me to mother at the same time. My personal philosophy is 'relentless pursuit.' If you don't have a way, you make one."
Smith has been cooking for 16 years, and graduated from Apicius International School of Hospitality in Florence, Italy, in 2008. She previously cooked at 2Vine and other spots in Rochester before branding herself as The Saucey Chef and hosting occasional chef's table events in 2017. Two years later, Smith got her first storefront on Culver Road and Atlantic Avenue, but recently moved into a building she bought at Culver and Garson Avenue.
Smith calls her offerings, which include jerk shrimp pasta, adobo wings, and lasagna made with sweet plantain, "elevated street food." They are dishes inspired by the wide world of flavorful comfort food, but with hyper-indulgent ingredients.
Take, for example, one customer favorite, the Baked and Stoned: baked mac & cheese with buttermilk fried chicken that's drenched in Cajun honey butter.
"We sell more of that than probably anything else," Smith said.
Her menus have included lobster grilled cheese, orange chicken, garlic noodles and steak, fried rice dishes, and birria tacos.
Smith said she lets her instincts and cravings do the meal planning, adding that her Puerto Rican and Asian crew members influence the menu flavors. "My cooks all come from different backgrounds, so we have this force of a creative team," she said.
The menus include daily vegetarian options, and Smith can cater to some allergies. Plates typically start around $18, but those plates are heaping.
"When we say 'indulgent,' that speaks to portions as well," Smith said.
The Saucey Chef drops a dinner menu on Instagram each Wednesday, and serves Wednesday through Saturday. Customers can call to schedule a pickup time slot. When they arrive, the order is brought to their cars.
But that's just the main hustle. Two offshoots of The Saucey Chef are "Ripe by Saucey," which offers fresh, health-minded options, and "Cream by Saucey," which offers desserts.
The Saucey Chef is entirely DIY, from dreaming up the recipes to the from-scratch cooking and the advertising, done entirely over social media at the moment, which is watched closely by a loyal customer base.
"We thrive off creating our own hype," Smith said.
That hype has a saucy flavor in the form of an Instagram account filled with food porn.
"You should feel like you're being naughty when you eat at Saucey Chef," Smith said. "You're going big, like you're not eating for any other reason but pleasure." — REBECCA RAFFERTY
Finalists: Corey Hamilton (Melo Coffee & Kitchen) | Cruz Nieves (Shell) | Nate Stahl (Strangebird)