Before Charles Miller commenced his multimedia performance piece,
"Out of Sync: Abstractions,"
at the Little Theatre on Saturday night, he told the gathered audience that the soundscapes were all prior compositions, while the accompanying visualizations projected on the big screen would be improvisational.
Miller created the visual stream by cutting acetate into strips and applying paint, then scanning these strips and turning them into looping clips. During a live performance, he layered and mixed the clips with computer graphics and bits of actual film — Super 8 and a load of reels inherited from family members.
"I can't tell you what to expect," he said. "But if it gets really bad, just close your eyes."
While no part of the performance was "bad," he might have been referring to moments when high contrast graphics spiraled and flashed rapidly, which could be too much for those sensitive to this sort of visual stimulation.
Miller worked on a computer off to the left of the screen during the hour-long show, which oscillated between spacey, ethereal notes and trance-y dance music, with the occasional voice sample preaching affirmational bits and pieces. Visualizations mixed vintage home videos with overlays of geometric shapes shifting like a kaleidoscope.
There was something really nice about gazing at the scrambled, narrative-less impressions, at times mesmerizing enough to lull the viewer into private reverie based on subconscious associations. Unexpectedly, my mind rested while it wandered; it felt like the same kind of necessary de-fragging you get from dreaming.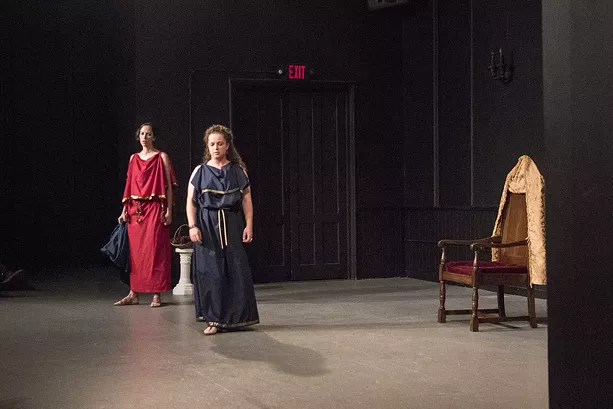 PHOTO BY ASHLEIGH DESKINS
"Antigone" was performed at MuCCC as part of Fringe on Saturday.
My last show for Fringe 2017 went out not with a bang, but a whimper — the whimper of an arrogant, foolhardy king. At MuCCC, Classics Theater of Rochester performed Sophocles'
"Antigone,"
an ancient Greek tale of the titular character's solitary stand against the state.
The third of Sophocles' Theban Plays (which includes "Oedipus Rex" and "Oedipus at Colonus"), this version of "Antigone" is a new translation by Ian Johnston. And though the company stuck to a literal reading of the tragedy — no overt modern allusions here — and classical costumes, the work is nonetheless relevant to modern politics.
Interestingly, in this play the chorus is a crowd of Theban elders who, though they do not agree with Creon's heavy-handed rule or the decisions he makes, shrink again and again from challenging him. In a modern adaptation, this chorus could easily be a cabinet of cronies who think the office has become tyrannical but don't want to fall out of the big man's favor.
The production opens with a conversation between the daughters of dead King Oedipus, Antigone and Ismene, who lament that the new king, Creon, has forbade the proper rites and burial for one of their brothers (who slew each other in a civil war). Antigone alone decides to disobey, and Creon sentences her to death despite a lengthy appeal from his son and her betrothed, Haemon.
While Creon insists that Antigone is the sole dissenter, she (played immovably and fiercely by Emily Jusino) insists to Creon that others whisper challenges to his authoritarian arrogance, but are too terrified to speak up.
Haemon echoes this idea to his father, telling him: "Your gaze makes citizens afraid," and "A city that belongs to just one man is no true city," before warning his father that he will cause two deaths if he kills Antigone.
After the condemned woman is closed up in a cave, where she can choose suicide or a slower death, Creon is visited by blind prophet Tiresias (Roger Gans rocked this role), who states that by not burying the dead, he has angered the gods and will pay for it with personal tragedy.
Tiresias is a redundant character, only serving to echo Haemon's dismissed warning. Creon, finally moved by the prospect of how his actions will impact him, rushes to undo what he's done, but events only spiral out into even greater loss of life. This engaging version of the tragic play wraps with Creon alone on the throne, bathed in crimson light.
As I was leaving, I heard a man telling the group he was with that the benefit of catharsis is that it's a good cleanse, "because you're thinking — all of my hardships can't be as bad as what's happening on the stage right now." Which is absolutely true, unless the art is a mirror for the state of the state.
That's all folks! Check back with us next year for Rochester Fringe 2018.