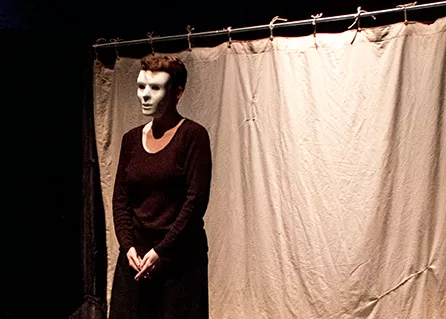 PHOTO BY ASHLEIGH DESKINS
MCC's On the Edge Drama Troupe performed "Nevermore! In Motion" at SOTA on Thursday.
After a few nights filled with many shows that reflected important social and political topics, my Thursday was a bit of artistic escapism — with morbid undertones. First up was
"Nevermore! In Motion,"
a unique retelling of the works of Edgar Allen Poe performed by MCC's On The Edge Drama Troupe at SOTA.
The performance, told through vocalized narration, pantomime, and masque, was expertly executed by eight players. In 10 acts, they recited and acted out Poe's iconic poem "The Raven," spaced between various other works by the macabre author.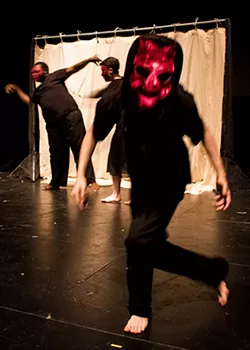 PHOTO BY ASHLEIGH DESKINS
These other acts included verse from "Fall of the House of Usher," in which masked players held four banners with sheer panels of fabric — swaying them gently as if curtains in a breeze — while two other actors pantomime what was being narrated. In "The Tell Tale Heart" segment, a woman in blank mask denies accusations of madness while her body ticks and she alternates between calm sense and raving starkly.
In "Annabelle Lee," two lovers revel and dance, but when she tragically dies (surprise, it's Poe), she removes her mask and lays it on the ground. I got a bit emotional when the spirit tried desperately to get her lover's attention, but he only focused his mourning on the mask — a stand in for her earthly body — the two separated by the barriers of the flesh.
"The Pit and the Pendulum" included rat-masked actors who work to free the seemingly doomed speaker as actors who shadow-play behind a screen pantomime the motion of the pendulum bearing down on the prisoner.
And between each act, "The Raven" built appropriate tension, with the word "nevermore" repeated, each time it's uttered, in whispered echo from hidden places all around the stage.
"Nevermore! In Motion" will not be performed again during Fringe.

I concluded my evening with the highly transporting
"Memento Anima"
at Geva's Fielding Stage. A collaboration between cellist
Greg Byers
and filmmaker
Hannah Nemer
, the show was introduced by Byers as a collection of "ambient moments and esoteric concepts."
Byers' looping and layering of his instrument was wonderful — through this technique, he got a much fuller sound than just playing it outright, and if you only looked at the imagery projected onto the screen, you might believe there were many musicians on stage. In the space of an hour, he urged so much versatility from the strings: in addition to the low, resonant moans associated with it, the cello became fiddle-like, or percussive, or pushed out watery echoes as if submerged in water when the imagery called for it.
The mesh of projected films blended from one to the next: Fields of waving tall grasses became hiking paths, flowing water, dark roads, subways, and open sweeps of skies filled with wispy clouds.
At one point, Byers' plucking and strumming reminded me of minstrel music, accompanied by a perspective of wandering along the hedges of a labyrinth, then hiking up stone steps half eaten by the earth. With the camera pointed at a person's lower legs and feet from behind, it seemed as if we were following the person on a never ending climb. The whole piece felt like a steady pace toward an unknown destination, a reminder to be present, and be aimless once in a while.
Some anxious moments erupted. The slow drag of the bow making scratchy discord was paired with darkening woods that gave way to the feeling of driving through them, headlights ominously grazing trees that line the narrow, twisting road. Then onto the open road, disorienting layers of night driving and the dashed, yellow middle line whirring by a la "Lost Highway," or the road scenes from "The Mothman Prophecies."
Byers looped some rapid plucking, layered with passes of the bow that sounded slightly like the sighing strings in the end of The Beatles' "Glass Onion" — that fast rise and slow passing away of sound, like the red shift approach and blue shift retreat of passing traffic. With this, a visual of blurred city lights that became a confetti of colorful dots.
The show ended on a peaceful, harmonious note. Soaring strings echo the imagery of a vast, open sky after lifting off from a runway, bidding farewell to one place and anticipating the great, unknown next.
"Memento Anima's" last performance is Friday, September 22, at 8:30 p.m.