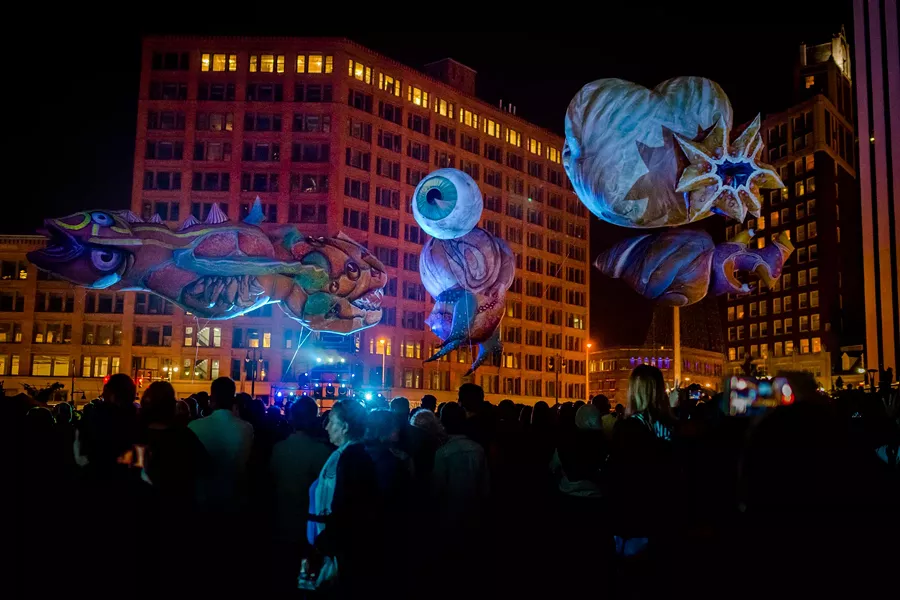 I strongly encourage you all to attend the final performance of "Big Bang." And for that reason, my review will not contain all of the spoiler descriptions that are effervescing inside of me. Some of them, but not all of them. The Friday and Saturday on the Fringe feature will take place again at Parcel 5 on Saturday, September 16, 8 p.m.
When I arrived at Parcel 5 about half an hour early for the Friday night show by French street theater troupe
Plasticiens Volants
, the space was already buzzing with excited anticipation. Bleachers set up along the gravel-covered plot of
contested land
were full, and hundreds of people who are utter strangers to me were milling about the busy space, chattering convivially and drinking together. The crush of this crowd, enjoying an open space where a building might soon be built, was an educational weight on my mind.
I passed through a whiff of weed here and there, and I don't blame them — I myself have puffed in advance of seeing the Pink Floyd laser show at the planetarium in the past; some art just lends itself to heady accompaniment. But anyone at all could have been stone-cold-sober and still be blown away by "Big Bang."
Not yet seeing anyone I recognized, I wandered over to examine the grounded balloons — already inflated but, perhaps in my imagination, restive — which were penned away from the masses by festival barricades. I'd heard that the balloons were hand-painted and wanted a closer look.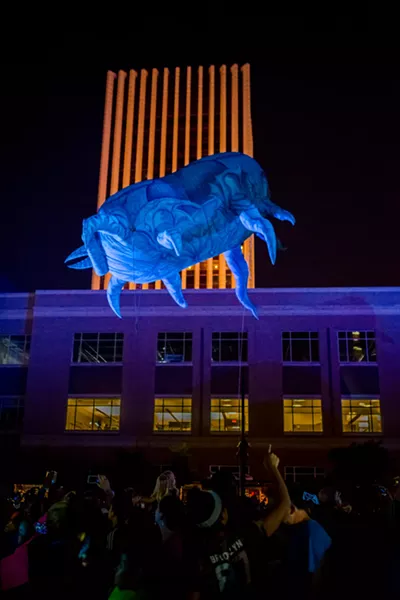 Happily, on the other side of these barricades some of the members of
Plasticiens Volants
lingered, identifiable by their semi-psychedelic, semi-professional jackets, cooly smoking cigarettes and chatting up curious Rochesterians who approached.
The troupe is a mix of all genders and ages — there are young men and elder women who haul these inflatable stars-of-the-show through the packed audience, deftly navigating organic avenues that merrily give way to their movements.
I spoke briefly in broken English and busted French (his English better than my French) with one of the troupe, asking him to confirm the painted surfaces of the balloons. He said yes, they have an artist in the troupe who paints them.
He told me that this show, among their many others, is not about searching for a narrative, but about appreciating experience. Later I realized he wasn't just speaking about experiencing the show, but about experience as a consciousness in this strange trip we frame as "life."
He also tipped me off that it was better to see the show from the middle of the parcel, so I took my leave and learned that it was true.
The show began with a voice-over about all of history — triumphs and turmoil on macro and micro levels — observed from afar, but without pushing a specific dogma about what "observer" was meant: God, alien, ourselves from some distant future or past reflecting on ourselves in some distant future or past, or something entirely unconsidered. Probably that. This was all paired with projections on the largest balloon: All scenes from humanity's history of art — the thing that unfailingly reflects upon culture and conflict.
Slowly and to everyone's great delight, the other balloons emerged from behind the large one and began their dance, back and forth through time.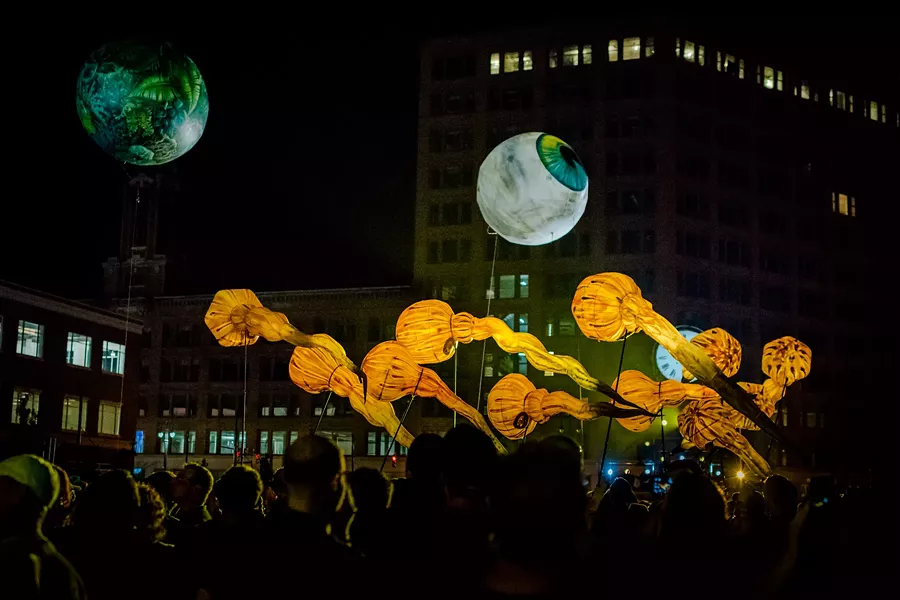 The enduring theme throughout the show — underscored by the many balloons that are painted to look like sharp or benevolent eyes, purposefully peering at and playing with the audience, among so many blown-up small creatures and predators preying — was the feeling of being witnessed, through the odd joys and the strife. I am become Agent Mulder: I want to believe. Whatever that means.
I'm not telling you more. Go see it.
I will say that I ended up standing near a few friends who had brought their small children, and held them on their shoulders. If you have kids, keep them up, do bring them to see this. It was a marvelous thing for them to experience, and a marvelous thing to see through their eyes as well as my own.
This performance is the anti-ennui. It's a tale as old as time told with constant surprises; it's an affirmation of sorts to allow your personal lens to pan out, take it all in, return to your level, and proceed. It's the ongoingness of time presented sans denouement. It's also just one hell of an entertaining show.
"Big Bang" will be performed again on Saturday, September 16, at 8 p.m. in Parcel 5. Free. Appropriate for all ages.