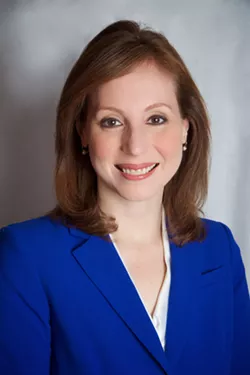 FILE PHOTO
Rachel Barnhart
Rachel Barnhart has been appointed to a vacant seat in the Monroe County Legislature.
Barnhart, the Democratic candidate for the 21st Legislative District seat, was unanimously selected Wednesday by the district's Democratic leaders to fill a vacancy left by Mark Muoio, who resigned last month amid questions about his residency.
Today, Monroe County Democratic Committee's executive director Brittaney Wells submitted Barnhart's as the party's recommended nominee for the seat. This afternoon , Legislature President Joseph Carbone finalized the appointment.
Barnhart will fulfill the remainder of Muoio's term, which expires at the end of the year. She's running for a two-year term in the November election and is up against Working Families Party candidate Victor Sanchez, who lost the Democratic primary to Barnhart. Sanchez is not campaigning.
The 21st Legislative District covers the North Winton Village, Beechwood, and Bensonhurst neighborhoods.
This article has been updated.