Louise Slaughter's death left a large and unexpected hole in Monroe County's Democratic circles.
She had served in the House of Representatives since 1987, building countless relationships in Greater Rochester, in much of Upstate New York, and in Washington. She was a beloved representative and a Democratic icon who transcended pretty much every division in the county party.
Slaughter had had every intention of running for reelection this year, and her death led to a scramble as candidates lined up for her seat. Four Democrats are now locked in a primary battle for the party's line on the November general election ballot: former television journalist Rachel Barnhart, City Council Vice President Adam McFadden, State Assembly Majority Leader Joe Morelle, and Brighton Town Board member Robin Wilt.
Registered Democrats in the 25th Congressional District will be able to vote from noon to 9 p.m. on Tuesday, June 26. Only Democrats can vote, and registration deadlines for this election have already passed.
All of the candidates have framed themselves as the best person to carry on Slaughter's legacy as a listener, leader, advocate, and progressive champion. But none of them is Slaughter, who famously - and to the frustration of some Democrats - refused to groom a successor.
Slaughter herself never had a chance to say who she thought would do the best job on issues she devoted herself to: health care reform, reproductive rights, railroads and mass transit, federal funding and support for scientific and medical research, advanced manufacturing and the Department of Defense's Rochester-based AIM Photonics program, and ethics reform.
Morelle is essentially the frontrunner. He's spent more than 30 years in elected office, first in the County Legislature and then in the State Assembly, where he's served since 1991. He was also chair of the Monroe County Democratic Committee for nine years. He's banking on that experience, including his knowledge of working political levers and his fundraising abilities, to win votes. He's got much of the party machine behind him, including Rochester Mayor Lovely Warren and the area's major labor unions.
Barnhart is positioning herself as a viable alternative to Morelle, since she has name recognition from her years on local television and her two previous, unsuccessful runs for office. Her platform hits a lot of progressive points, but in particular she's emphasizing redistricting and campaign finance reform.
Wilt's campaign is rooted in almost 15 years of activism on single-payer health care, social justice issues, immigration reform, and public education. Her work on those issues has earned her allies and the endorsement ROCitizen and New York Progressive Action Network, both of which grew from groups supporting Bernie Sanders' presidential bid.
And McFadden is running on his experience as a City Council member and as executive director of Quad A for Kids, an organization that runs after-school programs. He's also emphasizing community work, his reputation as a voice for populations who are "constantly being ignored or used," as he phrases it, and his work at the national level with the National Black Caucus of Local Elected Officials.
This will be a tough race for Democrats, who expected to have Slaughter on the ballot. Now, Democrats in the 25th Congressional District will have a chance to put someone new in the office. And voters will have several things to consider as they head to the polls.
Obviously, Democrats want to keep the seat, and while some high-profile national analysts say the 25th District is a safe Democratic seat, that's not the reality.
Gates Supervisor Mark Assini, a Republican, came incredibly close to unseating Slaughter in 2014. And this year, Republicans are running Jim Maxwell, an East Rochester neurosurgeon who is putting a lot of his own money into his campaign. That money, combined with Maxwell's political outsider status and personable nature, could make him a strong candidate.
To hold the seat, Democrats will have to weigh each candidate's general election appeal. And at the same time, they'll be making a statement about what the local party is. Primary voters have to think about which candidate's values match theirs, what they want to see in a representative, and how each candidate's experience and approach will translate in a sharply partisan and divided House. Republicans control the chamber now, and Democrats may not regain the majority in this election.
On some of the major issues, the four candidates have similar positions - not surprising, since they're all from the same party. They all support women's reproductive rights and immigration system reform, including a path to citizenship for undocumented immigrants.
All four have raised gun law reforms as a key issue and generally, they stake out similar positions: they want a federal assault weapons ban, magazine capacity limits, expanded background and mental health checks, an increase in the legal purchasing age for guns, and longer waiting periods.
But on some other major issues, the candidates have differing positions or take different approaches. The following are sketches of the candidates, an opportunity to get a feel for who they are and their thoughts on some key issues. City's endorsement in the race will be published next week.

Rachel Barnhart
Rachel Barnhart sees herself as the anti-establishment candidate for the 25th District seat.
She didn't want to see Joe Morelle get the party line by coronation, and she figured she was in a good position to run a grassroots challenge. She'd already built up name recognition through her years as a Rochester broadcast journalist, and through two previous campaigns, which she saw as a major advantage in what's grown to be a four-way race.
From start to finish, the whole campaign will be eight or nine weeks long, which doesn't offer candidates without a public profile adequate time to build one, she says. People probably know her best and Morelle second best, she says.
In this race, Barnhart's hitting on a lot of the same topics she did in her campaigns for Assembly and Rochester mayor: money in politics, government ethics, greater investment in mass transit, and advocating for constituents.
"I felt that it was very important that this district have a strong advocate, a grassroots candidate," Barnhart says, "someone who is a true reformer, which I've been very consistent about for the past couple of years. And someone who wants to take the Democratic Party in a different direction."
She's making campaign finance reform and independent redistricting central to her campaign; she argues that until money's influence in politics is lessened, things such as meaningful health care reform and essential changes to gun laws won't happen. Those discussions should be driven instead by evidence and data, she says.
She wants what she calls "clean public campaign financing," where there's a publicly funded matching program for candidates who take only small donations from individuals. In an ideal system, she says, all candidates would receive a set level of funding if they could raise a certain amount from small donors. And that needs to be coupled with strict limits on outside spending, she says. Otherwise, candidates will still be pummeled by moneyed interests.
Barnhart has vowed not to take corporate political action committee money, and she has heavily criticized Morelle for accepting it, at least in the past. She pushes back against his argument that while he supports campaign finance reform, he has to work within the existing system in order to be competitive. It's one thing to vote in favor of Assembly bills that aren't going to pass in the Senate, but another to actually lead by example, she says.
She's says not worried about competing with a well-financed opponent if she wins. Groups in and outside of the district want to keep this seat in Democratic hands, she says, and they'll provide resources to whomever wins the primary.
(Morelle's response to that argument: "That's a great attitude, except where is it pouring in from? The same people that I'm taking money from? Or do you want to run against somebody who's got $600,000 in the bank already with your $20,000 or $30,000?")
Barnhart, like the rest of the field, wants Congress to create a single-payer, Medicare for All health care system.
"There are different ways that could look," she says. "I think single-payer is the best option, but I'm open to suggestions to have insurers in the market, like we do now, administering the program."
She realizes that may not be an easy sell with large parts of the public, especially given past hostility toward health care reform. But she sees communication as essential, and says she would discuss the issue with any person or group, hostile or not. Part of the reason health care reform, like gun control, has become so controversial is that many representatives don't consistently communicate with their constituents, Barnhart says. And some place the interests of political parties or donors above the people they represent, she says.
Barnhart wants to see the federal Department of Education move away from the testing and school-closing regimen established under No Child Left Behind.
And on the federal government's approach to cannabis, her position is straightforward: she supports full legalization. But she also says that more research is needed into marijuana's negative and positive effects on people, including its potential for medical use.


Adam McFadden
Adam McFadden says he hadn't thought about running for Slaughter's seat until he walked into the offices of WDKX radio, where he's an on-air regular. DKX had just done a listeners' poll on who should run for the seat, and about three-quarters of the people who responded named him, he says.
So he talked with the other declared and potential candidates, he says, and after those discussions, he decided to run.
"This isn't about throwing mud on anybody or tarnishing anyone's record or lack thereof," McFadden says. "I think we just need to have a robust conversation about issues other than who can raise the most money for the race."
McFadden is clear that he's not happy with how the Monroe County Democratic Committee has all but formally put its weight behind Assembly member Joe Morelle. The committee isn't designating a candidate in the race, but its executive committee did pass a resolution asking Morelle to run, before he declared. McFadden is on the executive committee, and he says he got a last-minute notice about that meeting.
"There should have been a real process, and not that," McFadden says.
McFadden says he's running for Congress because he believes he's got something to offer voters. He began serving on Council in 2004 and over the years, he initiated talks with former police Chief David Moore about body cameras; developed and ushered through legislation prohibiting employers from asking on job applications whether a person has ever been convicted of a crime, as well as legislation banning discrimination based on a tenant's source of income; and has been involved in city efforts around lead paint abatement in housing.
He also points to his work related to education. He's executive director of Quad A for Kids, an organization that runs after-school programs for city students in the arts, athletics, and academics. He talks a lot about the programs that emphasize science, technology, engineering, and math. Its STEM Soapbox Derby program is heavy on science, especially physics, he says.
McFadden also hosts an annual HBCU (historically black colleges and universities) fair. Last year over 1,300 students attended, more than 300 were accepted into a college on the spot, and over $1.3 million in tuition aid was awarded on the spot, he says.
But McFadden is perhaps best known for being outspoken. His critics portray him as temperamental, but he says that on Council he's been able to get things done by working directly with individuals, which is something he'd carry on to Congress. And he notes that members of City Council elected him vice president.
"I'm going to Congress," he says, "because I want this community to know that I've heard every voice, I respect every voice, and I'm trying to deliver for those voices."
He wants to see the federal government invest more in STEM education, not just for school-age youth but for adult training programs as well. That's especially important in Rochester, which has growing high-tech industries.
On the issue of health care, he wants a single-payer system, which would provide better access to care at lower cost, he says. The systems in Japan and Netherlands could serve as a model, he says.
He suggests diverting money from the military budget to help pay for the coverage, but says that even a system that eliminates premiums in favor of a small tax would help families.
He also says the federal government needs to take a serious look at how to improve people's access to healthy foods, and the nature of the food itself. He's particularly concerned about what's being put into food.
The federal government's approach to cannabis is "behind the times," he says. "And I say that because if you look at the history of drug policy and legislation in this country, it's always been punitive and mired in racism."
The federal government should legalize cannabis, he says. It has potential for medical use and it would be a source of tax revenue, he says.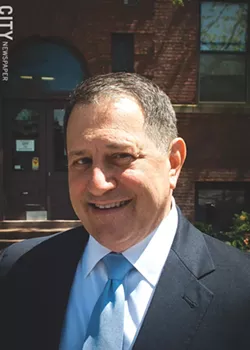 Joe Morelle
Joe Morelle is a known quantity in Monroe County and New York State politics. He served in the County Legislature, headed the Monroe County Democratic Committee for several years, at one point led fundraising for the campaign arm of the state Assembly's Democratic conference, and since 2013 has been the Assembly majority leader. As the Assembly's second-in-charge, he runs floor debates and sits on its Rules Committee.
All of that means Morelle has a record and reputation he can run on. So when he was faced with the unexpected possibility of running for the 25th District seat, and decided to do it, he invoked that experience. Morelle says he felt his knowledge of policy and politics, and his connections to former legislators who are now in Congress, could make him an effective representative in Washington.
"If ever you're in government, you think about what's the right place for you in terms of what contributions you can make," Morelle says. "And I was pretty confident that I was making and had made a contribution at the state level."
But what he saw coming out of the White House and Congress left him feeling increasingly frustrated and angry, he says. For example, he contrasts Congress's failure to reform gun laws, even following a years-long string of deadly mass shootings, with New York's passage of the SAFE Act in 2013. One of Morelle's first duties as majority leader was ushering that law through the Assembly.
Health care reform has emerged as a major issue in the race as well, not surprising to anyone watching recent Congressional elections in other states. Morelle has been clear that he supports universal health care, and during an interview he explained that he favors an approach called Medicare Extra for All, which was developed by the liberal Center for American Progress.
Under that concept, the federal government would basically create Medicare plans with comprehensive coverage that are open to everyone, not just people over 65 and younger people with specific disabilities. It would have sliding-scale premiums based on income. Low-income families wouldn't pay premiums, no family would pay more than 10 percent of its income, and employers could cover the cost of the insurance if they chose to, according to the Center for American Progress website.
Regarding climate change, Morelle wants the United States to rejoin the global Paris Accord. The country also needs aggressive carbon-emission standards for various areas, such as power generation and transportation, he says. The federal government needs to advance the development of renewable energy and encourage it through incentives, he says.
Morelle takes a different position on cannabis legalization than the other candidates in the race, who back full legalization unequivocally. There are clearly issues of structural racism in drug arrests, Morelle says, and marijuana should, at the least, be taken off the federal controlled substances list. The federal government should also allow medical cannabis as a treatment, he says.
Morelle doesn't object to full legalization, provided he can get satisfactory answers on two subjects: the ability to detect driver impairment caused by cannabis and the science around whether cannabis is addictive.
And where Morelle has framed his fundraising abilities as an asset, his opponents have criticized him over donations from various corporate, industry, and lobby group political action committees.
Morelle does support campaign finance reform but, he argues, he has to compete within the system that already exists. That's a common argument offered by established politicians who've built up large campaign funds. Morelle also acknowledges that he takes donations from people with whom he doesn't necessarily agree - also common among high-profile politicians - and he says that a contribution isn't the same as a quid pro quo arrangement. Donors view their contribution as a chance to support a qualified candidate who is willing to listen and engage in dialogue, he says.
Morelle says he's raising money not just with the primary in mind, but also with the general election in mind. In November, he would face an opponent who just cut a massive check to his own campaign, and he needs to be realistic, he says.
"I will not be outspent, I will not be outworked, and I will not cede this seat to the Republicans," Morelle says. "I'm not going to do it."
Morelle came under fire in 2015 for initially standing behind former Assembly Speaker Sheldon Silver after he was arrested on corruption-related charges; Silver appointed Morelle as majority leader in 2013. At first, the Assembly Democratic conference as a whole supported Silver remaining speaker, though eventually members pressured him into giving up the post.
Barnhart has also criticized Morelle for remarks he made dismissing a then-Assembly staff member's rape allegations against Michael Boxley, a top Silver aide. That happened in 2001, and a year later Boxley was later charged with raping a different Assembly staffer; he pleaded guilty to a reduced charge of sexual misconduct. Morelle apologized for the comment and said he was speaking without knowing all of the facts.


Robin Wilt
Robin Wilt's entry into activism - and eventually politics - started in 2004, when her brother was serving with the military in Iraq and was seriously injured.
She saw the care he received from the Veterans Administration system and how much it helped him. And she saw how her brother and the entire family didn't have to worry about how to pay for his care, since it was fully covered.
After that experience, it was only a matter of time before Wilt embraced the single-payer health care cause and linked up with Progressive Democrats of America, an organization that advocated for other things she cared deeply about, such as a living minimum wage and various economic, social, and environmental-justice issues.
She went on to co-found the Progressive Democrats of the Genesee Valley and to run unsuccessfully against Republican State Senator Joe Robach. Last year, she won a seat on the Brighton Town Board, on which she currently serves.
Wilt says grassroots, progressive activism is at the root of her interest in the 25th Congressional District seat.
"I spent all of my adult life on the frontlines," Wilt says, "advocating for these policies that I would eventually like to see implemented on the federal level, like Medicare for all, like a living wage, like humane immigration reform, like quality education for all, K-16 education for all," Wilt says. "I think that New York's 25th Congressional District deserves representation that is going to advocate for people in this community, not the political establishment and not corporate interests."
During her brief time on the Brighton Town Board, she pushed for the town government to adopt gender-neutral language, which it did. She also worked with cycling advocates, environmental groups, and Town of Pittsford officials to try to convince the State Department of Transportation to include dedicated bike lanes as part of plans to resurface East Avenue and implement a "road diet." The state committed to wide shoulders but wouldn't commit to a formal lane.
She sees that kind of coalition building as essential for representing the district, and she says she admired Louise Slaughter's ability to do that.
Wilt is a proponent of Medicare for All, which would be a national health insurance program open to everyone - not just people over 65 or younger people with specific disabilities - and would be funded through a small payroll tax, she says. The system's cost to taxpayers would be lower than what they currently pay for health insurance premiums, she says.
To ensure comprehensive coverage, basic Medicare plans will need to be expanded and improved so that people receive benefits "more akin to the health care that our Congressional representatives receive," Wilt says.
Wilt says campaign finance reform is essential and that the influence of money in politics is why things such as meaningful health care reform and gun law reforms haven't happened.
On climate change, Wilt says if she's elected to Congress she'll immediately try to join the bi-partisan Climate Solutions Caucus, a group organized by the Citizens Climate Lobby. The caucus explores legislation to address climate change, including proposals to put a price on carbon emissions.
Slaughter resisted joining the caucus because it's been working on a carbon fee and dividend proposal, in which fossil fuels would be taxed and the proceeds distributed as equal dividends to citizens. Slaughter favored a cap and trade program, where any revenue generated through taxes or the purchase of carbon allowances would go to the federal government for reinvestment.
The fee and dividend approach is flawed, Wilt says, because certain communities - low-income neighborhoods and coastal communities, for example - have been harder hit by climate change than others. She'd rather see the money invested in areas such as mass transit or renewable energy development, which will have both targeted and broader benefits, she says.
"It's all we've got," Wilt says. "It's the only bipartisan legislation that is before the chambers right now, and we need to make sure that we're actually working on the problem and not stymied by politics."
Wilt also supports full legalization of cannabis, which she sees as a criminal justice issue. Classifying cannabis as a controlled substance is ill-conceived, she says, and enforcement of anti-cannabis drug laws has a disproportionate impact on communities of color.