Chew on this: food makes up approximately one-fifth of the waste sent to US landfills every year, and 30 to 40 percent of the country's food supply goes uneaten annually.
Food waste is a global problem. It makes products more expensive for consumers and squanders important resources like water, fertile land, and energy. And with 50 million Americans going hungry every day, it's a moral issue, too.
Packaging may have a role to play in reducing food waste.
Members of PAC, the Packaging Consortium — a North American packaging trade group — gathered at Rochester Institute of Technology last month to talk about food waste.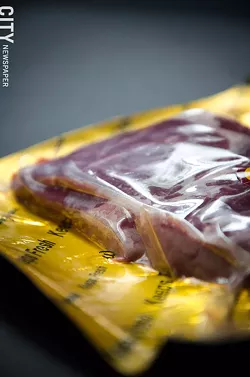 PHOTO BY MARK CHAMBERLIN
Vacuum-sealed packages help extend the shelf life of meat cuts.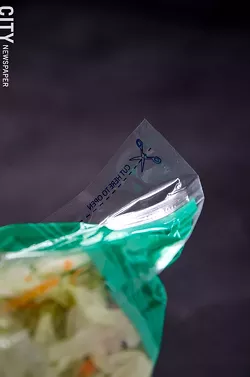 PHOTO BY MARK CHAMBERLIN
Salad greens take longer to spoil in resealable bags.
"Packaging is not the primary problem here, but certainly there's a role that we can play," says Jim Downham, president and CEO of PAC, which has a food waste reduction initiative.
Food waste is a complicated issue, and losses happen throughout the production, distribution, and retail systems. But packaging can reduce damages during shipping and give perishable foods a longer shelf life, Downham says.
For example, if corn on the cob is cooked at the time it's harvested and then packaged, the shelf life increases from a couple of weeks to almost a year, he says.
Packaging also could be a way to provide consumers with portion sizes that result in less waste, Downham says. Various studies have shown that most food waste happens in consumers' homes, often from food going bad before it is eaten or because households prepare too much for meals.
PHOTO BY MARK CHAMBERLIN
Resealable tubs mean a longer shelf life for deli meats.
"There is no doubt that packaging can be one of the solutions or an aid in the food waste thing, but it's not the silver bullet," says Jason Wadsworth, sustainability coordinator for Wegmans. "It's not going to solve the issue of food waste."
Wadsworth says packaging can reduce in-store waste in some cases, especially when changes extend shelf life. Vacuum-sealed packages for cuts of meat, resealable plastic tubs for deli meats, and resealable salad bags are examples.
PHOTO PROVIDED
Jason Wadsworth, sustainability coordinator for Wegmans.
But packaging also needs to be designed to prevent food from damage. And the potential for food waste should be considered alongside other factors, such as recyclability, Wadsworth says. (A couple of years ago, the Wegman Family Charitable Foundation and American Packaging Corp. gave Rochester Institute of Technology $2.2 million to start the Center for Sustainable Packaging. The companies say they hope the effort leads to a better system for designing food packaging.)
But using packaging to reduce food loss has a catch. Instead of discarding food, people may end up discarding more containers and wrapping, and if those materials aren't recyclable, they'd end up in a landfill. Downham says that's an issue, but it's also a matter of balance. In many cases, the packaging has a much smaller environmental footprint than the food it protects, he says.
Environmental groups are pushing for other solutions. The Natural Resources Defense Council released a report on food waste in 2012, which identified several opportunities for reduction. One suggestion is to put a stronger emphasis on regional food systems. Reducing the distance that food has to travel after harvest means a longer shelf life, the report says.
And consumers also play a role in reducing food waste, largely through responsible purchasing decisions. In part, that means consumers should plan out what perishable goods they need so the food doesn't go bad before it can be eaten. Consumers and retailers can also help cut down on food losses by purchasing fruits and vegetables that look imperfect but are otherwise fine.
"There's a lot of great food out there that maybe doesn't look so great but tastes great," Wadsworth says.