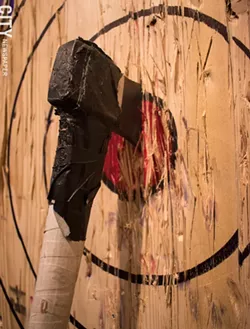 PHOTO BY JACOB WALSH
Bull's eye.
Perhaps you like bar games, but pool has become a bit boring. Maybe you're big into Canadian lumber sports. Maybe you like to throw sharp objects in controlled environments, but darts are just not doing it for you anymore. Or just maybe, you are irrationally afraid of a zombie apocalypse scenario, you've been practicing survival skills at home, and your roommate is getting really whiny about the resulting holes in the drywall. No matter what the reason (I'll assume the latter), Axes & Ales is the place to be.
Located just off the corner of East and Alexander, Axes & Ales offers a less conventional bar experience than most. There's neither a pool table nor dart boards. Instead, there is a bar directly to the left, and from there, you can view a row of large wooden targets encased by five-foot walls and mesh fencing. In the rear is a VIP-type area with a single target next to some comfortable chairs, table, and television. The owners say they envision this to be a decent place for corporate events or private parties. I do not have time for such pleasantries, though — those zombies are not going to kill themselves. I need to learn ax-throwing as soon as possible.
Interestingly, Axes & Ales is located directly across the street from Riot Room, a bar where patrons can don protective gear and smash anything in a designated room for a set amount of time. That's all well and good, but wanton destruction is why my roommate is angry with me in the first place. (We forfeited the security deposit when you turned the attic into a vape lounge, Tyler. What are a few drywall holes when we're talking about the protection of the human race against the bloodthirsty undead?)
I asked co-owner Beau Warren if he had any cantaloupes or other melons that I could use as a decent facsimile for a zombie head. He just responded, "I...what?" That's likely because the kitchen is still being constructed, so there's nowhere to put fresh produce. But when it is finished, they'll offer a robust menu, as well as craft beer and wine.

Co-owner Josh Hurlburt is also an experienced chef, and he's created a menu that boasts everything from turkey legs to oxtail poutine and vegetable shawarma. Until the kitchen is open, they're happy to allow food from the outside, and there are plenty of nearby venues in the area to pick up a meal before training to fight for humanity's survival. Unfortunately, I wasn't allowed to bring my own cantaloupe for target practice. I had to settle for the targets set in the venue.
The space's walls are adorned with works from various local artists. Nice touches like that takes your mind off the heavy task of preparing for the rise of the undead. Axes & Ales is a World Ax Throwing League (WATL) affiliated location, and all of the targets are designed with that in mind: all dimensions of the ax-throwing area are WATL regulation measurements. The owners plan to host official competitions and tournaments there.
PHOTO BY JACOB WALSH
Axes & Ales employees Alyssa and Michael show how it's done.
The red sweatshirt that I wore in anticipation of hiding any injuries I would incur was completely unnecessary. The folks of Axes & Ales are strict on safety protocols prior to even picking up an ax. You have to read and sign a release and go through a thorough lesson on how to handle the axes and how to move around the target areas safely during practices and/or competitions. Additionally, the boards of the targets are replaced regularly to prevent excessive ricocheting splinters, and the axes are sharpened every few days to ensure that they stay buried in the targets and don't bounce off them.
Employee Michael Foy took a quick break from sharpening to teach me the basics of ax-throwing. The two techniques are a stable two-handed throw and a one-handed throw, both overhand. I learned that it takes a decent amount of momentum to get the ax to spin properly and stick to the target. Out of the 10 two-handed throws, I got one of them to stick properly. The other nine hit the target, but with the butt of the ax. That is not bad for my first time, if nine-out-of-10 zombies can be stopped with simple blunt force trauma.
There is no doubt I will be returning to practice more. This could be a fun excursion with two or three people (Group reservations are $35 per person and last two-and-a-half hours. Open throws are $25 per person and are first come, first serve). However, I was made to promise that I would not mention zombies or apocalypses or yell, "Take that, meat bag" every time I release an ax. Also, cantaloupes will strictly be for eating.


Axes & Ales (349 East Avenue) is open Monday and Wednesday-Thursday, 5 to 10 p.m.; Friday, 5 to 11 p.m.; Saturday, noon to 11 p.m.; and Sunday, noon to 8 p.m. 270-8801; axesandales585.com.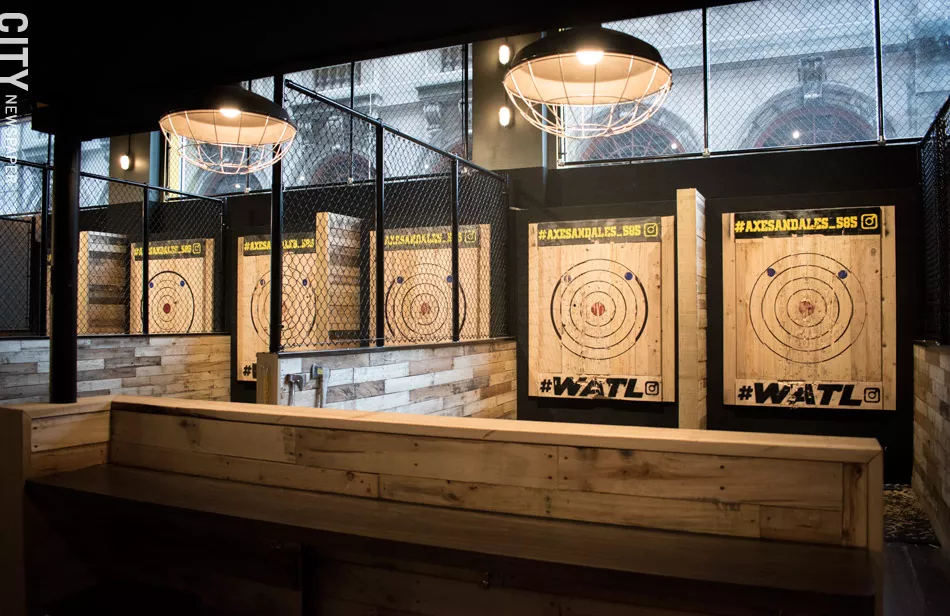 PHOTO BY JACOB WALSH
The throwing range at Axes & Ales.