The Erie Canal had to prove itself.
But Clinton's Ditch — the early name given the canal by detractors who thought it a waste of money — defied critics by becoming a crucial transportation route for people and commercial goods, and later helping spur the country's Westward Expansion. It also gave rise to dozens of villages and cities across the state, including Brockport, Spencerport, Rochester, Pittsford, and Fairport in Monroe County.
But the canal outlived its original use as a transportation corridor, and for a few decades starting in the 1950's, New Yorkers just didn't know what to do with it; people questioned whether the waterway was an asset or a drain on the state.
It's a safe assumption that few government leaders or canal-community residents could foresee the canal's banks becoming a sought-after location for high-end housing.
And yet, in present day Monroe County, three developers have housing projects in the works at four sites along the canal between East Henrietta Road in Brighton and Parker Street in Fairport. Combined, they plan to build more than 840 units of upscale condos, high-end housing, and market-rate apartments, all directly along the canal.
Discussions about canalside housing are happening in other parts of the state, too. The Erie Canal Harbor Redevelopment Plan in Buffalo calls for canalside condominiums. In Syracuse, as part of the Inner Harbor project, an old New York State Canal Corporation building would be converted to retail and residential space. And in Cohoes, a historic mill complex built on top of an original section of the canal, next to the Mohawk River, was converted into 332 luxury lofts.
The Erie Canal has been something of a 360-mile-long redevelopment and reuse project, and waterfront housing could be the next stage in its evolution. The burst of canalside development in Monroe County puts the area at the forefront of this possible trend.
"For a long time, many, many, many communities, and many people really turned their backs on the canal," says Kal Wysokowski, executive director of Fairport's Office of Community and Economic Development and a canal advocate. "It was a place to deposit waste; it was a place for runoff of industrial byproducts. And we've turned a corner on that."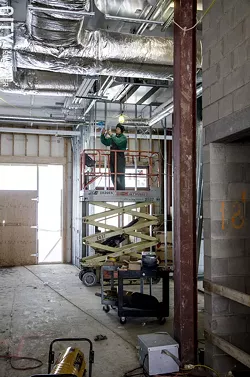 PHOTO BY MARK CHAMBERLIN
Construction at The Reserve, in Brighton.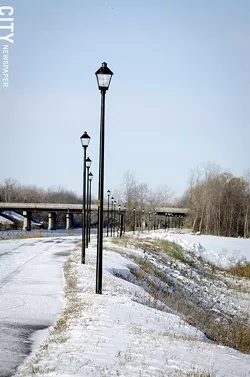 PHOTO BY MARK CHAMBERLIN
Construction at The Reserve, in Brighton.
PHOTO BY MARK CHAMBERLIN
Construction at The Reserve, in Brighton.
Cynthia Howk, architectural research coordinator for the Landmark Society of Western New York, says that the canal is similar to an old warehouse that's fallen out of use, but is still in good shape. People will look for new uses, she says — ones that typically differ drastically from the purpose for which it was built.
The public's mindset toward the canal began to shift two decades ago. Local and state leaders started to view the murky, industrial channel as an asset that presented unique opportunities. And they began making efforts to repurpose the waterway.
"The tourist industry that has boomed and thrived along much smaller canals than the Erie Canal, that's really been the wake-up call," Howk says.
The old towpath was reborn as a multi-use trail, which over the years has become extremely popular with walkers, runners, cyclists, and other users. Developers and local officials worked to convert clusters of old warehouses and mill buildings into retail and office districts, many fronted by attractive promenades; Pittsford's Schoen Place is an oft-cited example. And communities built docks to accommodate the recreational boaters that started travelling the waterway.
All of the attention and effort laid the foundation for the current wave of canalfront housing. At its simplest, canalfront development is waterfront development; people are drawn to the water.
The canalfront is underused statewide, and it can provide recreation and lifestyle benefits to buyers and renters. For example, people can use the canal path to walk to a destination or to bike to work.
"It's a different way of life and I think more and more people are going to be attracted to it," says developer Anthony Costello.
Costello's company, Anthony J. Costello and Son Development, is building two of the four local canalside projects: CityGate in Rochester and The Reserve in Brighton. Both projects are under construction, and people have started moving in to The Reserve.
PHOTO BY MARK CHAMBERLIN
Construction at The Reserve, in Brighton.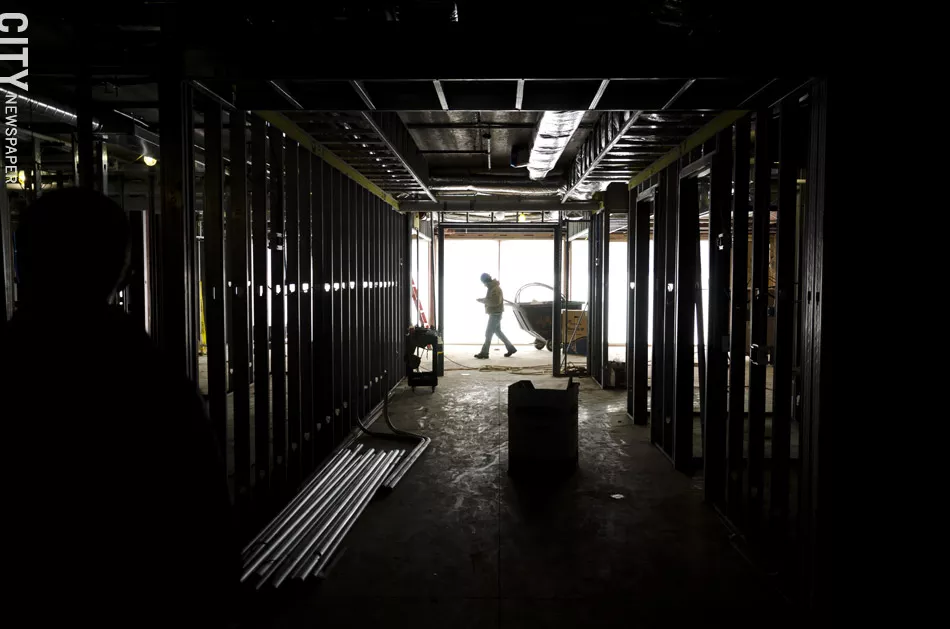 PHOTO BY MARK CHAMBERLIN
Construction at The Reserve, in Brighton.
The other two local projects are Riedman Development Corporation's Residences at Canalside in Fairport and Mark IV Enterprises' Westport Crossing project in Pittsford. Both are under review by their respective local governments.
Thomas and Janine Burton left their Browncroft neighborhood home of 29 years last July to move into a new townhouse in The Reserve.
Thomas Burton says that his family's situation is similar to that of other retirement-age adults. He says that they want to get away from the responsibility of owning a house: raking leaves, blowing snow. But they also want to stay active, he says. And for 10 or 15 years, the Burtons had planned to move to an active living community in the South.
"I didn't want to end up sitting in my house," Thomas Burton says. "And there are so many nice communities down South; active communities that have things to do."
But then they saw what The Reserve has to offer. Thomas Burton says that there weren't any other housing developments he knew about that gave people his age the ability to downsize, but also provided amenities to stay active.
The Burtons spent the summer biking up and down the canal and exploring some of the trails in Brighton's town parks. And Thomas Burton says that he might even buy a kayak so that he can take advantage of the water; Costello plans to install public boat launches after the canal is drained for the year.
Publicly available boat docks and launches are hallmarks of canal development projects, and are required in some cases by local governments; it's one way that officials ensure public access to the canal. The plans for The Reserve, CityGate, and Westport Crossing all include boat facilities.
Burton says that he's looking forward to the completion of CityGate, which is less than a mile down the canal path. And he says that he's also eager for the completion of The Reserve's Clubhouse, which will have high-end amenities including a movie theater and fitness center with spa.
Monroe County's population isn't growing, and the canalfront developers are adding a substantial number of new housing units to the market. But they say that they're confident about their prospects.
They're looking to empty nesters like the Burtons as a key market. The Riedman condo project in Fairport will provide a much-needed housing option that'll help keep residents looking to downsize in the village, says Fairport's Wysokowski.
PHOTO BY MARK CHAMBERLIN
Inside a brownstone model unit at The Reserve, in Brighton.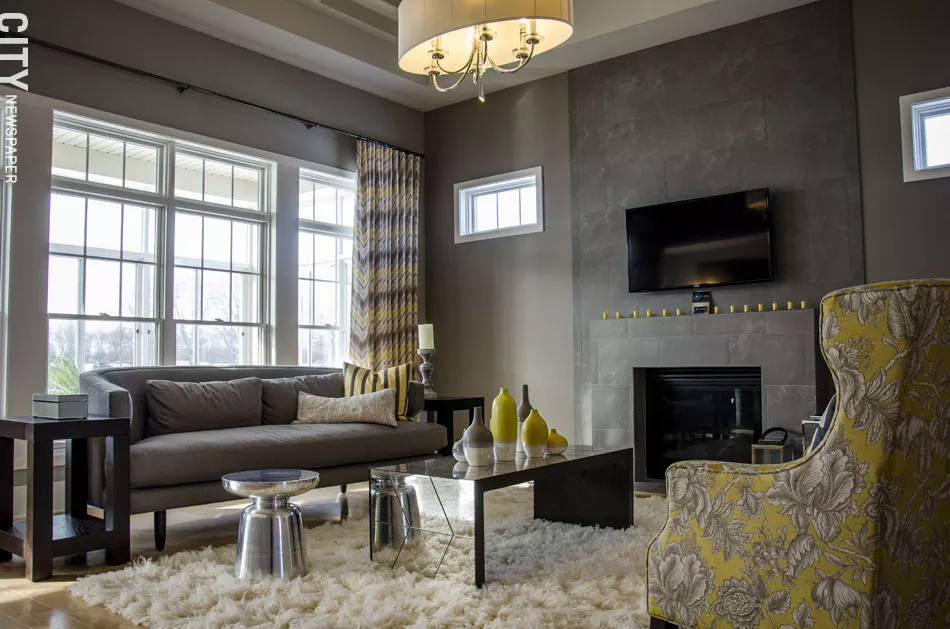 PHOTO BY MARK CHAMBERLIN
Inside a brownstone model unit at The Reserve, in Brighton.
Officials identified that need in the village's 2007 comprehensive plan process, she says. And the developer's market study shows that downsizing empty nesters in Perinton and Penfield might also be interested in the condos, she says.
The developers are also eyeing young professionals as potential occupants, and Costello sees a place for families in The Reserve.
Costello says that he's encouraged by early progress at The Reserve. The 70-acre development has a variety of owner-occupied residences available, ranging from condos to 6,000-square-foot estate houses. The company projected that it would sell 19 condos and houses total in its first year; instead, 31 have been sold or are under contract.
The company has sold houses to couples with kids in the Brighton schools or McQuaid Jesuit High School, and three houses to people relocating to the area from New Jersey, Ohio, and Arizona.
Chris DiMarzo, chief operating officer for Mark IV Enterprises, says that he gets a few e-mails a day from people who want to know when the Westport Crossing apartments in Pittsford will be built and when they can move in.
Canalside projects are not necessarily easy to pull off.
The canal has a long industrial history, and polluted sites are common in canal communities. Mark IV has spent $4 million cleaning up contamination left by Monoco Oil, the former occupant of the Westport Crossing site off Monroe Avenue, DiMarzo says.
Monoco Oil went into bankruptcy after its operations were declared a public nuisance. Mark IV bought the site at a property auction.
Pollution can pose a physical obstacle for canal development, but communities can also be especially particular about what gets built on the banks of this historic resource.
The Residences at Canalside in Fairport is unique in that the village's Industrial Development Agency owns the property — formerly the Fairport Department of Public Works garage — and solicited proposals from developers to find something that'd fit well in the village. Officials deliberately sought out residential proposals, Wysokowski says, because the village already has a vibrant downtown commercial core.
PHOTO BY MARK CHAMBERLIN
The Reserve, in Brighton.
Some neighbors worry, however, that the proposed five-story building won't fit in with the village. The tallest structures in Fairport — two former industrial buildings — are three and four stories.
And CityGate has been criticized for being too centered around cars, partly because of the large parking lot that accompanies the Costco that's being built there. But Costello says that the project is designed with walkways and public spaces meant to encourage pedestrian activity and provide easy access to the canal area.
Also, instead of using the corner lot at East Henrietta and Westfall roads for a commercial building, the CityGate developer will keep the grown sycamore trees and build a small public park there.
Over in Brighton, some town residents resisted The Reserve because it's being built on 70 acres of previously undeveloped land.
"That had historically been open agricultural farmland," says the Landmark Society's Howk. "And that's an additional discussion and balancing act of having open space as well as new development along the canal."
But Pittsford's Westport Crossing illustrates just how intense clashes over canal development and community character can get. Future developers could conceivably find themselves tied up in similar feuds, since canal communities tend to want to protect their distinct identities.
Initially, Mark IV and Village of Pittsford officials were on the same page with Westport Crossing.
The village government took procedural actions to streamline the project's approval process and rezoned the property to allow the developer to build more units; the latter was meant to help Mark IV recoup cleanup costs.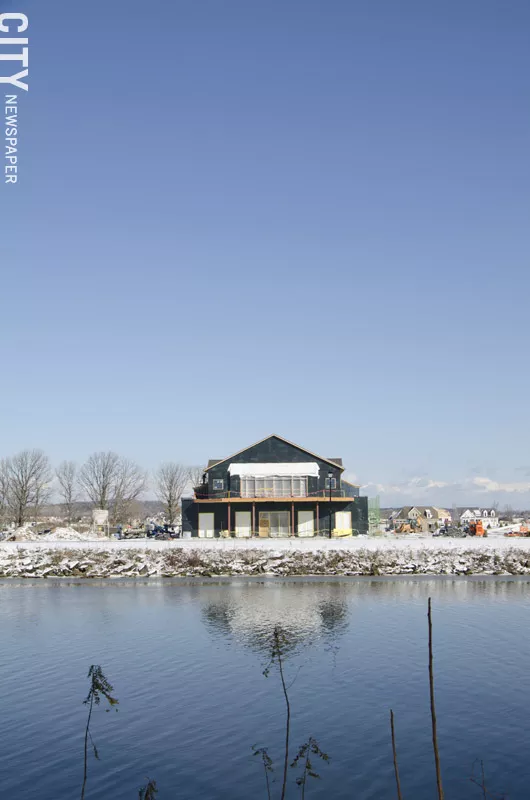 PHOTO BY MARK CHAMBERLIN
The Reserve, in Brighton
Mark IV has permission to build up to 167 apartments on the site, but there was a catch: it could only build the units if the buildings matched the village's character. And Pittsford is well-known for its attention to historic details, whether they're on houses or commercial buildings on the village's main street.
Once Mark IV began rolling out designs, it found itself at odds with most village officials, including Mayor Bob Corby, as well as a vocal contingent of residents.
Over the past few years, village officials and the developer have continued to spar over the designs, which call for five buildings between two, three, and four stories tall. Village officials tried to reopen portions of the project's review, but the developer sued the village and won. The project is moving through the village's approvals process, though Pittsford officials plan to appeal the legal ruling.
The animosity is to the point where neither side talks about the project without taking verbal jabs at the other.
Mark IV's DiMarzo says that the company has proposed a project that emphasizes walkability, ties into the canal and the village's sidewalk system, and serves as an appropriate transition between the residential village and nearby commercial development on Monroe Avenue.
And the designs respect canalside industrial architecture, he says.
"At the end of the day, it's an industrial site that we've cleaned up, spent $4 million of our own money doing, and we're going to make it into high-end, upscale residential use," DiMarzo says. "Common sense is, that's smart."
But Pittsford is basically a two-story village, Corby says, and the structures at Westport Crossing would be out of scale with even its largest canal building: the Pittsford Flour Mill on Schoen Place.
Corby also says that the plans fall short on walkability and landscaping and don't include previously discussed work to develop a gateway to the village on Monroe Avenue. The plans also do not reinforce the village's residential character, he says.
"There's not an expectation that new applicants replicate historic things," Corby says. "We're not trying to create Disneyland. But we have a historic resource here of national significance and it's pretty important that what gets built there blends in harmoniously with the historic context of the canal and the village."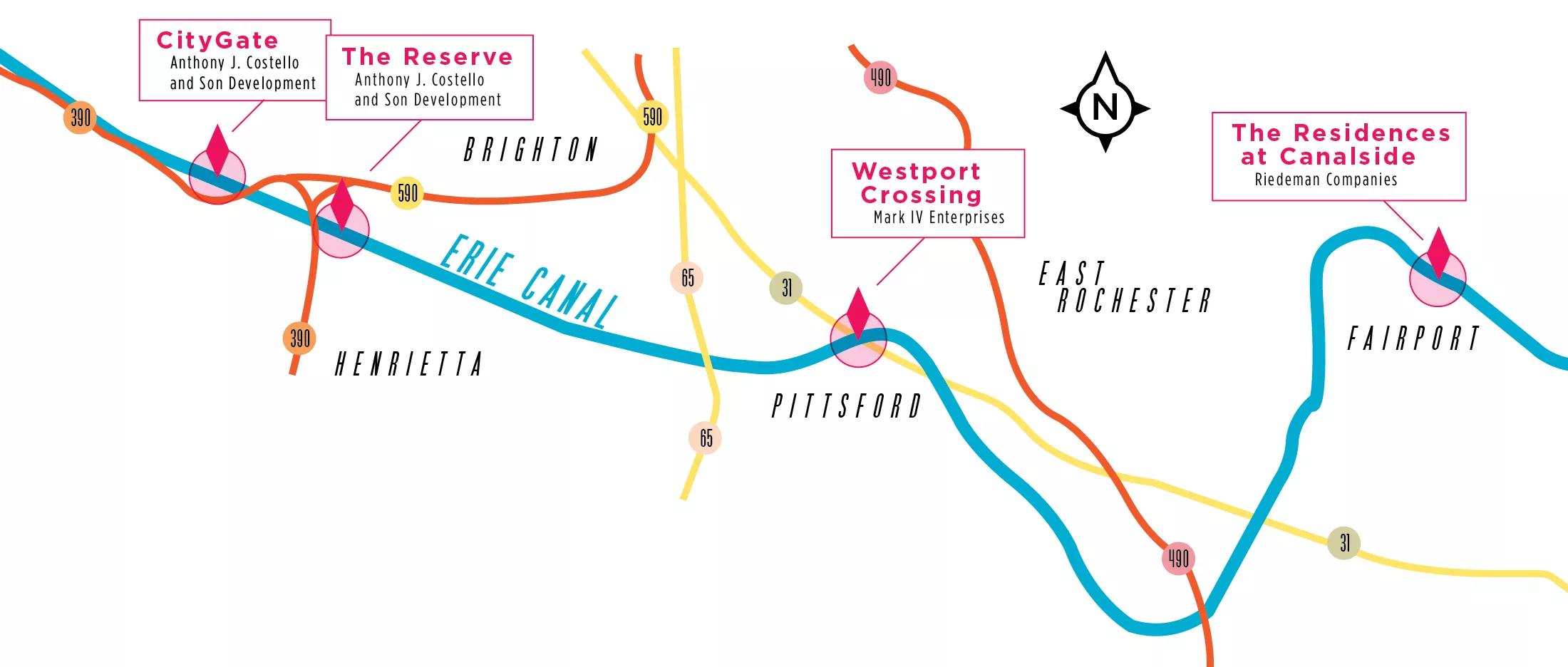 ILLUSTRATION BY MATT DETURCK
The Reserve, Brighton
Developer: Anthony J. Costello & Son Development
The basics: Sits on 70 acres in Brighton, just off of South Clinton Avenue. Will have 327 owner-occupied units: a mix of condominiums, townhouses, single-family houses, and large estate houses. The developer wants to provide an active, resort-like experience.
Status: Under construction, though some homeowners have moved in.
CityGate, Rochester
Developer: Anthony J. Costello & Son Development
The basics: Mixed use. Includes a Costco. Built on the former Iola Campus tuberculosis sanatorium. Includes 300 market-rate apartments. The old buildings have been demolished, but developer is reusing bricks and cement sculptures from the structures throughout the site.
Status: Under construction.
Westport Crossing, Village of Pittsford
Developer: Mark IV Enterprises
The basics: Would include 167 high-end apartments split between five buildings, and a 125-seat restaurant along Monroe Avenue. The project is highly controversial, with many residents upset over the size of the buildings. Status: Under review by the village.
The Residences at Canalside, Village of Fairport
Developer: Riedman Companies
The basics: Would include 48 condominiums adjacent to downtown Fairport. The Village of Fairport has built a promenade and docks alongside the site. $20,000 from developer will be used for as-yet-undetermined street improvement project.
Status: Under review by the village.