During the 2014 Rochester Fringe Festival, FuturPointe, a Rochester-based dance company co-founded by Guy Thorne and N'Jelle Gage, presented "Unbridled" with photographer Carrie Mateosian. While the audience crowded up close at the outside venue downtown, company members Liam Knighten and Melinda Phillips each had a turn at being photographed by Mateosian while they were being transformed into other worldly, near-naked creatures covered with body cream and colored sands. The dancers moved in sensual slowness amid the flashes of the camera in the evening darkness.
Meanwhile, the images of the dancers were projected in real time on a large screen while Thorne acted as guide of sorts, talking the audience through the event while music rang out and the audience craned excitedly toward the action. The performance was sexy, ritualistic, and full of swagger.
"We like multi-layered experiences," Gage said. "It makes for a richer soup."
Self-dubbed a reggae ballet company, FuturPointe has made a name for itself in the six years it's been in existence, due to a desire to reach new audiences through often intriguing collaborations. The company has created performances in conjunction with chefs, photographers, visual artists, musicians, fashionistas, and puppeteers.
The company recently returned from performing in the Cayman Islands, and it is expected in Leicester, England, next month. What drives FuturPointe's success? Yes, the company boasts accomplished dancers with masterful technical skills and beautiful artistry. And yes, the choreography is unique and emotionally-affecting. But its success, too, lies in the unconventional ways in which it connects with its audiences, and its ability to continually draw in new fans. It reaches out through avant-garde collaborations, appealing video components, social media, and an uncanny ability to kinesthetically radiate joie de vivre. The dancers reach out and they connect. Again and again.
This could be seen from the beginning. One of the company's first performances was inside Restaurant Good Luck where, on the first day of summer 2010, FuturPointe unveiled new work while diners sampled a variety of wines and chocolates. The company worked closely with Chef Dan Martello and paired the mood of each dance segment with a complementing wine and chocolate, creating a multi-leveled sensory experience. On the first day of that fall, FuturPointe created another evening of carefully choreographed food, drink, and dance at the restaurant.
"We reach for the elevation of mood and spirit that comes from our art," Gage says. "We strive for that connection, that vicarious experience. We are the larger version of yourself."
"We want to be accessible to people, but not watered down," Thorne adds. "You believe in people. You give them more. They give you more back. People are dying to be opened up."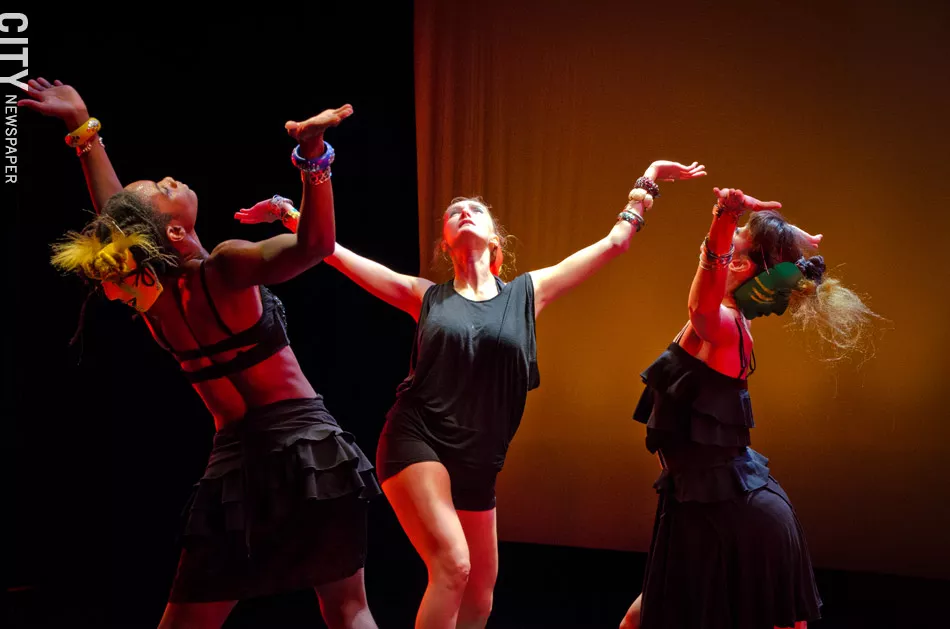 FuturPointe performs "Psychopomp and Pageantry" during the 2013 Rochester Fringe Festival.Photo by MARK CHAMBERLIN
FuturPointe has gained strong local support, including from Garth Fagan, the founder, artistic director, and choreographer of acclaimed Garth Fagan Dance.
"Guy is choreographing for his generation," Fagan says. "His use of shorter dance phrases, his use of video components in performance — he's in the moment. He's doing wonderful stuff, and as he progresses, even greater things will come to the fore."
Thorne and Gage, who married last spring, have been part of one another's lives and work for more than 20 years now. They both began dancing in their native Jamaica at an early age and reconnected in the United States.
There is a literal meaning to the company's name. Gage, who calls herself a futurist, refers to a desired collective future for humanity, a time and place she strives toward through creating. The couple adheres to the Rastafarian philosophy of "livity," or living a cohesive and holistic lifestyle. Gage and Thorne consider their dance work holistic theater and speak about layering it with positive messages for uplifting consciousness, shifting intellectual perceptions, and honoring the body as a potent spiritual vehicle of self-expression. Shared rituals, love for others, and a holistic worldview are all elements of their philosophy that come to play in their choreography and performances.
"There is a strong spiritual element to their work — their love for each other, their appreciation," says Sarah Gullo-Andreacchi, assistant dean to students and co-chair of the dance department at Hochstein School of Music and Dance, where FuturPointe is currently in residency, teaching classes, and planning a June performance.
"And there is a sense of openness in their teaching. They want to see who you are as a person and let you find what this movement is all about for you. They let you find your own cool. They themselves have a huge sense of personal style — their reggae swagger."
Thorne, FuturPointe's artistic director, came to the United States from Jamaica as a scholarship student with the Dance Theatre of Harlem, and later spent seven years as a principal dancer with Garth Fagan Dance. He holds his BFA in Dance from SUNY Brockport and served on the dance faculty at SUNY Potsdam.
In 2012, Thorne was awarded a Jubilation Foundation Grant — "a grant given to individuals and organizations with an exceptional talent for making young people feel fully alive through rhythm," according to the foundation's website — for his work with the children at Cobblestone School in Rochester where he introduced them to Junkanoo, a West African and Caribbean performance art that combines dancing with singing, drumming, and costume-making. Thorne then took his program to local public libraries and also incorporated it as an interactive feature into their Rochester City School District performances.
Gage, FuturPointe's executive director, studied ballet under various accomplished instructors from an early age and began dancing professionally in her native Jamaica at just 15 with the modern dance company L'Acadco, led by L'Antoinette Stines.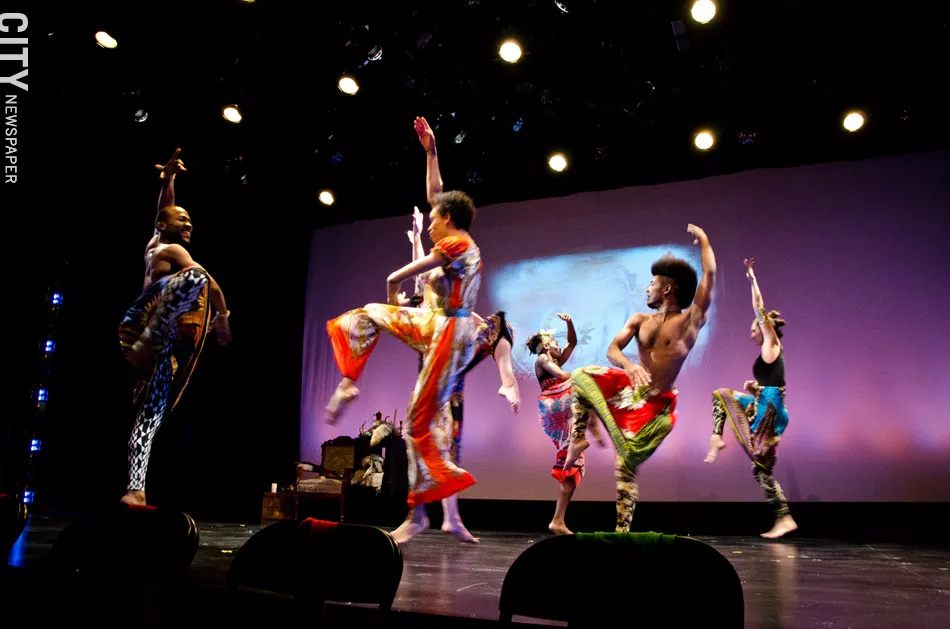 FuturPointe performs "Psychopomp and Pageantry" during the 2013 Rochester Fringe Festival.Photo by MARK CHAMBERLIN
Thorne, Gage, and Heather Roffe (FuturPointe's co-director, principal dancer, and a founding member), all choreograph for the company. Having several choreographers is another of the group's strengths, adding diversity of style and tone to its repertoire. The company fuses traditional and modern Caribbean dance forms but relies on the vocabulary of classical ballet and Latin dance to structure its work.
FuturPointe began with a core of five dancers. That number has since doubled. Along with Thorne, Gage, and Roffe, the company includes founding members Liam Knighten and Melinda Phillips, and newer members Kathryn Bowering and Brittany Lang. Lillie Pincus, Elizabeth Fleche, and Renee Sobers are junior company members.
Roffe has worked closely with Thorne and Gage from the beginning. She is trained in both classical ballet and modern dance but is also a master of various other forms including Argentine tango. Roffe was a member of Garth Fagan Dance for a year and has performed frequently with Bill Evans Dance (a contemporary and tap company). Since 2012, she has been Assistant Professor of Theatre in Dance at Nazareth College where, last year, she began MAD (Movement and Dance) Weekend, an annual dance festival featuring workshops, master classes, and performance.
Roffe is adamant about giving audiences enjoyable dance experiences.
"This strange disconnect exists between art and entertainment," Roffe says. "Why can't you have both? FuturPointe has always been interested in bridging that gap."
And entertain they do. FuturPointe's performances are high voltage, awe-inspiring, playful and just plain fun. Thorne is a born communicator and comedian and usually addresses the audience before performances — making them laugh, offering insight, even encouraging them to take pictures to post on Twitter or Facebook. He is also adept at using video media; performances often feature his projections and dance films. Using video components is one way the group seeks to give people who may not be used to experiencing dance something familiar to grab onto.
"People are very familiar with seeing things on a screen," Roffe says. "They are used to that kind of sensory input. So we use that as a window of opportunity to give them a new experience."