Danny Cocuzza is one of those driven young talents who nimbly pluck fruit from different realms of creativity. At 24, the Hilton native is known for his skillful, irreverent illustrations, which often set the tone as show fliers for local bands. At this particular moment in time, you can peep his witty, finely rendered brush-and-ink drawings at both Skylark and Bug Jar -- the latter spot also has a new diptych mural by Cocuzza on the wall behind the stage.
He also plays guitar in the 10-piece, effervescent rock outfit, Aweful Kanawful & His Rubber Husband's Band, which held its debut performance on a 13 WHAM morning show in mid-July. Later that same evening, the band played a show with Fox Sisters that packed rock fans into Lux's backyard like giddy sardines. And for someone who's so fully immersed in the city's music and art scene, Cocuzza's still got deep roots in Hilton, where he makes his living at his family's apple farm, Kelly's.
These days, Cocuzza flexes his visual art skills mostly on the crisp, flowing line work of his drawings, which he says he favors for how quickly he can bang them out. "There's just such a sense of satisfaction from being able to complete something in one sitting," he says.
But he's also got serious skills in acrylic portraiture, and is toying with the idea of teaching himself landscape painting.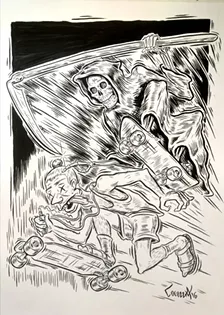 12 slides
Cocuzza's drawings manifest as pages packed with hordes of expressive faces (he used this technique for the Bug Jar mural); pop-culture mash-ups like his "I Want to Believe" doodle of Tupac Shakur driving a flying saucer; an arresting portrait of Medusa and her serpentine locks; and a series of toilets with various prized parts and objects being slam dunked or flushed down the drain.