"Happy Birthday to a Beautiful Woman" by Mickalene Thomas
Through October 19
George Eastman House, 900 East Avenue
Tuesday-Saturday: 10 p.m. to 5 p.m.; Sunday 11 a.m.-5 p.m. | $5-$12 | 271-3361; eastmanhouse.org.
---
Children spend their lives orbiting their origins, barely conscious of the gravity their parents' lives have on their own. Much like our relationship with the sun, we absorb our parents' nourishing offerings, and too often their role as parent eclipses the equally crucial parts of their lives which have nothing to do with us. The journey to adulthood involves acknowledging our parents as whole people, and learning about ourselves and others from this experience.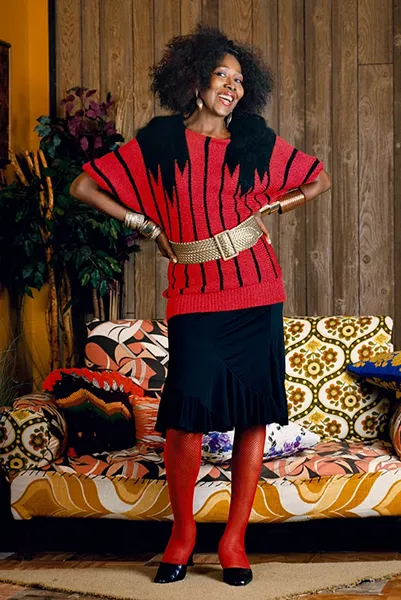 PHOTO PROVIDED
Mickalene Thomas (American, b. 1971). Sandra: She's a Beauty Standing, 2012. Courtesy of the artist, Lehmann Maupin, New York & Hong Kong, and Artists Rights Society (ARS), New York. © Mickalene Thomas
Through October 19, George Eastman House will host Mickalene Thomas' 2012 film, "Happy Birthday to a Beautiful Woman," which provides a vignette of the life of Sandra Bush, the artist's mother. The film, created in the last year of Bush's life, is accompanied by photography and an intimate, room-sized installation. As a whole, the work includes themes of beauty, identity, love, pride, revelation, and closure.
Thomas is known in the contemporary art world for her depictions of African-American women, reminiscent of 1970's-style Blaxploitation art, her subjects confronting the viewer while radiating a confident sexuality. The women in Thomas' provocative photographs and paintings are posed in bold garments or recline on mismatched, kitschy patterns, mimicking the sprawling nude odalisques from 19th-century French Impressionist paintings. Many of her photographs serve as the basis for complicated, collaged paintings spangled with colorful sequins.
It would be hard to overstate how impressive the New York-based artist's achievements are. Thomas received her BFA from Pratt Institute in 2000 and her MFA from Yale University in 2002, and has had exhibitions at major institutions across the United States and Europe, including Santa Barbara Contemporary Arts Forum in California, the Museum of Contemporary Art in Detroit, The Renaissance Society in Chicago, and at Brooklyn Museum. She has been the artist-in-residence at The Versailles Foundation Munn Artists Program in Giverny, France, at Yale/Norfolk, and at the Studio Museum in Harlem. Thomas' portrait of Michelle Obama was the first individual portrait done of the First Lady and was exhibited in the National Portrait Gallery's 2010-11 "Americans Now" collection.
Through the course of her career, Thomas has shifted from abstract work to figurative work with abstract elements, to portraiture, and most recently, to storytelling through film. As an adult and working artist, Thomas reconnected with her estranged mother, former "Black is Beautiful" era model Sandra Bush. Bush became her artistic muse and stars in many of Thomas' paintings and photographs as "Mama Bush." "Happy Birthday to a Beautiful Woman" is the result of Thomas' desire to fill in the gaps of her understanding of her mother's life.
The 23-minute film is showing in Eastman House's Project Gallery, situated to the left immediately inside the museum's main entrance. This smaller exhibition space has been split into two long rooms, the first of which is brightly lit and decked out with wood paneling and cheerful 1970's wallpaper in tertiary colors, with a few pieces of furniture to match that era.
In this first room, a collection of several large-format portraits of "Mama Bush" adorn the walls, each pulled from different sessions of Thomas' photo shoots with her mother. From these portraits, we gain a keen sense of the captivating woman that Sandra Bush was. Her self-possessed poise and magnetism shine through the picture plane. But through the short film, we gain a fuller picture of the trials and vulnerabilities that "Mama Bush" overcame.

PHOTO PROVIDED
Mickalene Thomas (American, b. 1971). Lounging, Standing, Looking, 2012. Three chromogenic development prints. Courtesy of the artist, Lehmann Maupin, New York & Hong Kong, and Artists Rights Society (ARS), New York. © Mickalene Thomas
Through a doorway in the long wall of the first room, viewers cross over into a dimly-lit, more intimate room where the film is looping, projected onto a large screen. This tiny theatre is outfitted with furniture and objects from Sandra Bush's home, as well as an assortment of furniture constructed by Thomas herself, using fabric in vibrant, mismatched patterns. Smaller photographs and collages by the artist adorn the walls.
The story of the work's creation is one of immense bravery on the parts of both mother and daughter. As her mother's health rapidly declined, Thomas took her final opportunity to ask questions about her mother's divorce from her father, and about the years that a teenaged Thomas spent away from her mother, living with her grandmother, before making her way into the art world.
The exhibit is an impressive choice for George Eastman House. It features the work of a contemporary working artist — an African-American woman who has successfully and brilliantly broken into the Western Canon with portraiture that flips and challenges the traditional depictions of black muses — and includes mixed media artwork beyond photography and film. The project asks the audience, in a way, to step right into the pictures themselves.
"Our director, Bruce Barnes, had seen Mickalene's film exhibited in a similar installation at Lehmann Maupin in the fall of 2012 and wanted to find a way of showing it here at Eastman House," says Lisa Hostetler, Eastman House Curator-in-Charge of the Department of Photography. "Plans had not yet been made for that when I arrived here in December 2013, but I knew of Mickalene's work and agreed with him that it would make a nice George Eastman House show."
Hostetler took on the task of organizing it with Thomas' studio after they visited Eastman House in January 2014. It was agreed that the exhibition would focus on Thomas' photographs and film relating to her mother.
"Mickalene's work in general centers on concepts of beauty, how those notions are impacted by race and gender, and the relationship between artist and muse," Hostetler says. "But by focusing on her work about her mother, all of these things came into sharp focus. In addition, the exploration of the mother-daughter relationship in these works was also important, because photographing family and loved ones is so much a part of most people's experiences with photography. So the theme was particularly appropriate for George Eastman House."
"Happy Birthday to a Beautiful Woman" is a loving tribute to a proud woman who dragged herself out of abusive relationships and drug addiction, who treated others well, and who smiled with her head held high even as she weakened and suffered from sickle cell anemia and Rheumatoid Arthritis. Bush died in 2012 from complications with kidney failure.
Thomas' work is relatable in that it represents the universal fact that some of the people we know most intimately are in a way strangers. It holds an honest depiction of the process of piecing together parts of ourselves through understanding the lives that touch our own.
It took almost year to make the film, from conception to the finish. During that time, Bush spent more time in the hospital than out and the interviewing took place in separate sessions as space for resting and emotional responses required. Some of the original footage was shot with Thomas' HD camera, including scenes in the hospital. Later footage was recorded using a Red Digital Cinema Recorder after Thomas began working with film producer Tanya Selvaratnam and what the artists described as a small and sensitive crew of people.
PHOTO COURTESY GEORGE EASTMAN HOUSE
Mickalene Thomas, Detail of installed living room for viewing the film "Happy Birthday to a Beautiful Woman."
Throughout the short film, Thomas is only present as a stoic voice periodically asking questions, and more subtly, as the evidently important presence whose reactions Bush anticipates as she answers honestly, and at times, hesitantly and emotionally. Bush's story, told through dialogue and images, touches on her childhood with religious parents; her marriage and divorce; her modeling career cut short when the model Iman arrived from Africa; her addiction to drugs; rehabilitation; adoption of Buddhist practice; and reconnection with her adult daughter Thomas, who made her the "star of the art world," as Bush beamingly phrased it.
Thomas says her childhood memories of her mother are of "this very statuesque, beautiful, woman. She was always active and social, and really good to her friends." Thomas describes her mother as progressive — she was a vegetarian, and raised Thomas and her brother as vegetarians; she was a practicing Buddhist for 37 years, and befriended individuals from different backgrounds.
"Culturally she was so diverse, as far as what she exposed my brother and me to, and I think that has a lot to do with who I am today," Thomas says.
We each move through a period of time where our parents fall from their god-like pedestals and as the children, we are then tasked with picking them up and figuring out where to set them. By making a muse of her mother, Thomas helped Bush realize the dreams that weren't actualized through a modeling career. As an adult, Thomas's work has involved discovering her mother as an entire person, separate from the expectations of the child. By allowing her mother to be vulnerable and fallible, the woman's strength became ever more poignant.
In preparation for the film, Thomas consulted with her mother's older brother. "I'd ask him about her, and try to figure out what was appropriate to ask her, because he knew a lot," she says. "And I wanted to confirm, 'well, if I ask this, do you think she's gonna answer it?' So I was able to prepare myself with more questions, and create a list of things I wanted to reconcile, or that I wanted to hear from her."
The questions led to revelations, and the process became a conversation. "It was really intense at times, like, okay, maybe we should stop right here, maybe we should let this be it," Thomas says. The artist withheld many of these revelations from the film, because she didn't feel some of the information was appropriate for a wider audience.
Sandra Bush did see the film before she died. Due to the sensitive nature of so much of the content, Thomas returned to her mother repeatedly to show her edits, and respectfully removed anything that her mother would rather keep private. After about six months of editing down close to 100 hours of footage into less than 30 minutes, Thomas says her mother was surprised that the sweet, loving portrait was the outcome of the interviews for the film.
"She said she thought I was angry with her, and she wasn't sure how I was going to take the information she shared," Thomas says.
According to Thomas, Bush loved the work, but her only complaint was that she wanted her wrinkles removed. "She thought I airbrushed her photographs, and I told her that I never did. But she wanted me to airbrush the video. I said, well, 'I don't think I can do that!,'" Thomas says. "She was surprised that the film was about her, as the subject of my work. It made her feel really good."
PHOTO PROVIDED
Mickalene Thomas (American, b. 1971). Still from Happy Birthday to a Beautiful Woman, 2012. Digital video; runtime: 23 minutes. Courtesy of the artist, Lehmann Maupin, New York & Hong Kong, and Artists Rights Society (ARS), New York. © Mickalene Thomas
Thomas sought out the people involved in some of the more sensitive details revealed in the film. The piece was planned to air on HBO, and Thomas went to her father to ask him to see the film and sign off on the veracity of what Bush discusses regarding him.
"So I met with him, and he watched the film," Thomas says. "He said, 'Yeah, I was a young punk. I was a real young punk. I did those things. I'm a different guy now.'" Thomas' father reconciled with her mother in the last five years of her life, after reaching out to her because he knew she was sick.
Mickalene Thomas has taken this opportunity to reflect on herself and learn from her muse. "My mother was so much more of a forgiving type of person than I was," she says. "I think I've become more forgiving of people's failures and weaknesses" as a result of looking at her life. Thomas says she also finds herself accepting and forgiving her own weaknesses and failures, and being more open to allowing others to take care of her.
Take this exhibition for example. Thomas, who was accustomed to working alone on her installations — which consists of building custom furniture, sewing fabric pillows, and installing various elements to transform a space into a living environment — accepted support from Eastman House in constructing this work.
"The planning process took about three months, and the actual manual labor took five full days with a team of between 3 and 6 people working extended hours," Hostetler says.
Thomas says her mother will continue to be her muse.
"I have so much work and photographs of her from different photo sessions. I'm also finding new ways of including her in my work. I'm doing a similar show in Chicago about her, the film's going there," she says. For this show, Thomas is preparing sculptures made from some of her mother's "artifacts," including jewelry, shoes, clothing, quotes that Bush would write on cards, and sculptures made by Bush in some of the art classes she had taken later in life.
Thomas says she will bronze these objects, creating a room full of intimate monuments, and include them in a larger presentation to be shown for the first time in September. Through this extension, Thomas says she will continue to explore how her mother was really involving herself in her life.
The artist is also moving toward more storytelling in film. A 20-minute version of a new film project will be presented at two of her upcoming art shows in Monaco and in Paris. The short is a sequence of two female lovers gazing at each other, Thomas says. She plans to extend the work, "which will unfold into this love story between two people, told through visual image, she says. The film is a slower-paced journey, and the only sound is sort of a white noise, the artist says. The work will be presented in large scale: "intimate, but also sort of grandiose."