When people visit a museum or gallery, they are typically drawn in to view a specific exhibition, and perhaps linger a while to wander the permanent collection as well. But since most cultural institutions have neither the space nor the funds to present their entire collections to the public at all times, many objects reside in storage, and a percentage of the collection is fairly unknown. Many institutions are digitizing their collections, increasing public awareness. But some important artworks and objects may not necessarily stand out amid other attention-seizing pieces.
This article kicks off what will be an ongoing series in which we ask the staff of local museums and galleries to highlight specific artworks or cultural objects from their respective institutions' collections, and tell us what makes them such special components of our cultural landscape. The following bits are edited responses from curators, educators, and archivists at George Eastman House and Memorial Art Gallery. For the full versions of their selections, and more responses, visit the online version of this article at rochestercitynewspaper.com.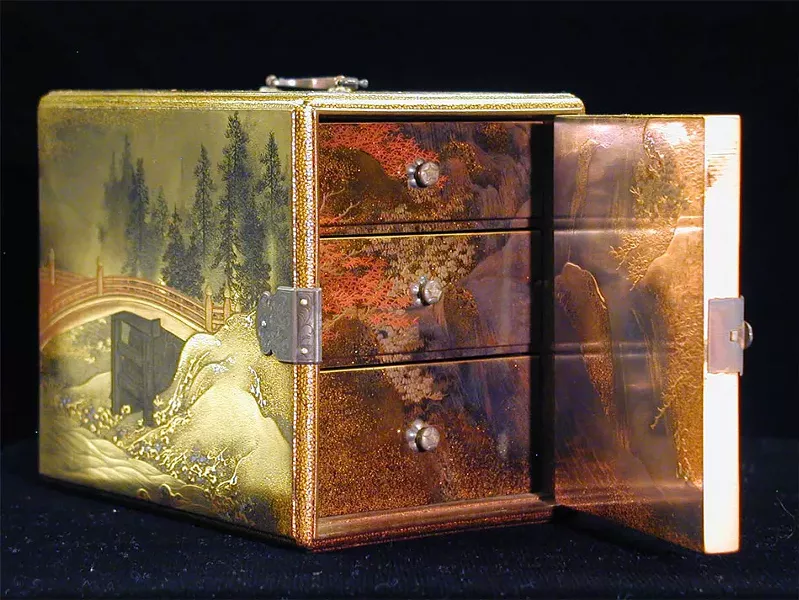 Unknown Japanese artist, Edo Period (1615-1867 CE), "Lacquered Incense Box (Ko-Dansu)"
Unknown Japanese artist, Edo Period (1615-1867 CE), "Lacquered Incense Box (Ko-Dansu)" (Wood lacquered in gold and red, with etched silver hardware; Memorial Art Gallery)
Selected by Nancy Norwood, Curator of European Art, Memorial Art Gallery of the University of Rochester | Gift of Dr. and Mrs. Leon L. Miller in honor of Mrs. S. Burdette Burne, 77.98, acquired in 1977.
"This small, ornately decorated laquerware box is one of my favorite works at MAG, both because of its beauty and, on a personal level, simply because it strikes my fancy. When I look at it, I imagine a time and place long ago and far away, a time that will never recur.
"The place was Edo Japan, the time of the shoguns and samurai. These small box-chests, called ko-dansu, could hold any number of personal treasures and serve any number of purposes. Made of wood covered with several layers of sap from the lacquer tree, this little box probably held the implements of the incense game, a popular leisure activity at the Edo court. After smelling a number of distinct incenses — sometimes up to 54 different ones — the game players were asked to identify which was the final 'mystery' incense burned by the game master.
"So when I look at this box, I feel a sense of nostalgia for a society I never experienced. I imagine a world where successfully identifying a single scent was the point of a popular game; a culture that honored craftsmanship enough to use such a box to hold game pieces; and a world where artists were held in such high esteem that warriors and rulers vied for their wares."
Eastman Kodak Company, "No. 3A Autographic Folding Pocket Kodak, Modified by Henry Gaisman, To Be a Shaving Kit for George Eastman"
Eastman Kodak Company, "No. 3A Autographic Folding Pocket Kodak, Modified by Henry Gaisman, To Be a Shaving Kit for George Eastman" (1916; George Eastman House)
Selected by Kathy Connor, Curator of the Eastman Legacy Collection, George Eastman House | Gift of Mrs. Audley D. Stewart.
"In 1916, George Eastman received a 3A Autographic Folding Pocket camera that was remade into a shaving kit specifically for him to use on his many camping and hunting trips. The gift was from Henry J. Gaisman, colleague and inventor of the Auto-Strop razor. The George Eastman Legacy Collection at Eastman House holds dozens of letters from Eastman to Gaisman that extol the virtues of Gaisman's Auto-Strop razor, which Eastman not only used, but bought as gifts for his friends. Eastman even did a testimonial ad for the razor but became a bit upset when Gaisman ran it more than once and included his picture.
"The two men became friends in 1914, when Gaisman showed up at Eastman's office with a solution to a problem Eastman and his scientists had been grappling with for a while: a way to identify photographs on a roll of film. Gaisman's invention consisted of a narrow slot in the back of the camera that the photographer could open up, and then using a stylus (also provided on the back of the camera), could write his or her message on the red backing paper. Eastman saw the Autographic feature as a wonderful patent purchase. He reportedly paid Gaisman $10,000 on the spot and offered $300,000 for the rights effective January 1915.
"The camera shown here was fitted to hold a small silver box of Auto-Strop razors. All are in their original packaging, along with a large leather strap used to sharpen the razors and two round velvet-covered holders which Gaisman left empty when he presented it to Eastman. Eastman sometimes used them for the soap and brush, but more often than not used them to hold rolls of film when traveling. The back of the case holds a mirror which, when the camera is open, can be adjusted to any angle for shaving."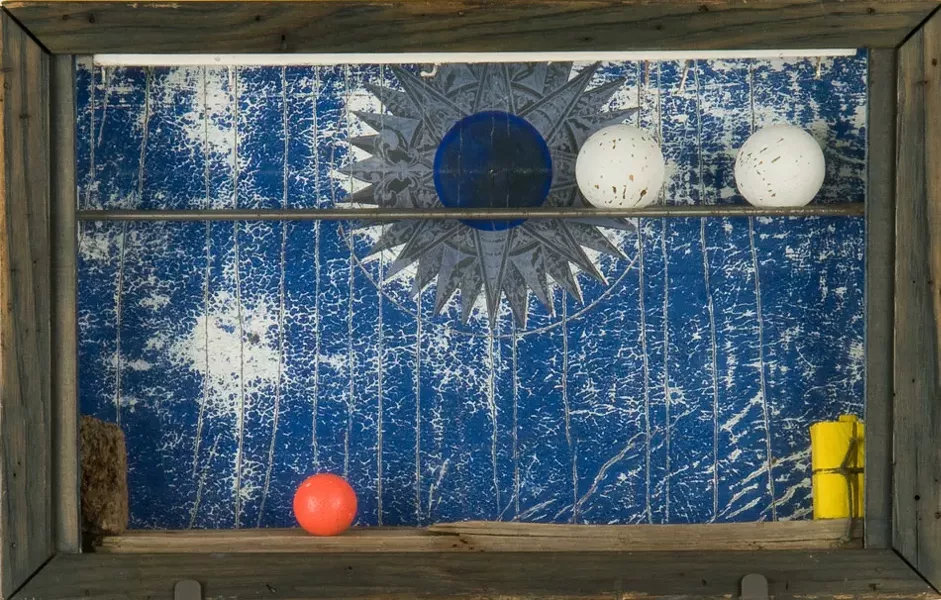 Joseph Cornell, "The Admiral's Game"
Joseph Cornell, "The Admiral's Game" (Mixed media, ca. 1950; Memorial Art Gallery)
Selected by Marlene Hamann-Whitmore, McPherson Director of Education, Memorial Art Gallery | Maurice R. and Maxine B. Forman Fund, 98.77, acquired at MAG in 1998.
"'The Admiral's Game,' one of Joseph Cornell's mixed-media constructions, is a collection of images and objects that the artist gathered and reassembled in the most intriguing and evocative manner. Like all of his work, it presents more questions than answers, making it all the more intriguing to me. The title and the contents — painted cork balls, a bright yellow block of wood wrapped in a discarded piece of string, a blue and white background denoting deep seas and vast constellations, the decorative silver star — all speak to mystery and adventure within and beyond. What's not to love?
"Cornell was an artist's artist, a true individualist, and a bit of a loner whose work inspired not only other visual artists, but poets as well. There's a wonderful book, 'A Convergence of Birds,' edited by Jonathan Safran Foer that includes the original fiction and poetry of over 20 writers all inspired by the work of Joseph Cornell.
"Young children are often the first to grasp the magic of Cornell's work. They are rarely bothered by work that puzzles, being deep in the throes of making sense of their own ever-expanding universe. For me, one young visitor summed up Cornell's enigmatic magnetic pull best, as he walked through the gallery, confidently pronouncing his likes and dislikes. Stopping and looking straight at 'The Admiral's Game,' he declared, 'And I don't know what that is, but I like it.'"
Edward Steichen, "Fabric design for Stehli Silk No. 28 (sugar cubes)"
Edward Steichen, "Fabric design for Stehli Silk No. 28 (sugar cubes)" (Gelatin silver print, 1926-1927; George Eastman House)
Selected by Jamie M. Allen, Assistant Curator of the Department of Photography, George Eastman House | Bequest of Edward Steichen under the direction of Joanna T. Steichen. © The Estate of Edward Steichen.
"George Eastman House holds the world's largest collection of Edward Steichen's work, featuring more than 11,000 prints and negatives that were given to the museum between 1981 and 2001 by his widow, Joanna Steichen. Edward Steichen's numerous accomplishments included leadership of the Photo-Secession movement that raised art photography standards and awareness. He created documentary views of WWI and WWII and was a well-known celebrity photographer, creating covers for magazines such as Vogue. In addition, he took a great number of personal photographs of his family.
"This image is a good example of Steichen's artistic intent, coupled with work made for a commercial purpose. This black-and-white abstract photograph of sugar cubes was produced for the textile industry to be photomechanically printed on the fabric of silk neckties. While the intent is fabric design, the placement of the shadows and repetition of the sugar cubes within the photograph emphasizes light and form. With such a strong sense of rhythm, this commercial image could easily be hung in a Modernist Art exhibition."
Yayoi Kusama, "Statue of Venus Obliterated by Infinity Nets"
Yayoi Kusama, "Statue of Venus Obliterated by Infinity Nets" (Acrylic on fiberglass and canvas, 1998; Memorial Art Gallery)
Selected by Jessica Marten, Interim Chief Curator/Curator of American Art, Memorial Art Gallery | Marion Stratton Gould Fund, 2013.20.1-2, acquired in 2013.
"It seems ridiculous to imagine that a neon green and pink pattern painted over the surface of the Venus de Milo would be a good way to obliterate it, should one want to do such a thing. With or without paint, it's not easy to miss a monumental, armless, female nude.
"Yet, I've found that the more closely I look at the 'Statue of Venus Obliterated by Infinity Nets' by Yayoi Kusama, the less I can see it.
The bright acid color and the hypnotic pattern of the figure and the canvas behind it create a vibration, an optical experience that is both enthralling and discombobulating. For a brief moment, Venus is obliterated, and me along with her.
"Known for her polka dots as well as her infinity nets, Kusama has said that she obsessively paints her patterns and is consumed by the process, achieving 'self-obliteration' in which her concept of self begins 'dissolving and accumulating, proliferating and separating' into her work. Now in her mid-80s, Kusama is still painting and making and obliterating and creating."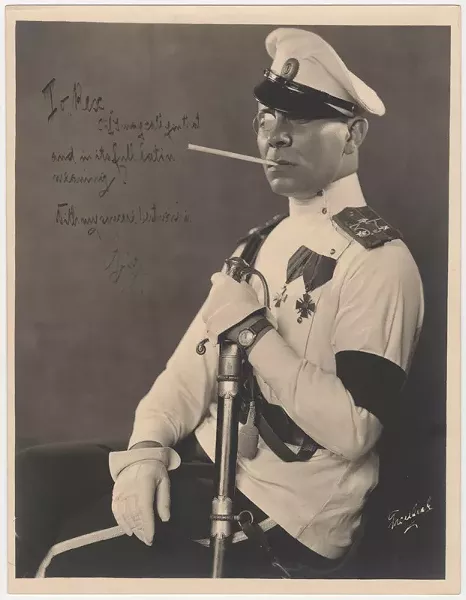 "Portrait of Erich von Stroheim, inscribed to Rex Ingram"
"Portrait of Erich von Stroheim, inscribed to Rex Ingram" (1922; George Eastman House)
Selected by Nancy Kauffman, Archivist of the Stills, Posters and Paper Collections, Moving Image Department, George Eastman House | Gift of Alice Terry, acquired in 1958.
"This portrait of Erich von Stroheim is a wonderful example of how George Eastman House's efforts to document and tell the story of motion pictures have been integrated with our collecting of films and related artifacts.
In the late 1950's, George Pratt, assistant curator of motion pictures, conducted a number of interviews of actors, actresses, directors, and cameramen — the real pioneers in the industry — in an effort to document the early history of the movies. In the course of these interviews, Pratt often asked his subjects if they had any duplicate photos from their career, or if he could borrow their photos to make copies for the archive. Many of these people complied, happily, and our collections are so much richer for it.
"One of the people Pratt interviewed was actress Alice Terry, the widow of director Rex Ingram, and she generously gave many of her original photos to Pratt for the museum collection. Among those photos was this one of director Erich von Stroheim, who had personally inscribed it to her husband:
To Rex,
If I may call you that
and in its full latin
meaning?
With my sincere best wishes
Erich
"To hold and care for this photo that was once in the possession of these two great film directors, and which was acquired through the steadfast efforts of George Pratt to document the history of motion pictures, is indeed a privilege."
Unknown 1st Century Roman, "Fresco Fragment with Cupid Holding a Mask"
Unknown 1st Century Roman, "Fresco Fragment with Cupid Holding a Mask" (Paint on plaster, before 79 CE; Memorial Art Gallery)
Selected by Marie Via, director of exhibitions, Memorial Art Gallery | The C. Herbert Ocumpaugh Collection, 28.75.
"I had visited Pompeii shortly before I joined the MAG staff, and maybe that's why this little painted fragment caught my eye back then. How is it possible that its bright colors survived the blanket of hot gray ash that enveloped the doomed city in 79 CE? Did it decorate a private home, or a theater, or a brothel, or...what? Was Cupid part of a parade of putti on that wall, or had he gazed down at lovers he had united? Questions that can never be answered continue to intrigue me 30 years later."
Castle Films, "When Flowers Bloom" (ca. 1929; George Eastman House)
Selected by Deborah Stoiber, Collections Manager of the Moving Image Department at George Eastman House | Gifted to GEH in 2008 by Roger Gonda
"Lovers ever have waged their battles of the heart with flowers" is the theme of this beautiful film located in the nitrate vaults at George Eastman House. Produced using an unidentified stencil-color process to showcase its garden settings, this unique one-reel short is an interesting example of a color production by Eugene W. Castle. It is one of 12 color novelty films released in 1929 by Castle Films, with accompanying soundtrack discs modeled on the Vitaphone system. The disc has not been found for 'When Flowers Bloom,' so it is missing its original music and effects soundtrack.
Castle Films, "When Flowers Bloom"
"'When Flowers Bloom' is an example of Castle's distribution of color prints cheaply produced with a "stencil color" process. A variety of dyes were employed to add tints and tones to aesthetically enhance the simple tale of a woman being courted by two beaux. Shot in Pasadena, California, this is one of my favorite examples in the collection showing how beautiful color can enhance a filmmaker's story.
"Castle released a total of 38 Castle Color Novelties films during 1928-29, many of which were sponsored by businesses to promote products or travel destinations (this one features FTD floral). Little information is currently available on the production history of the Castle color shorts, but 'When Flowers Bloom' is a wonderful example of the efforts made by one small-time, independent U.S. filmmaker to produce short color films during the chaotic period when movies were adapting to sound."
Bernardo Strozzi, "Two Musicians"
Bernardo Strozzi, "Two Musicians" (Oil on canvas, ca.1630-1635; Memorial Art Gallery)
Selected by Gina Zanolli, artist/teacher at the Creative Workshop, Memorial Art Gallery | Marion Stratton Gould Fund, 53.8, acquired in 1953.
"What art piece strongly influences me as an artist and a teacher? Interestingly enough it is the gentle painting by Bernardo Strozzi, 'Two Musicians,' painted around 1630-1635. I'm usually drawn to art with strong emotional marks, yet cannot help but stop and stare at each passing of this subtle Strozzi painting.
Here we have two musicians who have their attention on you, acknowledging the viewer's presence. The quiet conversation between colors, subtle yet visible brush marks, the lovely tinted blue-green found throughout, the contrast in value and balance of shapes, keep me coming back, and the beauty in both faces: how alive, how tender they are. As an instructor I have all my classes look at this painting. I stress the importance of copying; studying art from the past enhances and influences the students' work. How fortunate we are to study at the Memorial Art Gallery, where we can look at such an incredible selection of art.
I might not fully understand why this painting draws me in, but I will keep looking at it. It challenges me to create art which can captivate a viewer to return again and again."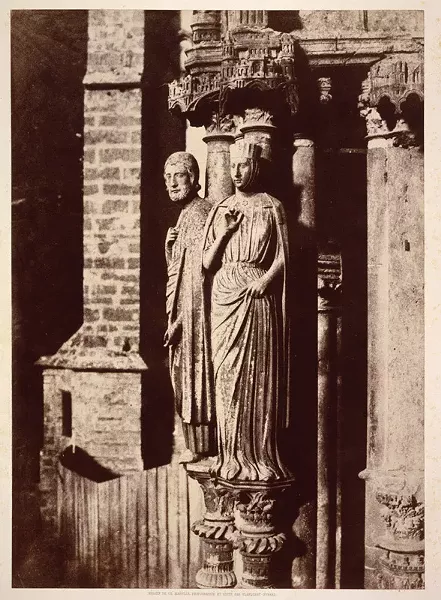 Charles Marville, "Chartres Cathedral, large pilaster figures on the Northern portal"
Charles Marville, "Chartres Cathedral, large pilaster figures on the Northern portal" (Salted paper print from paper negative, ca. 1854; George Eastman House)
Selected by William Green, Curatorial Assistant of the Department of Photography, George Eastman House | Gift of Eastman Kodak Company; ex-collection of Gabriel Cromer.
"One of my favorite parts about working at George Eastman House is having virtually unlimited access to the museum's unparalleled, world-class holdings. This outstanding photograph by Charles Marville was made in 1853 or 1854, only a few years after the artist took up photography following a notable career as an illustrator. It is a salted paper print that focuses on columnar figures on the North Porch of the Chartres Cathedral, France's best-known Gothic cathedral. While the site was a popular subject for photographers throughout the 19th century, including Charles Nègre and Henri Le Secq, this interpretation of it stands out to me as being the most ambitious and successful.
"The sculptural quality of the light bathing these figures, along with the rich shadows cast by the porch's columns, brilliantly emphasizes their three-dimensionality and creates a remarkable duality between light and shadow. Furthermore, the unusually high vantage point that Marville used in this image — likely aided by some sort of scaffolding — yielded a perspective that permitted him to not only envision the figures at eye level, but also allowed him to include a modern wooden fence in his composition, creating yet another duality between this iconic medieval structure and the present-day that Marville was seeing it within."
Frederick H. Evans, "Chateau de Boursault"
Frederick H. Evans, "Chateau de Boursault" (Platinum print, 1906; George Eastman House)
Selected by Jessica Johnston, Assistant Curator of the Department of Photography, George Eastman House | Gift of Gordon Conn, acquired in 1966.
"One of my favorite photographs in the collection at George Eastman House is this extraordinary platinum print of the Chateau de Boursault located in the Champagne region of France. Frederick H. Evans (British, 1853-1943) made this photograph while on assignment for Country Life Magazine in 1906. Evans, a writer and bookseller, took up photography out of his interest in the 'study of the beautiful,' and is best known for his exquisitely rendered images of medieval cathedrals.
"This photograph is a superb example of Evans' ability to capture the transcendent character of an architectural monument. Nestled behind a protective border of trees, the chateau takes on an ethereal presence, inviting the viewer to climb the winding lane and dream of what lies beyond. The photograph also showcases Evans' frequent use of the platinum-print process that is favored for its ability to produce long and beautifully subtle tonal ranges, and for its archival stability. George Eastman House is considered to be a major repository of the work by Frederick H. Evans, with over 200 prints by the artist in the collection."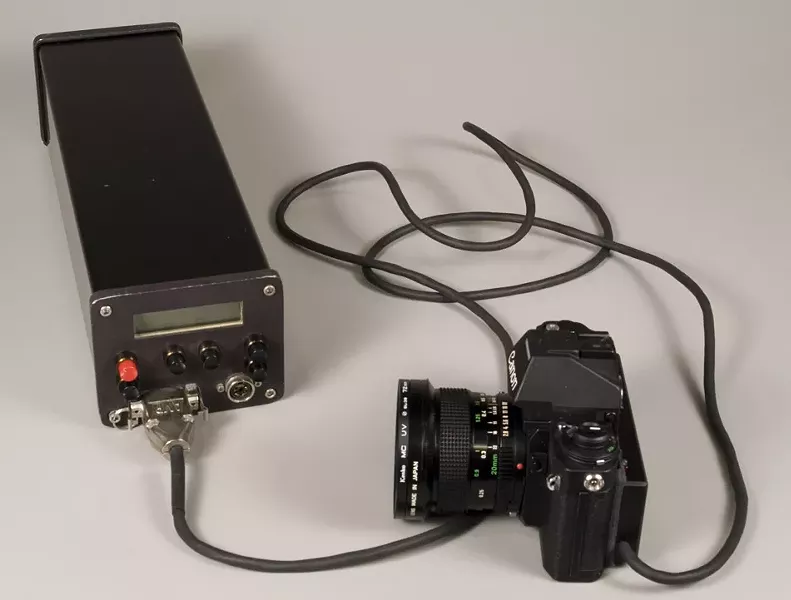 Tactical Camera (George Eastman House)
Selected by Todd Gustavson, Technology Curator of the George Eastman House | Acquired October 2012.
"The Tactical Camera may well be the most important object acquired during my 24-year curatorial tenure at George Eastman House. There is simply nothing like it in the collection. First of all, it is the oldest digital camera in the collection. But more importantly, it is a truly unique object from which all DSLR's (digital single-lens reflex) cameras were derived.
"Eastman Kodak produced its first megapixel imaging sensor in the middle 1980's. A company engineer, James McGarvey, designed and built the imaging firmware and storage system for the M1 sensor, which was installed in a Canon F1 film camera, making it the world's first digital single-lens reflex camera. Known as the Electro-Optic Camera, it was built for the U.S. government in 1988 for covert use. Tactical Camera evolved from the E-O project the next year, becoming a more robust system to demonstrate the company's digital technology to potential industrial customers. Later in 1989 the Hawkeye II Imaging systems were produced. Like the previous models, Kodak adapted its digital imaging system to existing film cameras, in this case the Nikon F3, with either a built-in or tethered storage device. In turn, these cameras would lead to the DCS, the first production DSLR camera introduced in 1991.
"Like these, the Tactical Camera occupies a new branch of the photographic history evolutionary tree. But in this case, the very beginning of the new technology, as the Giroux and Lumière were the finished product available to the consumer. The Tactical Camera represents products to come."
Luca Giordano, "The Entombment"
Luca Giordano, "The Entombment" (Oil on canvas, 1650-1653; Memorial Art Gallery)
Selected by Joseph T. Carney, Director of Gallery Advancement, Memorial Art Gallery | Marion Stratton Gould Fund, Maurice R. and Maxine B. Forman Fund, Gallery Purchase Fund, gift of Whitney F. Hoyt, by exchange, gift of Mr. and Mrs. Hollister Spencer, by exchange, 2005.34, acquired in 2005.
"A powerful and very large work, this painting was an altar piece. Painted by Luca Giordano, it portrays the entombment of Christ. Joseph of Arimathea supports the body of Jesus partially wrapped in a burial cloth, Nicodemus tenderly guides his legs into the vault, and Mary, the mother of Jesus, is comforted by holy women, while Mary Magdalene wrings her hands in anguish, as a crowd looks on, discussing the event they are witnessing.
"The painting is dark, as is the scene it depicts. The grayed-out face of Jesus is reproduced in the grayed-out face of his grieving mother. Amidst this darkness, the red cloak of John, 'the disciple whom Jesus loved,' draws the eye of the viewer. John is the only figure in the painting whose face the viewer cannot see. Giordano is inviting us to imagine ourselves in John's place, witnessing the event.
John had followed Jesus for three years, he had seen Jesus open the eyes of the blind and the ears of the deaf, heal the legs of the lame, and raise Lazarus from the dead. John had come to believe that Jesus was Emmanuel (God with us). What is the look on John's face as he views the pierced and bloodied and lifeless body of his friend and Messiah? How shocked and saddened John must have been to see his savior being placed in a tomb. John's faith must have been shaken, if not shattered.
"Though we cannot see the expression on John's face, we can imagine its disbelief and sadness.
"Yet we, who view the painting today, know how the story continues. How Jesus rose from the dead after three days, how his teachings of forgiveness, tolerance, peace, and love continue to guide hundreds of millions of followers today. We have a view that John doesn't have. We have witnessed the resurrected Christ.
"This painting helps me to see things from a different perspective, which is something that great art does. And that's why I feel this painting is so very important to our collection."