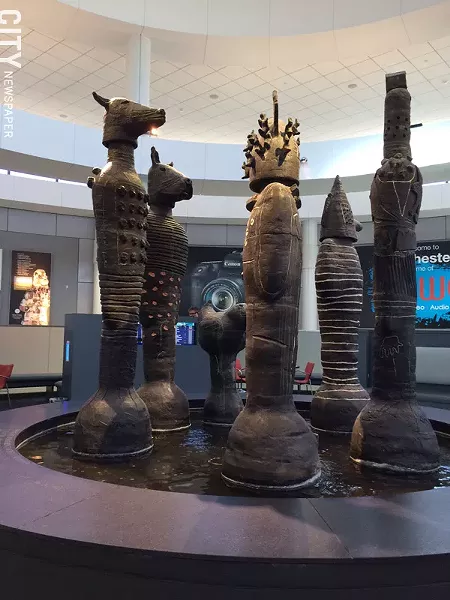 PHOTO BY MARY ANNA TOWLER
Still on view at the Rochester airport: "The Council," by Bill Stewart.
It might seem like such a small thing, given the challenges this community faces. And the protests it has inspired might seem elitist. But the
gradual removal of art from the Rochester airport
– the Greater Rochester International Airport – is a big deal. And it's not elitist to insist that the art be put back.
Because for many visitors, the airport is their introduction to this region. What we show off in the airport is a reflection of what is important to us and what we think we are.
Rochester is a community of world-class music and art, festivals and parks, science and photography, significant history. And some of our community leaders – including Rochester's mayor and the University of Rochester's president – have been emphasizing the importance of the arts and have been calling Rochester "a city of the arts."
You'd never know that, though, when you walk through the airport.
Many other cities use their airports to make a statement about themselves. And they do it with art. The numerous artworks at Chicago's O'Hare include an overhead neon light sculpture and a mural highlighting the city's blues heritage. Nashville has abstract art, photos of Grand Ole Opry stars, and stages for year-round live music performances. Seattle's airport showcases works by regional artists and by some of the biggest names in contemporary art.
San Francisco, Austin, Atlanta… name a vibrant city, and you'll find art in its airport. Airports like these contain plenty of advertising displays. But these communities have made sure that there's abundant room for art.
And Rochester?
When the airport was expanded in the 1980's, the design deliberately included prominent spaces for art. Only two artworks remain: a wonderful group of ceramic sculptures by Bill Stewart in a seating area at the head of Concourse B and a large glass work by Peter McGrain, which dominates part of the expanse of windows overlooking the runways.
Otherwise, what visitors see are ads, plastered on seemingly every available surface. The reason, airport officials say, is that the ad revenue helps offset the cost of operating the airport.
That's a myopic, antiquated view of using a public space and an ill-informed view of art's importance.
This community is focusing a lot of effort right now on trying to attract tech firms here – companies that will hire bright, creative people. Those companies and those people want to settle in vibrant, progressive communities. What kind of community they think we are is important. The impression we give visitors is important.
Making a good impression, then, should be important to the airport's overseers, the Monroe County Airport Authority. In fact, part of the authority's mission, according to the airport's website, is to make sure that the airport "promotes economic development, trade and tourism throughout the Greater Rochester area."
And, says the website: "The Authority will continue to optimize the use of airport facilities in order to enhance and expand business development and to foster economic growth in our region."
If I were the head of one of the region's business and tourism groups or one of our universities, I'd schedule a talk with authority board members about the importance of image and the role the arts are playing in this region.
We need to bring back the original art – and add more. Photos from the Jazz Festival, Fringe, and live theaters. Kiosks with recordings of actors reading the words of Frederick Douglass and Susan B. Anthony. Photos of suffragist marches. Changing exhibits from museums.
That's the face we should be presenting to visitors at the airport. Instead, advertising reigns.
Oh, except where we've made room for antique airplanes, an old control tower, and the Midtown Plaza clock. That's the image we're projecting.
We're always casting around for slogans for ourselves. Maybe we ought to adopt this one:
Rochester: Stuck in the past.