Over the past 10 to 15 years, Rochester has pretty much cemented its status as a craft beer town, with new breweries cropping up like Starbucks on every corner. But more subtly, for the past seven or eight years, so too has the craft cider market, bringing as much variety in its flavors as beer.
New York is Number 2 on the list of apple-producing states in the US (behind Washington), but the apples that are best for making hard cider are only starting to make a comeback.
Once prohibition happened, trees bearing cider-making apples, which weren't great for eating, were cut down and replaced with trees bearing eating apples and dessert-making apples, explains Patrick Jaouen, co-owner of Muller's Cider House (1344 University Avenue). Jaouen grew up in France around what he calls "good cider," and a desire to bring that to Rochester prompted him and friend Sam Conjerti to open Muller's almost three years ago.
"Prohibition basically set hard cider-making in the US back to square one," Jaouen says. "About seven or eight years ago, some cider makers started planting more cider-making apples, and this craft movement of cider started to happen. It's basically like the Wild West now. United States cider makers are trying to find their foothold in the market, experimenting with all kinds of flavors – blood orange, ginger, currant, rosé, Rieslings, hops, and so on."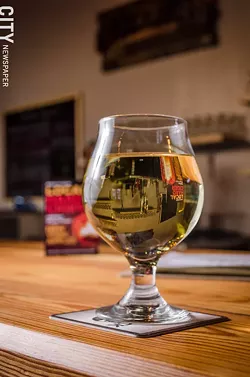 PHOTO BY RYAN WILLIAMSON
Muller's Cider House.
Muller's has more than 100 different kinds of ciders from around the world in bottles, but their draft menu is largely made up of ciders from New York State. "We want to bring attention to the quality of craft cider in our state," Conjerti says. "But we also want to expose people to ciders from Europe and around the world that are different."
Being different is something the owners of Seed and Stone Cidery, based in Rochester, are striving for. About a year ago, Bill Bly convinced his daughter Chris to move back home from LA, where she'd been working in the film and TV industry, to start a cidery. Bill had been a home brewer for years, but wasn't satisfied by the ciders he saw on the market.
"To me, it's too sweet," he says. "It's got too many other fruits and spices and whatever, and I wanted more traditional ciders, like what you might find in Europe." Seed and Stone makes traditional dry ciders, some of which are 'still' (without carbonation).
"We only make cider at harvest time, because a lot of the apples we use don't fare well in cold storage," Bill says. "We ferment and age slowly over the winter, and then in late spring we bottle." He compares their process to that of making white wine, to a certain extent.
While they don't have a tasting room (yet), their four current ciders are available at about two dozen small local grocers, liquor stores, and some restaurants. They also do tastings at special events, including Western New York Cider Week and the upcoming Finger Lakes Cider Week (September 28-October 8).
Bill and Chris get their apples from Williamson and use a variety of types, depending on the cider and desired flavor profile they're chasing after. Among the kinds they use are English bittersweet apples, heirloom apples, and some dessert apples. "We try to focus on apples that people haven't necessarily tried before."
The movement of craft cider isn't limited just to the alcoholic version of the drink. More and more, traditional cider makers are focusing on the kinds of flavors they can achieve. "Just like in cooking, the more ingredients you add, the more complex the flavor," says Evan Schutt of Schutt's Apple Mill (1063 Plank Road).
The Webster institution is marking 100 years in business this fall. And despite a century of being run by his family, Schutt says they don't have specific recipes that have been handed down. "It's more just an attention to detail," he says. "Over the years, we've learned what kinds of apples make what flavors. After that, it's what's fresh and what's available. We know that some apples are tarter, so we'll back-sweeten it with Golden Delicious, and we'll know about what kind of flavor to expect."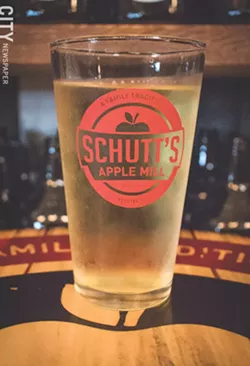 FILE PHOTO
Great Grandpa's Grog at Schutt's Apple Mill.
A bushel of apples makes roughly 3.2 gallons of cider. But the amount varies depending on the type and size of apples. "If we press a bunch of Crispins, they're freakin' juice monsters," Schutt says. "We'll get 70 to 75 gallons for a bin of those. But with our Russet cider, which is made from Golden Russet apples, that will only give me about 50 gallons per bin, because it's a drier apple."
Schutt's uses a rack-and-cloth method of making cider. Apples are distributed evenly onto a rack inside a basin. They then wrap each layer in a cloth, add another rack and repeat the process. This is done until the stack is high enough to just fit underneath a large metal press, which then pushes down, squeezing out the juice and pulverizing the apples. The juice is then pumped into a basin and in the case of Schutt's, run through a filtration system.
Schutt's doesn't use any additives for preservation, like some bigger cider makers. "You have to treat our cider like milk," Schutt says. "It has a shelf life and it's pretty short, but I think it's worth it. In my mind, adding a chemical is unnatural, and it changes the aftertaste."
As with practically every cider mill, fall is the busy season, with Schutt estimating sales around 1,000 gallons per weekend in a typical fall. While that may seem like a lot, Schutt says he is focused on staying local and staying on the smaller side. "We're not a wholesale business model," he says, adding that they do send some of their cider to smaller places like Pittsford Dairy and Hart's Local Grocers.
Over at Green Acre Farm & Nursery (3456 Latta Road), they follow a similar process. Co-owner Joe Edmond says once the cider is made, they use a UV process rather than pasteurization, because "we don't want to mess with the flavor in any way, shape or form." Both processes are aimed at eliminating any potential harmful bacteria in the cider. Pasteurizing requires the cider be heated to 160 degrees Fahrenheit briefly, before being cooled back down, while the UV treatment is a non-thermal process in which the cider is exposed to UV light to kill harmful bacteria. All ciders sold in New York are required to undergo one of these processes.
Both Schutt and Edmond say their main focus is on non-alcoholic cider, although Schutt has started to branch out a bit with hard cider. Rootstock Ciderworks in Williamson makes two custom blends of hard cider for Schutt's Apple Mill. Those brews are featured in Schutt's newly expanded tasting room, along with a handful of other local hard ciders from places like Embark Craft Ciderworks (Williamson) and Blue Toad Hard Cider (Henrietta).
"The people that are making hard cider are so creative," Schutt says. "There's really something out there for everyone. The flavors are so complex now. And if you've written it off in the past, you shouldn't anymore."
This article has been updated to correct an inaccuracy -- Schutt's Apple Mill sells about 1,000 gallons of cider per weekend, not 100,000 -- and to make a clarification about Schutt's relationship with Rootstock Ciderworks.