A 2017 conflagration in Kohima, the capital city of the remote northeastern Indian state Nagaland, destroyed much of the documentation of indigenous Naga culture, including photos and records. As the remaining documents were kept in cardboard boxes in basements, the state's bureau of cultural information sent five officials to Rochester to link up with this city's preservation resources and experts. It was a connection made possible by a standing cultural exchange between Rochester and Nagaland that was co-founded and fostered by local artists, educators, and cultural ambassadors Heather Layton and Brian Bailey.
Rochester's unique connection with Nagaland has also yielded an international film festival with the aim of preserving and amplifying the cultural expressions of the Naga people, as well as multiple visiting artists programs between Nagaland and the United States.
Provided Photo
Heather Layton and Brian Bailey in the hills of Nagaland, a remote state in Northeast India.
Layton and Bailey, who are married, hosted the Naga officials last year as they met with experts at the Eastman Museum's Selznick School of Film Preservation, RIT's Center for Imaging Science, and the Rare and Special Books Section at UR's Rush Rhees Library.
"They were interested in how to physically preserve history through photographs, film, and paper documents, but also how to preserve stories," Layton says.
Layton and Bailey have co-facilitated a variety of collaborative projects in Rochester and abroad under the general title "Common Sense Collective." At any point in time, they have multiple creative irons in the fire, and more often than not collaborate with others here, nationally, and abroad. Among their many projects are Honest Folk, a concert series with nationally touring bands; an annual Teen Film Festival (co-founded with filmmaker Linda Moroney in 2006) and Teen Film Camp; and Teen Summit (a social justice-oriented series of presentations).
The couple made their first trip to Nagaland about seven years ago. A cultural exchange kicked off when a Naga musician and activist, Theja Meru, came to Rochester as part of the State Department's International Visitor Leadership Program, among other artists, musicians, filmmakers who were all engaged in community-based art. Layton was also asked to present her own work — which deeply engages global social, political, and environmental concerns — and participated in a program through the University of Rochester, where she's a senior lecturer in the art and art history department.
The artists were all going around the table introducing themselves, and when Meru said where he was from, "I got nervous, because I'd never heard of it," Layton says. "He was like, 'You should come visit!'" They enthusiastically accepted. Meru suggested they should visit in December for the Hornbill Festival, which is the largest tribal cultural festival in Southeast Asia. There are 16 tribes in Nagaland, all of which attend the festival and perform dances and songs, and there's a wrestling competition and a Naga chili eating competition.
Provided Photo
Heather Layton with Hornbill Festival performer in Nagaland.
Layton and Bailey committed to going — and it all happened really fast, Layton says with a laugh. Before their trip, Layton and Bailey tried to learn more about Nagaland, but say they found little info. At the time, Nagaland wasn't very accessible to the rest of the world, and the couple had to petition the Indian government for access. "There is still quite a bit of conflict between the Nagas and the Indians," Layton says.
Migratory tribes in antiquity settled in the area, each maintaining distinct customs, language, and manner of dress. The groups came under British rule with the arrival of the British East India Company in the early 19th century, when Britain's domain swallowed the whole of South Asia. After India gained independence in 1947, the area remained a part of the province of Assam, and nationalist activities arose among some of the Nagas.
Layton and Bailey had heard about insurgents — or freedom fighters, depending on your perspective — hitting back against the colonizers, but couldn't get a lot of information. "The State Department's website is saying 'don't go,'" Layton says. There was a danger, but based on their interactions with Meru, and with an invitation to exhibit Layton's paintings in Kohima, the couple made their trip. They also planned to initiate a cultural exchange between the US and Nagaland.
"The people we were working with wanted to get Nagaland more on the map, more known," Bailey says.
Getting to Nagaland is a challenge — and involves a marathon of flights: Rochester to New York City, to Abu Dhabi, to Calcutta, and to Nagaland, then a long drive through the mountains on rough roads.

Many people speak English in the bigger villages, but the couple says there was always someone to translate — often a chain of translators between a few languages — for them in the more rural areas they visited. They stayed in some old houses in remote areas, with fires in the middle of the kitchen floors. Naga culture is "incredibly hospitable," the couple says, adding that there's a palpable difference from America in terms of pace, less aggressive ambition, and less palpable consumerism and materialism. And they were told that there's never been a homeless person in Nagaland.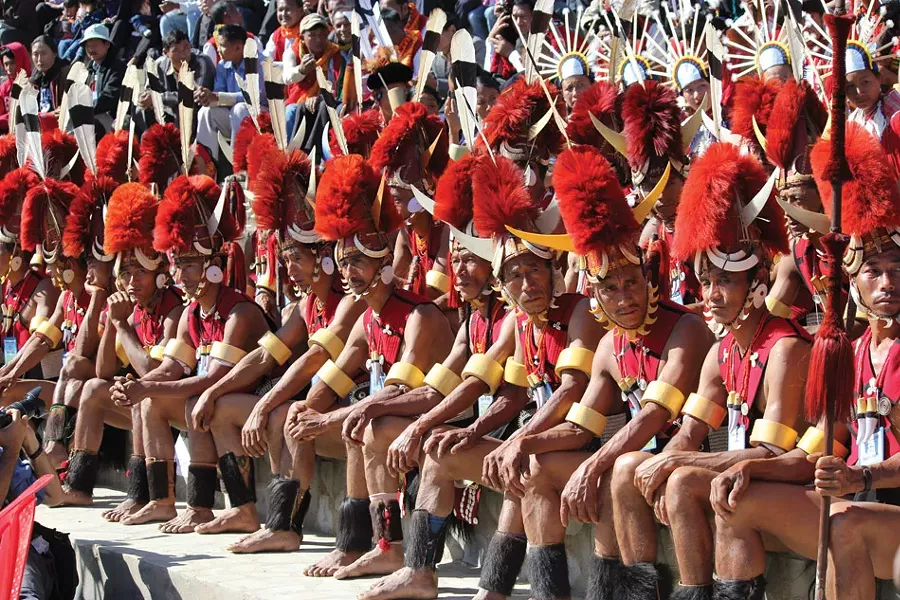 Provided Photo
Performers at Hornbill Festival in Kisema, Nagaland
"I think it's a culture that takes care of each other. You don't have huge discrepancies between wealthy and not wealthy," Bailey says. And there's a real love of being outside, of nature, and taking care of natural resources.
Bailey in particular noted that definitions of masculinity are different in Nagaland — the men are gentler with each other, more sincere, they hold hands and put their arms around each other. "It feels more affectionate and less of a homophobic-tough-guy mentality," he says.
Layton and Bailey lectured at the University of Nagaland, and brought some youth films from the US. "And they had some young people who were making films in Nagaland, so we screened them together and talked about the films," Layton says. "That's still going on today."
The exchange evolved and expanded to have some Naga artists come to the US the following year — five filmmakers came to Rochester and showed their films at Nazareth, toured the George Eastman House (now the George Eastman Museum), met with filmmakers here, and attended a screening of films by local filmmakers at the UR, including Linda Moroney and Mara Ahmed. The 10-day, whirlwind visit was packed with cultural events and a visit to the Adirondacks.
Their friends want the story of Nagaland told outside of Nagaland, and told by Nagas. "It's only been told by outsiders, researchers," Bailey says.
These stories found creative expression through the film festival. Two Naga women, Sesino Yhoshu and Sophy Lasuh, collaborated on a film called "Story of a House," and its main character was the house of the chief of the Konyak — the northernmost tribe in Nagaland. "His house is half in Myanmar and half in Nagaland," Layton says. "The film is funny and it's serious, and it gives a different type of access into tribal culture."
Lasuh also created a video portrait of a woman in her 90's who was a child when the Japanese invaded the Naga hills, and when the Naga fought with the British to keep communism from coming south into India. Layton and Bailey submitted the film to the Rochester International Film Festival; if it gets in the Naga government will pay to have Lasuh attend.
Provided Photo
The center of Layton and Bailey's 2013 warfare-critiquing "Home Drone" exhibit was an18-foot-long rhinestone-covered replica of a U.S. Predator drone.
"Some of the stories they tell stem from a pride and preservation of Naga culture," Bailey says. "They were a proud people and lived their way, a very tribal lifestyle, and then they were colonized by the British and Christian missionaries, and I think they were told that their way of life was wrong. You have to have proper tea, and worship this way — it was forced on them. And then when the British left, there's a certain disrespect that goes to the Northeast states, especially to women, so you have these women filmmakers and artists that we know who want to tell a different version of Naga culture and history. A counter-narrative to the 'We need to culture the natives' attitude. Not that different to how we treated Native Americans and Indigenous people in the United States."
Layton and Bailey remained close with their new friends, and later helped facilitate a visit from D.C.-based artist Michael Iacovone for a photography project working with community groups in Nagaland. And Tiatemjen Kezevilhou Jamir, a Naga photojournalist and artist, exhibited his work, some of which documents the dying tattoo tradition among the oldest living generation of men and women, at the UR's Sage center.
Layton and Bailey were invited back to Nagaland for a reunion, and made the trip in December of last year. They again attended the Hornbill Festival, revisited with friends, and met Nagaland Governor Padmanabha Acharya.
Bailey showed up with t-shirts he'd made bearing the Naga flag — a cheerful design involving a three-color rainbow and a star in a blue sky. Being allowed a separate flag was one of 33 demands met as part of a peace accord signed by the freedom fighters and the government in 2015. But many of Layton and Bailey's friends expressed nervousness due to the former illegality of the flag, so they turned down the gift while encouraging the couple to wear the shirts. Bailey presented the shirts to the leaders of the resistance movement when they visited one of their outposts in the mountains.
"It was a rare experience to meet them, because they're highly wanted by the Indian government," he says. "If you ask the government: they're terrorists. If you ask them or their supporters: they're freedom fighters."
Bailey and Layton say they are interested in the complex dynamics of those who are colonized — there's the insurgent groups that are working to gain independence for Nagaland, and then there's people who say, "Don't disturb the peace, India takes good care of us."
This interest manifested in another project the two co-facilitated in 2014, called "59 Days of Independence," for which they collaborated with many other artists around the world to explore and tell the stories of 59 former colonies through events, installations, and celebrations.
Provided Photo
In 2014 Layton and Bailey invited thousands of people to collaborate on their "59 Days of Independence" project, which told the stories of former colonies through events, installations, and celebrations. Pictured: Students in Malawi learn about the country of Kuwait on Kuwait's independence day (February 25).
Making two trips to Nagaland was important, Layton says. "The first time you go somewhere, you just sort of want a linear story you can make sense of," Layton says. "But the next time, you just realize everyone has their own desires and priorities for who they want the Naga to be. There's different perspectives: people working in the government, or the arts — and a more nuanced, complex version of where we were."
The couple wants to keep the relationship and cultural exchange with Nagaland going. And they're working on helping to bring a Naga musical group, including a Grammy-winning member, to participate in this year's Rochester Fringe Festival.
"Every time I travel I become more trusting of people, of the world — it reinforces the hope that there are really good people everywhere," Layton says. "And us traveling together is a special dynamic. We interact with people differently. We have different strengths and things we bring to relationships. We're similar in a lot of ways, but also different.
"Even packing — like you're packing survival things, and I'm packing gifts," she says to Bailey with a laugh.
EDITOR'S NOTE: A correction has been made to reflect the incorrect name of the D.C.-based artist.