The Little Theatre hosted the second annual
St. John Fisher College Student Film Festival
, which presents a program of works made by undergraduate students enrolled in the college's Department of Media and Communication as well as the Film and Television Studies minor.
The program screened four films, which managed to span a spectrum of genres, from non-fiction filmmaking to romantic comedy, thriller, and quirky character piece. I always get a kick out of seeing what these young filmmakers come up with, especially under the stress of those all-nighters and last-minute scrambles to finish their work by the assigned due date (it's been awhile since I was in college, but I still remember how these things work). My favorite of the bunch was "Always Another Plan," a sweetly funny story in which a young woman enlists the advice of a helpful barista as she works up the nerve to ask a bookish fellow patron out on a date.
That was the only screening during Fringe, but you can keep an eye on the program at fishermediacomm.wordpress.com.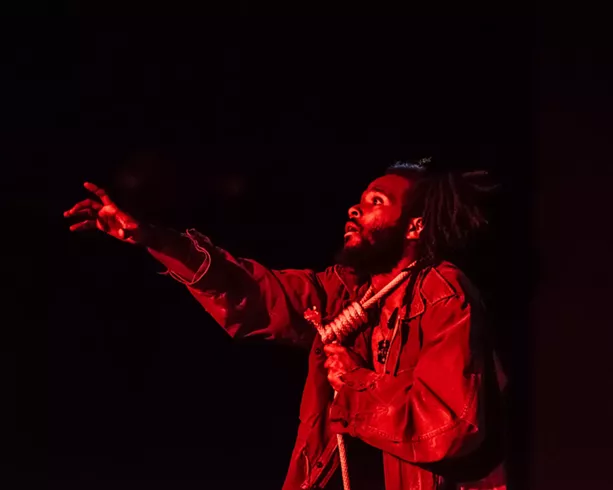 PHOTO BY JOSH SAUNDERS
Anderson Allen in "Twelve Dollar$" at MuCCC during the Fringe.
I also caught the final performance of
"Twelve Dollar$"
at MuCCC. A one-act play produced by Dark Blue Mondaze, the story follows an unstable Kid (Anderson Allen) as he attempts to convince an older criminal type (Jahaka Mindstorm) to assist him in seeking retribution against a person he feels has done him wrong.
The production boasts sharp, simple direction by Gary DeWitt Marshall, and captivating performances from Allen and Mindstorm. The two actors are pitch-perfect, sharing a blistering chemistry and conveying a well-worn history together. Lasting just 30 minutes, I was ready to see the narrative develop further; the highest compliment I can pay the production is that I just wished it was longer.
You can find more about "Twelve Dollar$" at facebook.com/darkbluemondazeshowcasetheaterseries.