The second social media-centric comedy show of my Fringe Festival experience this year, "140 Characters or Less: A Twitter Comedy Show" delivered the #funny. Hosted by comedian Dario Josef with a rotating cast of local stand-ups, the show shares some DNA with Comedy Central's popular "@midnight" program -- mixing Twitter-based humor with traditional stand-up comedy. Things started off a bit wobbly, but thankfully got stronger as the show progressed.
In the first two games, the comedians shared previously written Tweets they'd directed at D-list celebrities and major businesses, respectively. The material was only sporadically amusing and, with each comic admitting that none of their targets ever responded, reflected a little too closely Twitter's tendency to occasionally feel like shouting into a void.
Things picked up considerably with the much ballyhooed "Tweet Off," in which the comics went head-to-head, pitting what they considered to be their best, wittiest Tweets against their competitors. It would have been nice to see what the comics could have done when forced to come up with material on the spot, but no matter: funny is funny. I should note that, somewhat mystifyingly, none of the performers gave out their Twitter handles -- the night's Tweet-Off winner (Kevin Harrington) made me laugh hard enough that I immediately attempted to follow him, but was spectacularly unsuccessful (sad trombone).
"140 Characters or Less: A Comedy Show" will be held again with all-new performers on Saturday, September 27, at RAPA's East End Theatre. 3 p.m. $10. This show is recommended for those 18 and older.
In their all-ages-appropriate appearances with Cirque du Fringe, the edgy clowns of 20 Penny Circus have played Russian roulette with nail guns and stapled tarot cards to their chests. With that kind of material, I was curious how much wilder a "mature audiences" solo show would get, and the answer is (give or take a few f-bombs ) not much -- but that doesn't make it any less entertaining. 20 Penny's Tyler Sutter and Carl Skenes give Fringe audiences a night of magic, stunts, comedy, and "entertainment for those with questionable taste."
I could recount the pair's individual acts one by one, but that would only spoil the fun. I'll only say that one in particular, featuring "ritualized mutilation" (I swear, it's not as graphic as it sounds), made several audience members in my vicinity recoil in horror. And while I admit to being a tiny bit disappointed to find that several of the night's acts were previously featured in last year's Cirque du Fringe performance, I can't fault the pair too much -- the feats are just as captivating as ever. So if you haven't seen their act yet, there's no reason not to grab a seat.
20 Penny Circus will perform again on Friday, September 26, and Saturday, September 27, in the Spiegeltent. The show starts at 9:30 p.m. Tickets are $15.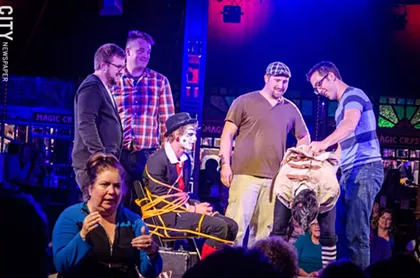 12 slides