Jesus Miranda began renting an apartment at 960 Dewey Avenue over the summer. He's had some problems in the place; if he runs his microwave and coffee maker at the same time, but on separate outlets, the circuit blows.
But once the cold weather set in a few weeks ago, he started experiencing more serious problems. So did other tenants in the building. Miranda's water doesn't work, and his radiators put out heat only for a few hours a day. Rochester Gas and Electric shut off gas service to the apartments because of a leak in the building, he says.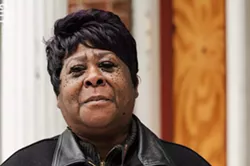 PHOTO BY JEREMY MOULE
Kawanais Smith, a Southview Towers resident, says tenants have little recourse if a landlord isn't addressing problems.
On December 29, the city posted a bright orange notice on the building's doors that it was to be vacated and was not to be occupied. The city's property-information portal shows 15 outstanding code violations at the property and is the subject of an open enforcement case. The building is owned by Rochester Asset Management, whose managing principal is New York City real estate broker Peter Hungerford.
But Miranda is still living there, as are other tenants. He's tried to find other apartments, but not many are available in the winter. He also tried to get relocation assistance from the county Department of Human Services, but he couldn't qualify because he earns too much at his job. The owner has had crews do some repairs in the building in recent days, Miranda said.
Housing activists and tenant advocates say conditions at 960 Dewey Avenue and several other local apartment buildings reinforce the need for a housing court in the City of Rochester. This morning, representatives of the City-Wide Tenant Union organized a press conference at 960 Dewey Avenue to discuss conditions there, as well as problems at Southview Towers on South Avenue. Tenants at Southview and members of Take Back the Land are organizing the union.
Landlords have the ability to take tenants to court over such things as unpaid rent or damages, but residents can't take landlords to court to compel repairs. A housing court would allow for both, meaning tenants with landlords who aren't responding to health- or safety-related complaints wouldn't have to wait for eviction proceedings to bring up problems with their units. Tenants can report violations to the city, which can conduct inspections and enforce any violations, but advocates say they city doesn't always respond.
New York City has had a housing court since 1973 and Buffalo has had once since 1978, said Ryan Acuff, a tenant union representative. New York State would have to pass new laws to allow other Upstate cities to form housing courts, and groups across the state are pressing the governor and legislators to do just that.
"Tenants really don't have any recourse," Kawanais Smith, a resident at Southview who's been advocating for the other tenants there, said during the press conference. "You either move or accept what's going on."
Southview residents have been dealing with some serious problems for years, Smith says. During the recent cold snap, some residents had icicles in their apartment due to inadequate heat and windows that are leaking at the seams, she said. Pipes keep bursting and mold is a problem, as are pests, she said. The building owner has been doing some repair work in recent days, she said.
Unlike 960 Dewey, Southview is publicly subsidized housing. But tenants in both places have a similar ask of their owners.
"Just fix it for good; that's the only thing that we ask," Miranda said during the press conference.