After more than a week of demonstrating outside City Hall, including camping out on the steps and plastering the exterior walls with posters calling for the resignation of Mayor Lovely Warren, organizers of the protest announced Monday that they would retreat to regroup and plan for future actions.
A couple dozen protesters were still near the building on Church Street night, but Free The People Roc, the activist organization behind the demonstration and the string of protests in the wake of news of the death of Daniel Prude, issued a statement on its Facebook page that it was time to pull back.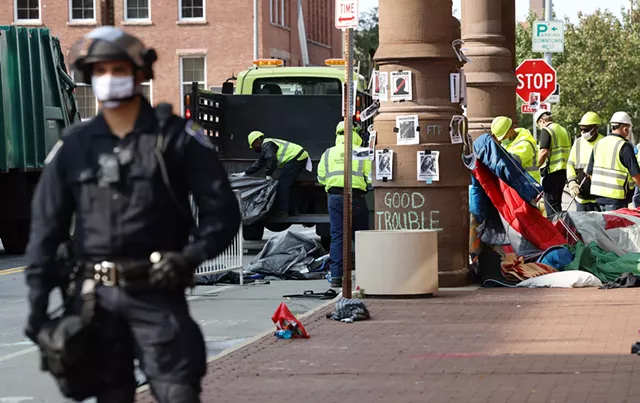 PHOTO BY MAX SCHULTE
A city crew clears away tents that protesters set up in front of City Hall.
"Our organizers have decided to end Occupy City Hall and plan new actions in the coming weeks," the statement read in part. "We recognize that taking care of our collective health and wellbeing is a revolutionary act. Systems of oppression want to see us tired and beaten down. But we won't give them that satisfaction. We urge those of you who have been out with us every night to rest, reflect, and recharge for the next set of actions. Our movement is just beginning."
The statement cited what the group described as victories in the fight for "justice for Daniel Prude and his family," including the state attorney general announcing a new policy to release police body camera footage in cases in which people die in police custody, and City Council subpoenaing Warren an the acting police chief, Mark Simmons, as part of its investigation into Prude's death.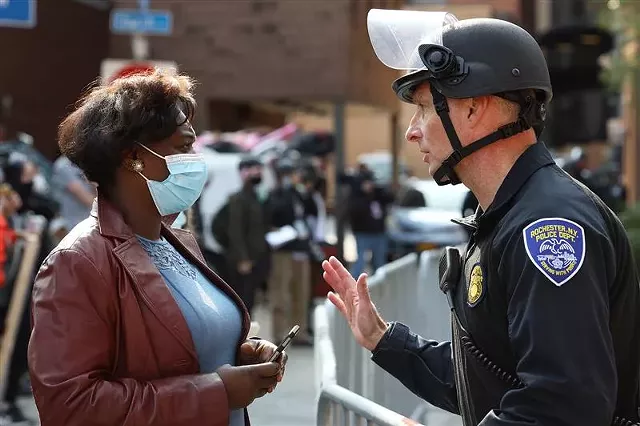 PHOTO BY MAX SCHULTE
the Rev. Myra Brown of Spiritus Christi Church talks with Rochester Police Capt. Ray Dearcop
The occupation of City Hall has mostly been peaceful, but has had tense moments. Last week, police removed some protesters from blocking the street before the Rev. Myra Brown, of Spiritus Christi Church, and others helped negotiate a compromise where the demonstrators were allowed to stay on the sidewalks.
Prude died in March after police had responded to a mental health call, and pinned him to the pavement. He suffocated under officers' restraints and died a week later.
David Andreatta is CITY's editor. He can be reached at dandreatta@rochester-citynews.com.

Randy Gorbman is the news director at WXXI, a media partner of CITY. HE can be reached at rgorbman@wxxi.org.