Our ears are used to being inundated with cheery holiday music: old standards, popular radio hits, beloved and positive hymns, and everything in between. But in the Rochester area, many musicians have taken to writing holiday songs with a less-than-traditional tack.
Whether it's going on a bizarre Christmas-y tangent, celebrating a more obscure holiday tradition, tackling a serious social issue, or simply lamenting the winter weather, Rochester songwriters seem to go about the festive season differently — and melancholy is very much in the mix.
Far from a comprehensive listing, below is a sampling of seven holiday and winter-related songs written by local musicians.
"Christmas Eve" was the first song written by folk artist Susanna Rose. The 2015 track could be about holiday depression, but the lyrics seem to suggest a deeper winter of discontent: "On Christmas Eve, she fell and screamed / Lay down on broken glass / She gets unhappy so fast." The slowed, almost plodding chord progression — brightened by the song's delicate harmonies — seems to take on a new, hopeful resolve with the closing lyrics. "Now I'm grown up, I've had enough / Not going back home, I'll call on the phone: 'Merry Christmas.'"
"Merry Christmas, Arpad Miklos," from the album of the same name, was released on Christmas Day 2014, but its sound and lovelorn message are evergreen. Written by singer-songwriter Jake Bellissimo under the moniker Black Tar Heroin, the vocals have a confessional, stream-of-consciousness sensibility, as they meander over a twinkling electric guitar, busy bongos, and a dreamy cello. "I'm trying to figure out what it feels like to cry underwater / Hold my hand, wish me a Merry Christmas so I don't go under." There's something deeply sad about it all, but Bellissimo sings with enough beautiful honesty to lift the mood.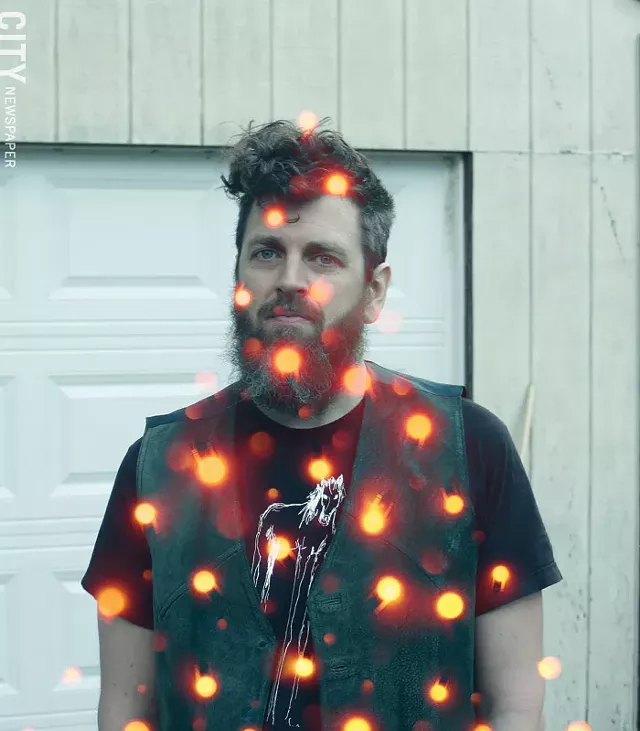 Photo by JACOB WALSH
Seth Faergolzia created the weird "Oh Holy Crismas," which is about Santa packing it in and moving to Alaska.
Freak folk mastermind Seth Faergolzia's "Oh Holy Crismas" is likely the weirdest holiday song you'll ever hear, and that's a high compliment. Released as a quirky music video in 2012, Faergolzia sing-speaks his way through an alternative story about how Santa Claus decides to quit his annual gift-giving duties to get trim, live in Alaska, and prevent wealthy businessmen from drilling for oil. If it sounds too nonsensical, that's the point: "Santy claws keep scratching on my back / In the morning by the dozens with my sister and my cousin / I am warding off the Santa Claus attack / Oh holy Crismas."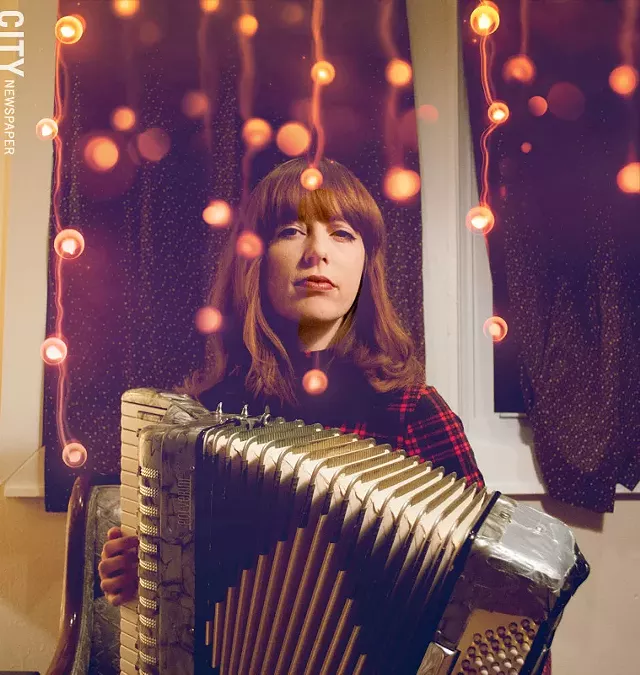 Photo by JACOB WALSH
Katie Preston wrote the song "The Poinsettia Song" back in 2012. She performs with the The Abominable Snowband routinely during the holiday season.
Katie Preston of the indie rock band Pleistocene also released her holiday tune, "The Poinsettia Song," on YouTube in 2012. "I wrote this song about one of the unsung heroes of the holiday season," Preston says. Performed by The Abominable Snowband, the charming song taps into oddly neglected holiday subject matter while managing to sound like a delightful, rediscovered 1950's TV commercial: "So here's my song of valid praise / Sing it on a snowy day / And all will see that Christmas is not the same without poinsettias." Check out The Abominable Snowband's 2013 four-song EP at theabominablesnowband.bandcamp.com.
Written in the month of February, Avon-based musician Jesse Sprinkle's acoustic "Blankets" from 2015 has a serious lo-fi, "bedroom recording" ambiance. "That song specifically is about dealing with snow in Rochester," Sprinkle says. "I was trying to find poetic and positive ways to vent my [frustration] with the temperature that month and the constant snow." Though it isn't a holiday song per se, it's hard not to get into the spirit of "peace on earth and goodwill to men" when the singalong breaks out: "There's a blanket of love, and there's a blanket of good / But this blanket of snow, it don't feel like it should."
One doesn't necessarily think of Americana and roots rock straight away when it comes to the winter season, but The Cabin Killers —The Slack Tones's front man Aaron Lipp, Kerry Lipp, and members of the recent bluegrass outfit Mulberry Soul — made it work in a big way with "Winter Blues." Clocking in at 10 minutes, hazy electric guitars blaze and bleed through a shuffling, mid-tempo rhythm. The result is both subtly groovy and atmospheric. The last track on the Naples-based band's 2014 self-titled album, it comes off like the musical anecdote to seasonal affective disorder: "Even when the winter's holding down the spring / Still the sunshine, still the sunshine / Keeps on singing his song."
Photo by JACOB WALSH
Ben Proctor of The Crooked North. The band's new song, "Sing Noel," is about addiction contrasted by the joy of singing Christmas music. The song will be out in 2018.
"Sing Noel" is an upcoming song by bluegrass and folk outfit The Crooked North, written as part of a musical trilogy about opioid addiction. The subject hits close to home for the song's writer, Ben Proctor, whose cousin and childhood friend both passed away after battles with addiction. "I was exploring different ideas and I just had this image of someone struggling to sing a Christmas song as their life was in shambles from addiction," Proctor says. "I started singing 'First Noel,' and it just turned into this cry for mercy, and it seemed to fit the story really well."
There is "a shared metaphor of getting high and singing Christmas music" that worked well, Proctor says. "I've heard people say that getting high on opioids was like going home; it feels like this deep sense of arrival. Christmas is a foil to the addiction and helps demonstrate how tragic the character's isolation is." A deceptively simple folk song that may ultimately be called "Last Noel," the depth of feeling is abundant: "Oh you'll never understand / Till an angel takes your hand / And shows you how to sing Noel / You'll never understand / Till the song comes to an end, and here I am / At the bottom of the well."
"Sing Noel" will be released in 2018, but in the meantime you can find The Crooked North's music at thecrookednorth.com.