Hidden away on the shore of Lake Ontario, just over the Canadian border, is a picturesque town brimming with world-class theater, gourmet dining options, and award-winning wineries. And with a travel time just under two hours, it's an ideal weekend getaway for culture-loving Rochesterians.
For those who find themselves in need of a quick travel fix, we've compiled a list of must-dos for a weekend at Niagara-on-the-Lake.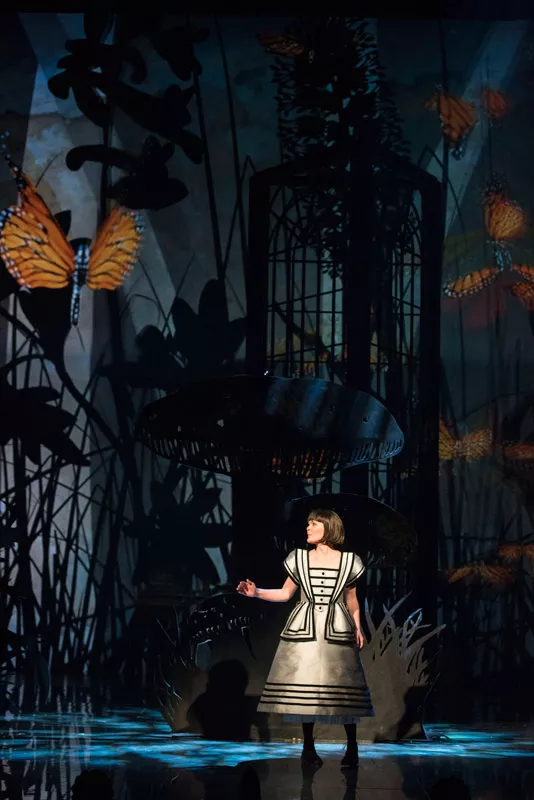 PHOTO BY EMILY COOPER
Tara Rosling as Alice Liddell in "Alice in Wonderland." The musical will be produced by the Shaw Festival this summer.
See a theater production—or two
Each year since 1962, between the months of April and October, Niagara-on-the-Lake has been home to the Shaw Festival, a full season of professional theater productions built on plays written by George Bernard Shaw or during his lifetime (1856–1950). This year's season includes two contemporary takes on Shaw works, "Mrs. Warren's Profession" and "The Adventures of the Black Girl in Her Search for God."
For musical lovers, there's a new version of "Alice in Wonderland," developed at Shaw Festival and featuring 19 original songs, as well as the festival's take on "Sweeney Todd: The Demon Barber of Fleet Street." Rounding out the season are several classics — Wilder's "Our Town," Wilde's "A Woman of No Importance" — and a modern adaptation of Chekhov's "Uncle Vanya." The shows are held in four distinct venues, on or within walking distance of Niagara-on-the-Lake's main strip of shops and restaurants. Little-known fact: Shaw Festival is North America's second-largest repertory theater company.
PHOTO BY DAVID COOPER
The Prince of Wales Hotel was built in 1864, and is now one of Niagara-on-the-Lake's most recognizable icons.
Live like royalty
On the corner of Picton and King Streets in the heart of Niagara-on-the-Lake is the Prince of Wales hotel, perhaps the most recognizable visual icon of the area. The two-story brick hotel, built in 1864, captures the Victorian era through elegant decor (think brocade fabrics, vases filled with roses, and four-poster beds) and traditional afternoon tea sessions, complete with finger sandwiches, pastries, and handmade scones with Devonshire clotted cream. There's also an acclaimed restaurant on the property – Escabèche – and a full service spa. Pro tip: stay overnight and take advantage of the saltwater swimming pool.
PHOTO BY DAVID COOPER
Queen Street houses a row of speciality shops.
Walk and window shop
Downtown Niagara-on-the-Lake's main promenade, Queen Street, runs parallel to the Niagara River, which feeds into Lake Ontario. Along Queen Street there are many clothing and jewelry boutiques, gift shops, and eateries to sample. Duck into The Scottish Loft for UK-imported trinkets and treats (including Cadbury chocolates) and stop in Greaves Jams, with shelves full of more than 30 homemade jams, jellies, marmalades, and condiments. Before leaving Queen Street, snap a selfie with the George Bernard Shaw statue (located in front of Shaw Café & Wine Bar, 92 Queen Street).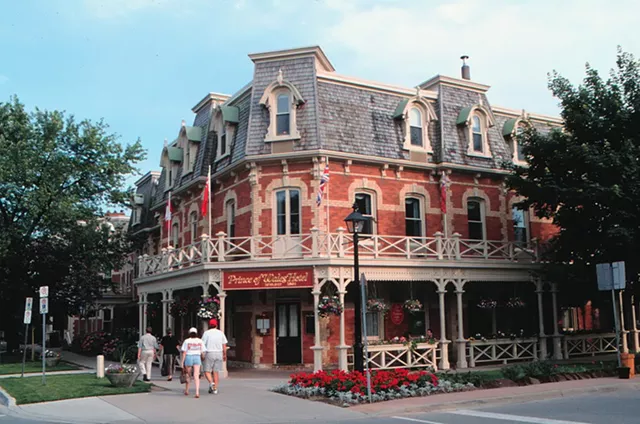 PHOTO BY DAVID COOPER
The Prince of Wales Hotel also has restaurant and spa on the property.
Eat and repeat
Everyone knows poutine originated over the border, and Niagara-on-the-Lake has two excellent options: the chicken curry poutine (on the lunch menu only) at Corks, 19 Queen Street, and the house curry poutine at The Irish Harp Pub, 245 King Street, which also boasts "great craic," or entertainment, as the Irish say.
Niagara-on-the-Lake has dining options to suit any palate and dietary need. For farm-to-table lovers, Treadwell Cuisine (114 Queen Street) boasts a seasonal menu and focuses on Niagara wines (chef-owner Stephen Treadwell worked at Toronto's fine French restaurant Auberge du Pommier previously).
If it's a balmy night, grab dessert at COWS, an ice cream parlor that originated in Cavendish, Prince Edward Island, in the 1980's. (Fans of Anne of Green Gables will be able to spot connections to PEI throughout the store; there's AOGG branded Raspberry Cordial in glass bottles and fancy chocolates.) COWS offers more than 30 original ice cream flavors (and its own snarky clothing line, with T-shirts sayings like "Moomoolemon" and "Insteergram").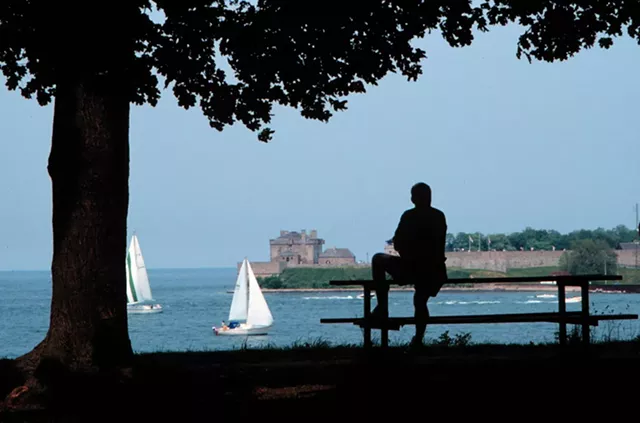 PHOTO BY DAVID COOPER
Niagara-on-the-Lake sits at the mouth of the Niagara River as it spills into Lake Ontario. Across the river is Fort Niagara in Youngstown.
Toast the northeastern climate
A trip to Niagara-on-the-Lake should include wine tastings at nearby vineyards, where the regional award winners include icewine and riesling, thanks to the cool northern climate. (Inniskillin Wines makes a riesling icewine that wins gold awards at international competitions each year.) More than 10 wineries are within a few miles of "Old Town" Niagara-on-the-Lake, and some – like Peller Estates Winery & Restaurant – offer highly rated edibles to pair with their vintages.
For more, visit shawfest.com or niagaraonthelake.com