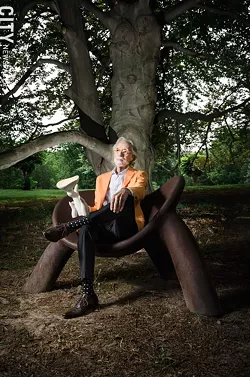 FILE PHOTO
Wendell Castle, photographed outside his Scottsville studio in 2016, seated on a chair of his own creation and holding a scale model of another sculpture.
Beloved sculptor, mentor, and friend Wendell Castle died on Saturday, January 20, at his Scottsville home after a battle with leukemia. He was 85 years old. Through his more than 50-year career Castle elevated furniture to a fine art, and while his innovative sculptures earned him international renown, he remained dedicated to Rochester and supportive of its cultural scene.
Castle was a gentle person. He spoke in a measured and thoughtful manner imbued with enthusiasm and curiosity. He was always ready to offer advice to young artists, and was active in his studio until recently. Just weeks ago Castle's latest exhibition, "Wendell Castle Remastered," closed at the Memorial Art Gallery. The show featured his newest monumental art furniture pieces, which were created with the aid of a robot, as well as a sampling of Castle's historically important work.
CITY ran a cover feature on Castle in 2016 as he prepared for that exhibition, accompanied by a short film that explores his artistic philosophy and studio practice.
We asked some of Wendell's friends and colleagues to share their thoughts on the man and his work. Share your thoughts in the comments below the article.
"Rochester knew what it had in Wendell Castle from the start, and when the world beyond Western New York caught on it only enhanced the artist's reputation back home. Wendell moved to Rochester for a teaching position at RIT; the Memorial Art Gallery was the first museum to acquire his art and to honor him with a solo exhibition. Recognition in New York City, London, Paris, points further east, and by major museums throughout the world, earned Wendell the status of a leader of the international art world.
"A number of artists may be described as great, but only the rarest can be credited with having established a new type or category of art. Wendell gave us art furniture, which is to say furniture that barely functions because of its sculptural properties. This idea and material reality opened up a new space in between sculpture and furniture and also beyond either one of those categories, and furthermore beyond the distinctions of fine art and design. This space is where Wendell will live forever. It is a unique space, unique even after the many artists influenced by Wendell have followed in his tracks. Wendell convincingly and successfully challenged received ideas about art, its parameters and limitations. He made his mark on the definition of the word.
"Wendell was intimately connected with this community. After I arrived in Rochester in September 2014, I attended my first Memorial Art Gallery opening. I was at the bar, waiting for a drink, and next to me was this magnetic person. What a look! So captivating, curious. 'My name is Jonathan Binstock. I'm the new director here. Who are you'" I asked. 'I'm Wendell Castle,' was his response. 'No shit!!' I thought it. I didn't say it. I'm definitely in the right place! Wendell Castle, at the MAG opening! It turns out he attended almost every MAG opening. And when I went to openings elsewhere in town, for example for his friend Robert Marx, but also many others, there Wendell would be. He attended everything. He loved a party. He was out there, present, connected, supportive, generous, engaged with the people who make up this city's art world.
Wendell would often describe himself as a farm boy from Kansas. He definitely had his feet on the ground. He was rooted, straight ahead, open, and friendly. He was also paradoxically modest for how extraordinarily cool and achieved he was. And he was simultaneously a dreamer. He would contemplate, imagine, envision, and create something we had never seen or imagined before. How rare is the man with his head above the clouds and his feet on the ground."
Jonathan P. Binstock, Memorial Art Gallery Director
FILE PHOTO
Castle in his Scottsville studio in 2016.
"Wendell did groundbreaking work in several mediums and styles, but his major contribution was to take wood, which had been angled and squared into functional forms for centuries, and bring it back to its organic roots by creating gorgeously flowing, laminated, tree-like works that transcend the category of craft."
Ron Netsky, Nazareth College Professor of Art and CITY contributor
"Wendell Castle has been a part of the Museum of Arts and Design community since our earliest days as an institution (then the Museum of Contemporary Crafts), which coincided with Castle's emergence as an artist. He was a pioneer of American studio furniture and a constant innovator, who strived to stay ahead of the curve by integrating new technologies into his sculptural practice. My memories of working with him are fond and highlighted by his enthusiasm, generosity, and kindness. He will be missed."
Samantha De Tillio, Assistant Curator, Museum of Arts and Design
"I had the pleasure of first visiting Wendell's Scottsville studio in late 2010, in association with the Wilsonart Chair Design competition at RIT for which he and I were fellow jurors. Although we had met and spoken many times before at museum and gallery openings, where Wendell's distinctive eye for design came across in his natty suits and colorful eyeglasses, it was a privilege to see him in his true element — at work in the studio. I recall being led through the various rooms of his labyrinthine workshop to behold a wondrous vision — Wendell, energetic at the age of 78, wearing safety glasses and noise-cancelling earmuffs, wielding a chainsaw, carving a giant block of stack-laminated wood, chips flying through the air.
"Catching the artist at work was an inspiring sight that remains etched in my memory; it was this type of experimentation with atypical woodworking tools, such as the chainsaw and other industrial tools, that distinguished him from traditional furniture makers early in his career. Wendell proceeded to take our small group on a tour, pointing out works in various stages of completion by studio assistants under his watchful eye. It made me think of an Old Masters Studio, a notion that would take shape several years later as the solo exhibition "Wendell Castle Remastered" at the Museum of Arts and Design in New York, and subsequently the Memorial Art Gallery.
"The decision to mount a solo exhibition on Wendell Castle warranted a second studio visit, accompanied by my colleague Samantha De Tillio, in early 2015. Amazing, new work had developed from his foray into digital fabrication with the addition of a CNC-milling robot, dubbed Mr. Chips, to his studio in 2011, and we wanted to document his new process for the exhibition catalogue.
"The excitement with which Wendell led us to Mr. Chips was palpable. In some ways it was a change from his former method of production, but as always his designs started with putting a pencil to paper. What it did afford him was the ability to realize more complex designs on a larger scale with greater precision, which translated as bigger, more volumetric pieces with hollowed out interior spaces that rendered them lighter in weight.
"One may think of the stack-lamination method that he pioneered as a form of proto-digital fabrication. Today's 3D printers build up layers of material to create a final form much in the same way that Wendell cut-out and stacked layers of wood to create a piece of furniture in a form that that originated in his imagination. I like to think that in a sense technology finally caught up with Wendell Castle."
Ronald T. Labaco, Independent Curator, former Marcia Docter Senior Curator at the Museum of Arts and Design, New York, and curator of the exhibition "Wendell Castle Remastered"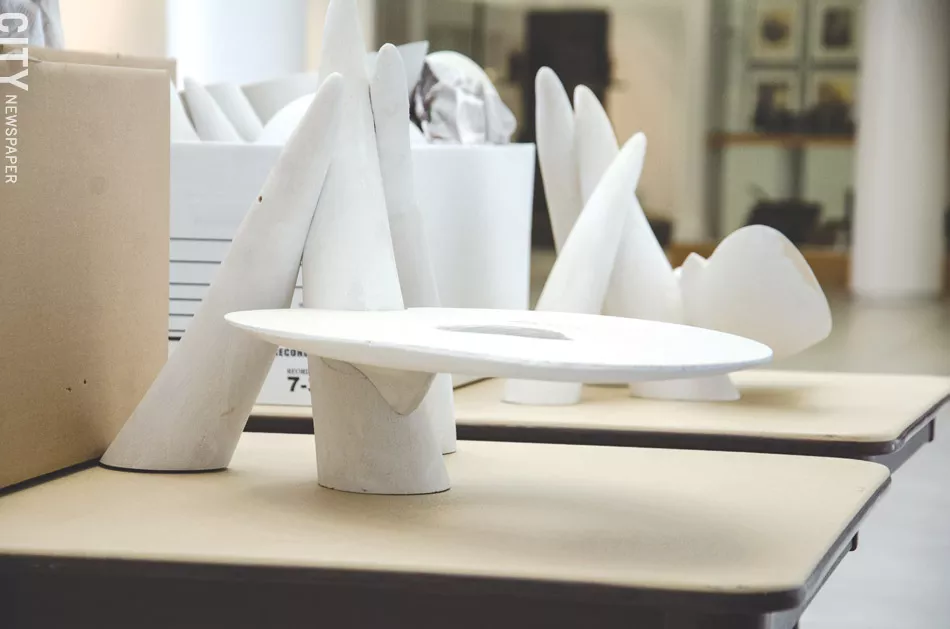 FILE PHOTO
Scale models of fine art furniture by Wendell Castle.
"Looking back through my photos of the events I have organized for RIT industrial design students during New York City's design week each May for the past 8 years, I noticed something; Wendell Castle appears in all of them. Looking back through still more photos of design events we've organized on campus at RIT — the Vignelli Design Conversations lecture series, the exhibitions, the panel discussions — Wendell seems always to be in the mix there, too.
"Thinking back to the annual faculty mixer I've hosted at my home each summer since becoming the Chair of Industrial Design 6 years ago I realized the same thing: Wendell has attended all of those that I can remember. Wendell was always in the mix. Almost uncannily so. There is much to be said for showing up and Wendell was full of life at 85. I have the feeling that going forward I'll be looking for him at the next event and somehow it'll bring a smile to my face knowing that he'll be there — always there — in spirit."
Josh Owen, Professor and Chair, Industrial Design Program, RIT
"I was introduced and inspired by Wendell's work as a young teenage apprentice. It was not until many decades later that I had the pleasure to meet Wendell. He was humble, generous and became my friend. I will miss our many conversations on inspiration, the methods of making and the processes of creating. I will miss my friend."
Stan Rickel, Associate Professor, Industrial Design, RIT