Food truck operators run long days in the summer heat to be out with the festival crowds
Since modern style food trucks started hitting Rochester streets in 2011, they have become a cornerstone of the area's festival scene. At this point, it would be hard to imagine going to Park Ave Fest or the Jazz Festival without seeing these mobile food havens hoarded by festival goers.
As Lizzie Clapp of Le Petit Poutine, Matt Petrillo from The Meatball Truck Co., and Marty's Meats' Marty O'Sullivan will tell you, festival days can become marathon service sessions. For the food truck crews, the days are long during the summer. Although there is always prep work before a typical lunch service or catering event, a festival day starts well before the customer walks up to the window.
Organizers "have to close down the streets for public safety, and we need to be loaded in hours before the festival starts," O'Sullivan says. "That usually means truck on site with all our product by 9 a.m., which means we are at our commissary by 6:30 in the morning."
PHOTO BY MARK CHAMBERLIN
Ronnie McClive and Lizzie Clapp of Le Petit Poutine.
The public safety aspect comes up twice a day for the trucks during the larger street festivals. Trucks need to not only be there early, but they can't leave the area until it's been fully cleared. Picture leaving your house by 5:30 a.m., working a full day, shutting down, not being able to leave for an hour or two after close, and then having to turn around the prep again for the next day. And of course the more people you have to serve, the more the prep needs to be on point.
Cooking for Le Petit Poutine is "incredibly labor heavy due to the cutting and paring of all our potatoes," Clapp says. "We have our system pretty tuned up right now so we can cook about 300 pounds an hour. But we can easily crank through that prep in an hour when we're flying through festival lines. Prepping and preparing throughout the week is essential."
When I heard that 300 pound number, I was a bit surprised. I shouldn't have been, considering every time I've seen Le Petit Poutine there are consistently deep lines and people walking away with containers overflowing with fries covered in gravy and cheese curds.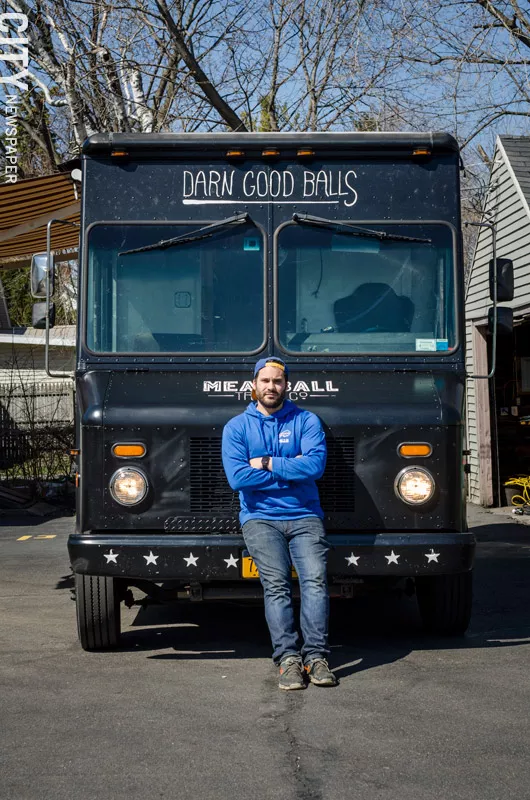 PHOTO BY MARK CHAMBERLIN
Matt Petrillo of The Meatball Truck Co. For food truck operators, the summer is a lucrative, but demanding season.
Talking with Petrillo, I learned that I wasn't the only one surprised by the demand at these festivals. Petrillo launched The Meatball Truck Co. at a Food Truck Rodeo — which is a daunting task itself.
"The first year going into it, you're almost blind except for the fact that people tell you it's busy," he says. "You think that you know what busy is, but you're almost always wrong. Now when we go into Park Ave Fest, we roll 4,000 or 5,000 meatballs, even though we can only load around 1,800 on the truck. We send people out to go get more ingredients if we have to."
For the people attending, making your way through a festival in the dead of summer can be an exhausting task. Imagine the heat that you experience walking on the streets and then add in the truck environment: multiple people in constant motion for extended hours in an enclosed metal box with limited ventilation surrounded by deep fryers and flattops.
The heat is part of the job, Clapp says, but even a slight breeze "can change your life in that truck." The people inside the trucks guzzle water to stay hydrated next to the fryers heating the truck and making everyone sweat.
"You really don't have to worry about having to take a pee break," Clapp says. "Sorry but that's real. It's when you stop sweating that you have to be worried."
During the festival grind, food vendors are just trying to keep their head above water and keep the customers happy. O'Sullivan had an interesting perspective on the pressure that comes with the busy service days, tying it back to his days on the hardcourt.
"One of the things I really like about the food business is that it reminds me a lot of athletics, which I did for a majority of my life," he says. "Shifts are like games, and you can have good or bad shifts. They can become physically and mentally draining especially with the short turnarounds of back-to-back days. You can end up exhausted, but there is a rush and team aspect to it."
Clapp related a story that many who've been sleep deprived can identify with in one way or another. She and her team were beat down from the day, and they ended up with almost no sleep before their next shift.
"We went through all of our prep — hundreds of pounds — and were so exhausted," she says. "We got back, cleaned all the dishes, truck, and the kitchen, and started cutting again."
That night, she and her business partner Ronnie McClive were in the kitchen until 3 a.m., got up the next morning to finish, and went right back for the festival's second day. "We were so delirious the next day I think we had one of those crying laughing fits that hurts my stomach still to think about."
The heat is rough and the hours are long while serving a figurative ton of food to the hungry public. But all three food truck operators overwhelmingly agreed that it was an overall positive.
"You get to be around all the other food truck owners and everyone is dealing with the same struggles for the season," Petrillo says. "When you're on the truck, you aren't just working; you're right in the middle of the action and having fun with friends and family."