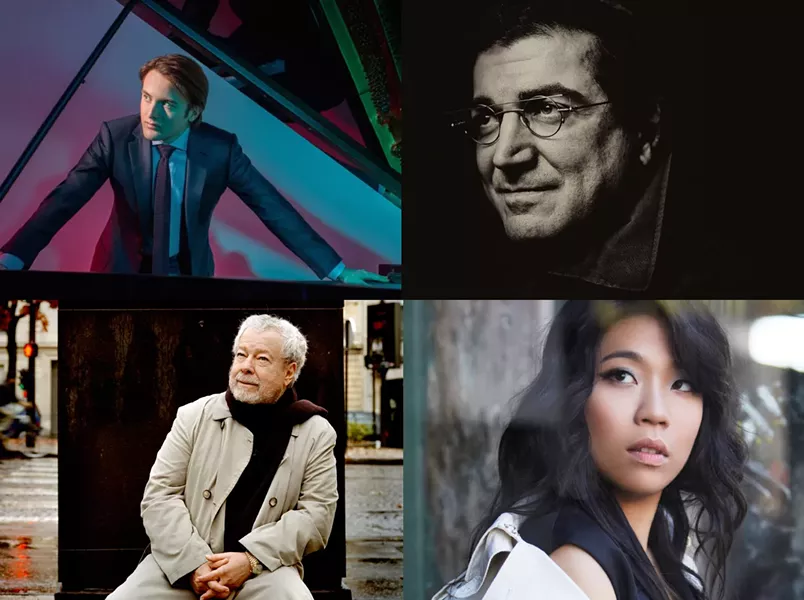 CLOCKWISE FROM TOP LEFT: PHOTOS BY DARIO ACOSTA; MARCO BORGGREVE AND KAUPO KIKKAS; AND KT KIM
The 2019-20 Eastman Piano Series features (clockwise from top left) Daniil Trifonov and Sergei Babayan on October 2, Joyce Yang on March 20, and Nelson Freire on April 7.
With a trio of high-profile concerts, the next season's Eastman Piano Series promises performances by some of the top international piano soloists in the scene. All of the featured musicians are accomplished technicians and engaging performers.
The series, in the Eastman School of Music's Kilbourn Hall, begins auspiciously on October 2 with a piano duo: Russian-born Daniil Trifonov and Armenian-American Sergei Babayan. The 28-year-old, Grammy-winning Trifonov, named the 2019 Musical America Artist of the Year, pairs with Babayan, his Deutsche Grammophon labelmate and former teacher at the Cleveland Institute of Music. Trifonov's meticulous style seems a good match for Babayan's virtuosic approach to the piano.
daniiltrifonov.com
;
sergeibabayan.com
.
Joyce Yang, who has previously performed with the Rochester Philharmonic Orchestra, returns on March 20, bringing her elegant sensibility to a solo recital. Emerging in 2005 as a breakout star at the Van Cliburn International Piano Competition, the Grammy-nominated musician continues to impress audiences with sparking articulation and melodic phrasing.
pianistjoyceyang.com
.
The series concludes on April 7 with Brazilian pianist Nelson Freire. Highly regarded among classical fans, Freire is an accomplished interpreter of Romantic masters like Chopin and Schumann, with a style that's expressive without being overly showy.
facebook.com/NelsonFreirePiano
.
Tickets and information about upcoming concerts can be found at the Eastman Theatre box office, 274-3000.