PHOTO COURTESY OF THE KEY BANK ROCHESTER FRINGE FESTIVAL
Plasticiens Volants
French theatrical group Plasticiens Volants brings its show "Big Bang" to Parcel 5 for Friday and Saturday on the Fringe. The world-renowned company will utilize giant inflatables, shadows, light, acrobatics, music, pyrotechnics, and poetry to examine human evolution — on land, in the sea, and through space — in a dazzling, surreal display taking place above and among the crowd. This tour will be the first time Plasticiens Volants has performed in the US — Buffalo's Artpark gets the show first, but Fringe's performances are free.
Plasticients Volants is the centerpiece to Friday and Saturday on the Fringe at Parcel 5, on September 15 and September 16, with performances beginning at 8 p.m. both days. The show is immersive and will take place around attendees, but there will be limited seating on nearby bleachers. Those who bring lawn chairs will need to set up in a designated area. Appropriate for all ages. For more information about the group, go to plasticiensvolants.com.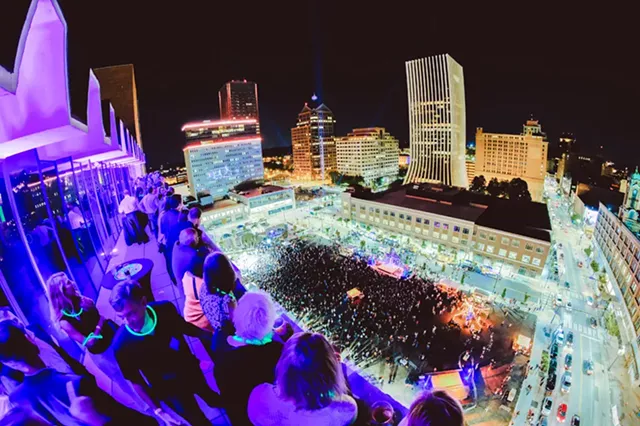 PHOTO COURTESY OF THE KEY BANK ROCHESTER FRINGE FESTIVAL
Friday and Saturday on the Fringe
The first Friday and Saturday tends to be some of the busiest nights at the Rochester Fringe Festival — that's part of the reason organizers have put together a lineup of eclectic, free entertainment to fill Parcel 5. In addition to Plasticiens Volants, you can wander between food trucks while listening to free music by Sisters of Murphy (Friday, 5 p.m.); Noble Vibes (Friday, 6:30 p.m.); the Rochester Scottish Pipes and Drums (Friday, 7:45 p.m.); Teagan and the Tweeds (Friday, 9:20 p.m.); the Brian Lindsay Band (Saturday, 5 p.m.); The Demos (Saturday, 6:30 p.m.); and Big Mean Sound Machine (Saturday, 9:20 p.m.).
Then on Friday, September 22, and Saturday, September 23, there will be a second weekend of free music and site-specific performances over on Gibbs Street. Friday's lineup includes Don't Know Jack (5 p.m.); The Crooked North (6 p.m.); Friday in America (7 p.m.); Sirsy (8:10 p.m.); and Oh Manitou (9:30 p.m.). On Saturday, the Fringe Street Beat dance competition will kick off at noon, followed by music by Will Bee (5 p.m.); The YellowJackets (6 p.m.); Mosaic Foundation (7 p.m.); La Muralla (8:10 p.m.); and Prime Time Funk (9:30 p.m.).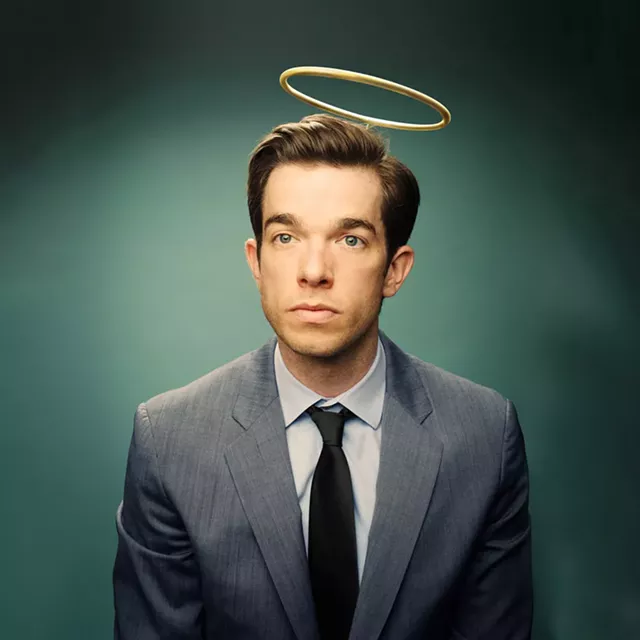 PHOTO COURTESY OF THE KEY BANK ROCHESTER FRINGE FESTIVAL
John Mulaney
Even if you don't immediately recognize John Mulaney's name — which, judging by the "sold out" sign on this show, you probably do — there's a good chance you know his work. The comedian has been a writer on "Saturday Night Live" (he and Bill Hader created everyone's favorite club kid, Stefon); his third stand-up special, "The Comeback Kid," was nominated for an Emmy; and he was just on the Great White Way in "Oh, Hello on Broadway" with Nick Kroll. Out on his "Kid Gorgeous" tour, Mulaney is bringing his brand of cleverly disarming sarcastic comedy to Kodak Hall on September 22. Unfortunately, the show sold out in early August. For more on Mulaney, check out johnmulaney.com.
PHOTO COURTESY OF THE KEY BANK ROCHESTER FRINGE FESTIVAL
Gospel Sunday
Get in a little church while you're out on the Fringe. The Gospel Sunday program has been a big draw at Fringes past, and the venues have typically been completely, standing-room-only packed. Reverend Rickey Harvey of Mt. Olivet Baptist Church will lead an afternoon program of joyful noise, featuring the African American women's gospel choir, Akoma; the group Judah, which blends traditional styles with R&B; and the Elim Sanctuary Choir, under the direction of Paul Boutté.
Gospel Sunday takes place September 17 in Kilbourn Hall at the Eastman School of Music. 2 p.m. Free. Appropriate for all ages.
PHOTO COURTESY OF THE KEY BANK ROCHESTER FRINGE FESTIVAL
Cirque du Fringe: "Eclectic Attraction"
A staple of the Rochester Fringe Festival, Cirque du Fringe will return to the Spiegeltent with an all-new show featuring Vaudevillian hosts Matt Morgan and Heidi Brucker Morgan and a fresh troupe of acrobats, contortionists, jugglers, dancers, and other circus bohemians. Created and directed by Matt Morgan (back for his third Fringe), "Eclectic Attraction" is billed as a "journey into the depths of a lifelong romance — from a very unexpected point of view." Last year's Cirque du Fringe: "Miracle Cure" was a sold-out, fast-paced combination of slapstick comedy, music, and mind-bending stunts (there were crossbows involved), so this year's 90-minute show is sure to be an adventure.
There are plenty of opportunities to see "Eclectic Attraction," with performances every day of Fringe, including two performances per day on September 16, September 17, and September 23. Matinee performances are billed for ages 5 and older, with the remaining shows appropriate for everyone 13 and older. Regular evening shows are $36; Monday and Tuesday nights and weekend matinees are $33 and $24 for ages 12 and under. Learn more about Matt and Heidi at mattlovesheidi.com.
"The Bicycle Men"
The raunchy musical comedy will be this year's late-evening Spiegeltent show on Wednesday, September 20, through Saturday, September 23. Wednesday and Thursday, 9 p.m.; Friday and Saturday, 9:15 p.m. Tickets are $28. Appropriate for mature audiences. thebicyclemen.com.
Click here for an interview with Joe Liss, co-creator of "The Bicycle Men."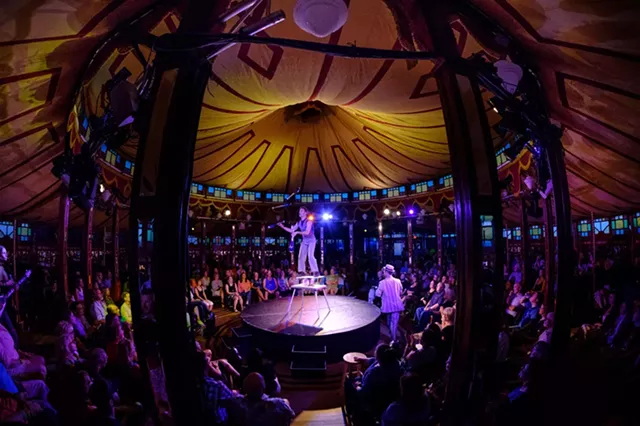 PHOTO COURTESY OF THE KEY BANK ROCHESTER FRINGE FESTIVAL
The Cristal Palace Spiegeltent
The Spiegeltent — Dutch for "mirror tent" — has served as the centerpiece for the Fringe for the last four years. The wood structure, punctuated by stained glass windows, multi-faceted mirrors, and a velvet-draped ceiling, is modeled after traveling dance halls of the early 1900's, and it'll serve as the stage for Cirque du Fringe and "The Bicycle Men."
The Spiegeltent will also host Afternoon Tea at the Spiegeltent on Sunday, September 17, at 3:30 p.m. The posh sit-down includes light snacks — with goods from Hurd Orchards and Orange Glory — and a "Fringe-y" twist. Tickets are $30 per person.
For the more energetic crowd, the ever-popular Silent Disco is back. As the name implies, it's an 18-and-older dance party where you only hear the music once you put on your wireless headphones. Flip through three different channels of competing DJs' music choices and groove away for three hours. Silent Disco takes place at 11 p.m. on September 15 and 16, and September 22 and 23. Tickets (which sell out fast) are $12.
Pint-sized partiers can also get in on the dance action at Disco Kids. There are no headphones for this one; just kids, the DJ, and a big ole dance floor to tear up. Disco Kids is on Saturday, September 23, at 11 a.m. Tickets are $6; free for kids 1 and under.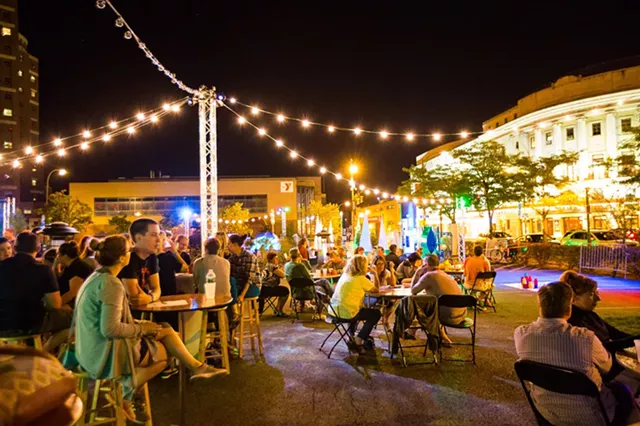 PHOTO COURTESY OF THE KEY BANK ROCHESTER FRINGE FESTIVAL
Spiegelgarden
Just because you can't get into the Spiegeltent, doesn't mean you're left out; there's plenty to do in the surrounding Spiegelgarden. Along with a bar tent and food trucks, the Spiegelgarden is the location for site-specific shows like "Bushwhacked," "Complimentary Heckling," "Dashboard Dramas," and "the space between."
Step into the Storychick Rochester Storybooth to hear stories from Fringe performers past and present — and you can add your own experiences by calling the Storychick hotline (210-0805) or finding them online (facebook.com/storychick for more details). The booth opens every day at 5 p.m.; 12 p.m. on September 16, and 11 a.m. on September 23.
Take an introspective, 3D sound journey with spatial sound artist Tom Montagliano in a 40-foot, glowing igloo. Shows are every night of the festival, at various times, and tickets are $16. Or check out free movies, from cult classics to big box office hits, each night at the Pedestrian Drive-In. Using wireless headphones, watch "The Blues Brothers" (September 14), "Doubt" (September 15), "Captain America: The First Avenger" (September 22), and more, all on a giant screen. Movies run every night (except for Wednesday, September 20), at various times, and are free — look out for the Rochester connection in each movie. Check Fringe's website for the full lineup and movie ratings.
If you're more into food than film, look for the new Farm to Fringe events. Fringe partnered with Rochester farms and businesses to host a beer, wine, and spirits tasting (September 16; 3 p.m. to 5 p.m.; $5) as well as a pumpkin carving contest (September 22) and kids pumpkin painting (September 23).
The Spiegeltent and Spiegelgarden are located at One Fringe Place at the corner of Gibbs and East Main Streets. For more information on all of the events taking place in the Spiegeltent and the adjoining Spiegelgarden, visit rochesterfringe.com.