1. Eat a white hot.
2. Go to a food truck rodeo — More than 25 vendors, and local music. The final Wednesday of each month at 280 N. Union Street, 5 to 9 p.m.
3. Try some Ribbon candy at Oliver's Candies, 211 W. Main Street in Batavia.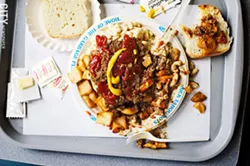 FILE PHOTO
A Garbage Plate at Nick Tahou's.
4. Expand your cooking skills with a culinary class
5. Learn the differences between frozen desserts
6. Finish a Garbage Plate, or the vegan Compost Plate.
7. Grab a drink at Marge's Lakeside Inn, 4909 Culver Road, and sit on the beach.
8. Take advantage of the water by taking a dinner cruise on the lake, river, or canal.
9. Learn more about wines at an educational seminar during Winestock — Saturday, June 28, 12 p.m. to 5 p.m. at Three Brothers Wineries & Estates in Geneva. Winestockny.org.
FILE PHOTO
Enjoy a drink at Marge's Lakeside Inn.
10. If beer is more your style, the Finger Lakes Brew Festival takes place Saturday, June 21, 5 p.m. to 10 p.m. at the Geneva Lakefront Events Center. Visitgenevany.com/events/finger-lakes-brew-festival.
11. Take in the fresh air and relax with an outdoor yoga class.
12. Take a margarita tour of the city
13. Stroll through the exotic flowers at the Lamberton Conservatory, located in Highland Botanical Park, 180 Reservoir Avenue. Monroecounty.gov/parks-conservatory.
14. Let a butterfly rest on your shoulder at the Museum of Play's Dancing Wings Butterfly Garden. 1 Manhattan Square Dr.; Museumofplay.org.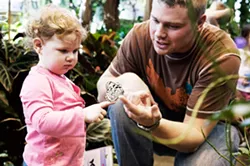 FILE PHOTO
Interact with butterflies at the Museum of Play's Butterfly Garden.
15. Launch into the solar system or catch a laser light show at the Strasenburgh Planetarium at the Rochester Museum and Science Center. 657 East Ave.; Rmsc.org.
16. Discover the Public Market after hours and grab dinner at Cure or check out the Collaborative Art Space, the Yards. 50-52 Public Market. Curebar.net; Attheyards.com.
17. Take a dance class, everything from belly dancing to hoop dance. Get your body in motion.
18. Cruise into a cruise-in or stop by a car show and see many of the vintage cars that come out when the salt is washed away. Streetmachinesof-rochester.com.
19. Celebrate the ingenuity of the Erie Canal and feel the boat rise and lower with the locks on one of the Sam Patch boat tours. 12 Schoen Place. Samandmary.org.
21. The grapes have been stomped and bottles corked, follow the many Finger Lakes wine trails and pick your favorite winery.
22. Do you know how to kayak? Come out to Lock 32 and take a class or play in the Whitewater Kayak Park. 149 Elmwood Ave. Geneseewaterways.org.
23. Seen any street art lately? If not, explore the hidden water towers at the top of Cobbs Hill Park after a stroll around the reservoir. Cityofrochester.gov/cobbshill.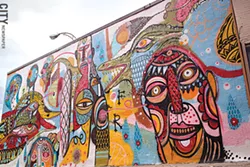 FILE PHOTO
Adam Francey's 2013 Wall-Therapy mural.
24. Speaking of street art, find the many Wall Therapy murals produced this spring.Wall-therapy.com.
25. See Rochester's local talent at poetry slam or open mic night.
26. Learn how to bind your own books at the Genesee Center for the Arts. 713 Monroe Avenue. Geneseearts.org.
28. Take (or teach!) a variety of classes at Rochester Brainery and learn something new from your neighbors. Village Gate, Goodman Street. Rochesterbrainery.com.
FILE PHOTO
Writers & Books on University Ave.
29. Attend a reading from a visiting writer or learn ways to improve your own writing skills at Writers and Books. 740 University Avenue. Wab.org.
30. Immerse yourself in the history of the women's suffrage movement at the Susan B. Anthony House. 17 Madison Street. susanbanthonyhouse.org.
31. Come see the American alligators this summer at the Seneca Park Zoo before they go back to Florida. 2222 St. Paul Street. Senecaparkzoo.org.
32. Seneca Park Zoo also hosts a ZooBrew happy hour and live music for adults 21 and over once a month. 5:30 to 9 p.m. on Friday, June 20, July 18, August 8, and September 5. Senecaparkzoo.org/ZooBrew.aspx.
33. Spend some time at the theater.
34. If you're looking for more Shakespeare and classical theater, the Stratford Festival in Stratford, Ontario, offers standard-setting productions throughout the summer. Presentations of "Man of La Mancha," "King Lear," "Antony and Cleopatra," "A Midsummer Night's Dream," and "King John" are running through the fall. More information can be found at Stratfordfestival.ca.
35. Take a trip to Niagara-on-the-Lake, Ontario, for a production during the Shaw Festival. This year, the festival features "Cabaret," "The Philadelphia Story," "The Sea," "Arms and the Man," and "The Mountaintop." Shawfest.com.
36. This summer, Stageworks, a theater company whose productions benefit Rochester-based charitable organizations, will show "Bonnie and Clyde," July 11-13, and "Ain't Broadway Grand," August 1-2. For more information, visit Stageworksroc.org.
37. Attend a lecture at the Chautauqua Institution. This year's lecturers include Roger Rosenblatt, Tom Brokaw, Dennis Dimick, Jim Richardson, Colin G. Campbell, Ken Burns, Fareed Zakaria, and Geoffrey C. Ward. Themes include "Feeding a Hungry Planet," "The Ethics of Privacy," "Emerging Citizenship," "The American West," "A Week with Ken Burns," "Chautauqua's Global Public Square," and "Health Care: From Bench to Bedside." Chautauqua also hosts theater, musical acts, and other entertainment throughout the summer. Ciweb.org
FILE PHOTO
Check out a local drag show.
38. Catch a drag show and see some of the best Kings and Queens in Rochester strut their stuff on stage.
39. See the works of six exceptional regional artists during Rochester Biennial at the Memorial Art Gallery. 500 University Avenue. Mag.rochester.edu.
40. Catch one of the season's flicks.
41. Skip the store and go pick your own strawberries at any one of Rochester's local farms.
42. Reserve your weekly supply of fresh vegetables for the summer and support your local farmers by joining CSA. (Community Supported Agriculture)
43. Take advantage of the new bike lanes in Rochester and join in on a Critical Mass.
44. Want to scale buildings, jump over benches and let the city be your playground? Then start practicing at the Rochester Parkour gym. 121 Lincoln Avenue. Rochesterparkour.com.
45. See a movie for $1 during the Summer Movie Express at Regal Theaters. Regmovies.com/Movies/Summer-Movie-Express.
FILE PHOTO
Check out a local vintage car show.
46. Watch out for the free movies in the park at Ontario Beach and Highland Park Bowl in July. Monroecounty.gov/parks-movies.
47. Get cozy at the drive-in and see what movies are playing on the big screen at Vintage Drive-In Theatre. 1520 W. Henrietta Road. vintagedrivein.com.
48. Relive the romance of the black and white films or even a silent film at the Dryden Theater of the George Eastman House. 900 East Ave. Dryden.eastman.org.
49. Get some food and listen to music at the Pittsford Food Truck + Music Fest. Saturday, June 14, 12 to 9 p.m. Behind the Pittsford Library, 24 State Street in Pittsford.
50. Practice or show off your skate, bike, and board tricks at the Rochester Action Sports Park. 1044 University Ave. r-a-s-p.com.
51. Running a Marathon on your bucket list? Let Roadracing Fleet Feet help you get ready to run with training workshops. 155 Culver Road. fleetfeetrochester.com.
52. If a marathon seems too intense, run (or walk) a 5K. There is a race for everyone, and it's a great way to get outside. robertstech.com.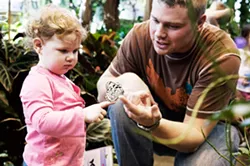 FILE PHOTO
Interact with butterflies at the Museum of Play's Butterfly Garden.
53. Relax on the water and explore a "secret wilderness" in the wetlands with a paddleboat at Bay Creek. 1099 Empire Blvd. baycreek.com.
55. You could spend another full day at Darien Lake, 9993 Allegheny Road in Darien Center. Darienlake.com.
56. Play a round at Parkside's Whispering Pines Miniature Golf. The course opened in 1930 and is listed on the National Register of Historic places as the oldest miniature golf course in the U.S. Hours vary during season, call 323-2710; Parksidediner.com/miniature-golf.
57. Want to forgo the putter? There's disc golf. The Greater Rochester Disc Golf Club can help you get started. Grdgc.org.
58. Have a picnic in Highland Park.
59. Check out an NFL practice. The Buffalo Bills offer free admittance to its daytime practices during training camp. Night practices require tickets. Check the team's website for the summer practice schedule: Buffalobills.com/team/training-camp/home.html.
60. The Rochester Red Wings baseball season is in full swing, so spend an afternoon in the stands. Redwingsbaseball.com.
FILE PHOTO
Historic base ball at Genesee Country Village & Museum in Mumford.
61. If you like baseball, you may want to check out the vintage Base Ball teams in Rochester. The games use 19th century rules, uniforms, and equipment. For more information: GCV.org/volunteer/19th-cenutry-base-ball.
62. Road trip to a regional art gallery.
63. Soccer fans will want to keep an eye on the Rochester Rhinos. Rhinossoccer.com.
64. The women's soccer team, the Western New York Flash is making some noise, too. Wnyflash.com.
65. The Rochester Dragons, the city's professional Ultimate Frisbee team, will have games open to the public through the summer. For tickets, Rochesterdragons.com.
66. There's also a Bocce League in Rochester: Bocceleagueofrochester.com.
67. Design a scavenger hunt around the city.
PHOTO BY MATT DETURCK
Grab your friends and tour the local minigolf courses around the state.
68. Take a mini-golf tour of New York state.
69. For those days that happen to rain this summer, several businesses around Rochester offer indoor sports options, like Hotshots Real Beach Volleyball, 1046 University Avenue. Hotshotsvball.com.
70. Check out the indoor trampoline park at Sky Zone, 155 Bellwood Drive. Skyzone.com.
71. And NVP Paintball, 1046 University Avenue, boasts a 15,000 square foot indoor paintball playing field. Nvppaintball.com. You can also get a team together and play at Performance Paintball's outdoor field. Reaperpb.com for more information.
72. Have you seen a Roc City Roller derby bout yet? Catch one of the teams this summer. Rocderby.com for schedule.
73. If you want loud cars and speed, look to the Canandaigua Motorsports Park, 2820 Country Road 10 in Canandaigua, for races every week. Canandaigua-motorsportspark.com.
74. You can also check out the famous Watkins Glen International, 2790 Country Route 16 in Watkins Glen. Theglen.com
75. Rochester hosts several citywide organized and open sports programs including softball, basketball, baseball, ice and floor hockey, soccer, flag football, tennis, and wrestling. For information on joining a league, visit Cityofrochester.gov/sports.
76. Rochester has its own Adult Kickball League, as well. Kickball-rochester.com.
77. Finally cross skydiving off your bucket list; several area companies will take you up, including Rochester Skydivers and Finger Lakes Skydivers.
78. Go for a hot air balloon ride around the Finger Lakes region.
79. Spend Saturday beach hopping until you find that perfect spot.
80. The City of Rochester offers numerous aquatics options, including public pools. Check Cityofrochester.gov/aquatics/ for a pool near you.
81. If you're taking a day trip to Syracuse, find some time to feed the wildlife at Webster Pond, 2000 block of Valley Drive.
82. If you're interested in architecture, history, and the homes of New York, go on a house and garden tour with the Landmark Society of Western New York. Landmarksociety.org.
83. Learn more about the Flower City's horticultural history, and explore your own green thumb with classes at the Rochester Civic Garden Center. Rcgc.org.
FILE PHOTO
Kayak at Lock 32.
85. If you tour the George Eastman House, pay close attention to the gardens. Eastmanhouse.org/visit/todo/gardens.php.
86. See the "Grand Canyon of the East" at Letchworth State Park — and then camp overnight. Nysparks.com/parks/79/details.aspx.
87. Stony Brook State Park, 10820 Route 36 South in Dansville, also gives some beautiful scenery for an afternoon trip.
88. Take a lesson in horseback riding. Several organizations, including Herberle Stables (Heberlestables.com), Evergreen Stables (Evergreenstables.us), and Meadows of Mendon Stables (Meadowsofmendonstables.com), offer lessons in various styles of riding.
89. Soak in some sun at Ontario Beach Park.
90. You could spend a week in the Finger Lakes area — and we could write a full guide — but relax and take a drive with the windows rolled down. Fingerlakes.org.
91. Take a trip to the Canada side of Niagara Falls.
92. Relive the Saga, original Pacman, and other classic video games at the Strong Museum of Play. 1 Manhattan Square. Museumofplay.org.
93. Explore the Mount Hope Cemetery. The friends of Mount Hope Cemetery offer general and themed — i.e. Horticulture Tour, Mischief, Murder, and Mayhem, and Rochester Baseball Pioneers — guided walking tours each weekend through October. Fomh.org.
94. Do as Macklemore and try thrift shopping. Original vintage 40's dress for $2, or a new set of dishes for $10? You never know what you will find.
FILE PHOTO
RoCo's 6x6
95. What can an artist design in a 36 inch (squared) board? Come see at Rochester Contemporary Art Center's 6x6, June 7 through July 13. 137 East Avenue. Roco6x6.org.
96. Have kids? Give them something to do.
97. Participate in a workshop at the Memorial Art Gallery. Mag.rochester.edu/creativeworkshop.
98. The Visual Studies Workshop is hosting its Summer Institute through June 28, featuring intensive one-week and weekend workshops with visiting artists and scholar. Vsw.org/summer.php.
99. Have a drink on the upstairs patio at The Genesee Brew House, 25 Cataract Street.
100. Forget winter ever existed.