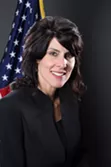 PROVIDED PHOTO
Cheryl Rozzi
Greece Town Clerk Cheryl Rozzi, a Republican, will take on acting County Clerk Adam Bello, a Democrat, in November.
Monroe County Republican Committee Chair Bill Reilich — who is also Greece supervisor — announced Rozzi's candidacy this morning . Rozzi was appointed Greece town clerk in 2014 and prior to that, served as clerk of the Monroe County Legislature. Reilich's press release says that she has 15 years' experience as a clerk, as well as 10 years of experience running a small business.
Governor Andrew Cuomo appointed Bello as county clerk in March. To stay in the office past the end of the year, though, he has to run for election in November. Bello is former supervisor of Irondequoit.