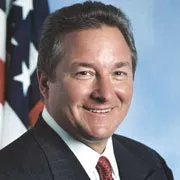 Monroe County Republican Party chair Bill Reilich
Pity poor Bill Reilich, chair of the Monroe County Republican Party. All Reilich wanted to do is to take a cheap swipe at soon-to-be county clerk Adam Bello and instead found himself facing a possible defamation lawsuit.
The ordeal started when Governor Andrew Cuomo appointed Bello, a Democrat and the Irondequoit town supervisor, to the vacant county clerk position; the seat has been vacant since January when Republican Cheryl Dinolfo gave it up to take office as county executive. Reilich, fulfilling one of his duties as head of the county GOP, sent out a statement saying how awful Bello is, even though Republicans didn't bother running anyone against him this past November.
But Reilich's mud-slinging missed its intended target and hit I-Square owners Mike and Wendy Nolan instead. Reilich's statement included a phrase, "financial woes are already apparent as I-Square is failing," that pissed off the Nolans, who have put several millions of dollars into the development in the heart of Irondequoit. The Nolans quickly responded.
"I-Square served over 100,000 customers in 2015 and has exceeded new employee goals," Mike Nolan wrote in a statement released on Facebook. "To refer to our business as 'failing' as Mr. Reilich did is a lie. To lie about the viability of a locally-owned, family business for political rhetoric is immoral and is harmful."
Reilich could have walked back his remarks, but instead he doubled down and called in COMIDA for backup. He issued a new statement, saying that I-Square's "apparent financial woes" are evident because it had defaulted on a tax-incentive agreement between the the Nolans, the town, the West Irondequoit school district, and COMIDA. And then COMIDA followed up with its own statement to the press Monday morning, siding with Reilich.
The agency also released a memo prepared by its attorney, Harris Beach's Rachel Baranello Endress. The Nolans have met all of the investment and hiring benchmarks in the agreement, she wrote, but haven't built a second required building. COMIDA confirmed it by visiting the I-Square site at 7 p.m. on Sunday night, said a memo from a COMIDA attorney.
"COMIDA is within its rights to declare this PILOT Agreement in default and to pursue any or all remedies at its discretion," said the memo, dated March 21. And Reilich e-mailed yet another statement to the media.
"The issue I raised with I-Square was not with the developer, but rather with Adam Bello, who is abandoning them during a time of great need," he said. "Despite appearances, the documents released by COMIDA clearly show that the project is in jeopardy and has failed to fulfill its promises to the taxpayers. It is no secret that I-Square received millions of dollars in taxpayer assistance through abatements and grants from the Town, School District, County, and State. I certainly recognize the need for that assistance given the State's dismal business climate, but I also know that taxpayers demand accountability for their investments.
"I truly believe this project can be successful; I'm just disappointed that Adam Bello has decided to abandon them during this difficult time," Reilich said.
But Reilich and COMIDA have already created wounds in Irondequoit. During an appearance on WXXI's Connections on Monday, Michael Nolan said that I-Square won't contact COMIDA, but its attorney will. The statements from Reilich and COMIDA have escalated to the point that they're harmful to business, he said. Mike Nolan also said that they plan to file a defamation suit against Reilich for portraying I-Square as failing.
COMIDA doesn't come off well here, either. It's basically the economic development arm of the county and its role is to support and encourage business growth. But it's also under Republican control, and it just turned on a popular local business to make sure that the local GOP boss doesn't look bad. Even if I-Square isn't complying with the terms of its agreement with COMIDA, the agency just dinged its own already rocky credibility.
What all this is really about, of course, is politics. The county clerk's seat has become a launching pad into the county executive's office, and Reilich and the GOP want to stifle Bello's county career before it even starts.
Memo to P. Johnson T. Mazzullo From R. Endress (HBROC-2771281 v1)