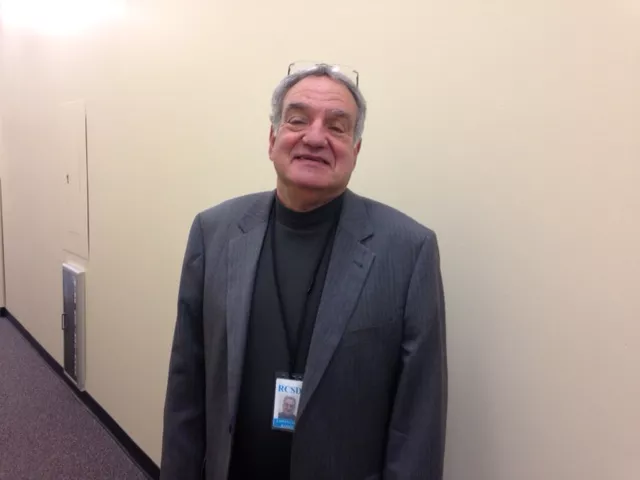 PHOTO BY TIM LOUIS MACALUSO
Daniel Lowengard
UPDATE, Monday, January 11: Rochester school board president Van White provided an update on Lowengard's condition in a letter to the "school community" over the weekend. The letter appears after the original post.

ORIGINAL POST:
Daniel Lowengard, interim superintendent of the Rochester school district, collapsed during a meeting with teachers on Thursday night.
He is reported to be in guarded condition at Strong Memorial Hospital.
Lowengard took over for former superintendent Bolgen Vargas, who left the district on December 31, 2015.
The school district sent over the following statement last night:
"Interim Superintendent Dan Lowengard fell during a presentation this evening and appeared to have fainted. EMT's were called and have taken him to Strong Memorial Hospital where he is undergoing tests this evening. Mr. Lowengard was alert immediately after the fall and remains so at the hospital where he is speaking to his doctors, family members, and district staff. We will have a further update on his condition Friday.
"The event was "A Conversation About Teaching and Learning" with the interim superintendent, hosted by the Rochester Teachers Association at Temple B'rith Kodesh in Brighton."
WHITE'S LETTER:


To the Rochester City School Community,
I want to provide an update on the status of Interim Superintendent Dan Lowengard. I spoke to Dan late in the day Friday and again this afternoon. I was pleased to hear firsthand that he is feeling better and in good spirits.
Dan is keeping details of his medical situation private, but he remains in the hospital today and advised me that he won't be in the office this week (January 11 to 15). Dan said it will be a few more days before he knows how soon he might be able to return to work. He asked me to express again his appreciation for our well wishes and support, while repeating his family's request that staff members refrain from visiting or calling for the time being.
I assured Dan that the Board has full confidence in the District staff and leadership team to keep things moving forward as he takes a few more days to consult with his doctors. The District functions well all the time when the Superintendent is out of the office due to business travel, vacation, or illness. Our experienced principals, teachers and school staffs continue to do the critical work of educating our children day to day. The Deputy Superintendents—Adele Bovard for Administration, and Dr. Christiana Otuwa for Teaching and Learning—oversee the operational and educational functions of the District and represent the Superintendent on the areas they manage. Interim Chief of Staff Linda Cimusz, who joined the District last week, also can represent Dan and has the authority to sign documents on his behalf.
I have spoken to these District leaders and my Board colleagues about the current situation. We all agree that respecting the privacy of Interim Superintendent Lowengard, and providing his medical team more time to assess his condition, are the right things to do. Please join us in wishing Mr. Lowengard well and hoping that he is able to return soon as our Interim Superintendent.
In the meantime, I am equally certain that you will continue to do a great job serving our students and families. Let us all remain focused on that work and make this a good week for the Rochester City School District.
Sincerely,
Van
Van Henri White
President
Rochester Board of Education