The unofficial results are in, and Republicans will keep their hold on the county executive seat, with Cheryl Dinolfo pulling in 56 percent of the vote against Democrat Sandy Frankel and Green Party candidate Rajesh Barnabas. Frankel pulled in 41 percent while Barnabas received 2.7 percent.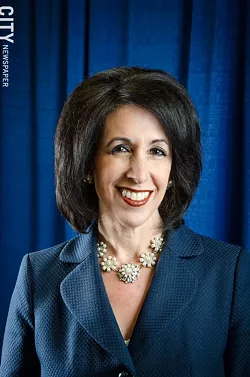 FILE PHOTO
Cheryl Dinolfo
Dinolfo, the current county clerk, ran like a favored incumbent while Frankel had trouble gaining notice or traction. Neither woman is a dynamic campaigner and Frankel's loss to Maggie Brooks in a previous county executive race seemed to tamp enthusiasm for her candidacy this time around. Dinolfo was also able to raise more money than Frankel, who was backed by a currently weakened Democratic Party.
Republicans also kept their majority in the County Legislature tonight, and with most of the election districts reporting, appear to have gained a seat. They went into today's elections with 18 seats, and sitting Democratic Legislator Dorothy Styk, who was a Republican until switching parties earlier this year, was defeated by her GOP challenger, Tanya Conley.
The Conley victory is the only upset. All 29 County Legislature seats were on the ballot today, but only nine were contested.
Crucially, Democrats did retail their ability to block large county borrowing measures, their major source of leverage in the Legislature.
The GOP also prevailed in Henrietta, despite an aggressive push by a Democratic slate. Notably, sitting Republican supervisor Jack Moore defeated former town supervisor and Democratic challenger Mike Yudelson. Earlier this year, Moore was recorded making racially insensitive remarks to some town employees.
Democrats did do well in Irondequoit, where two sitting Democratic members of the Town Board, Nicole Hushla Re and John Perticone, beat their GOP challengers. Their victories mean that the Town Board remains entirely Democratic. (Supervisor Adam Bello, also a Democrat, didn't have a challenger.)