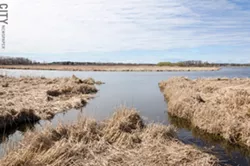 FILE PHOTO
The US Army Corps of Engineers has developed a project to restore some of Braddock Bay's wetlands.
The US Environmental Protection Agency will provide $9.5 million for an Army Corps of Engineers project to restore wetlands in Braddock Bay in the Town of Greece.
Senator Chuck Schumer announced the funding during a press conference this morning. The money will cover the cost of building an artificial barrier at the mouth of the bay, as well as work to improve the conditions in a critical section of the wetlands.
Braddock Bay is one of few Lake Ontario coastal wetlands of more than 100 acres. But strong waves are eating away at the marshes, which are also overgrown with cattails.
The barrier will be built out of limestone boulders, and sand from the bay, as well as plants, will fill the gaps. The Corps says that the barrier should break some of the powerful waves that are blown into the bay during big storms; it's those waves that are eating away at the bay shores.
The bay has also become clogged with sediment that's drifted in from the lake. Historically, a barrier beach kept that sediment out, but it was destroyed in large part by extremely powerful waves from Hurricane Agnes. Corps officials say that they expect that the artificial barrier will help address that problem.
As for the wetlands themselves, the Corps plans to focus on some higher-diversity areas of the complex. It'll clear out some small, shallow ponds to make the areas more attractive to important birds, fish, and mammals, such as northern pike, muskrat, and black tern. The tern is a waterbird that historically nested in the bay, but hasn't been seen nesting there since the 1990's. A stated goal of the Corps project is to attract nesting black terns back to the bay.