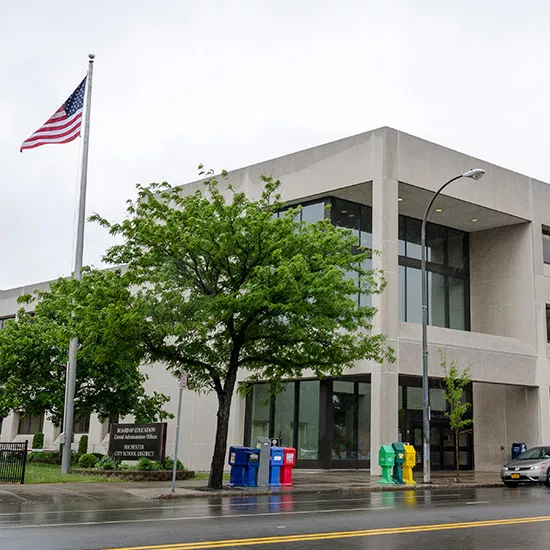 FILE PHOTO
Rochester Board of Education and district central office.
The activist group Metro Justice will hold a rally today at 6 p.m. on revisions to the Rochester school district's Code of Conduct. The event, which will be held prior to the school board's monthly business meeting, will take place at district headquarters, 131 West Broad Street.
The rally is intended to urge board members to take action quickly so that code changes can be implemented when school starts in the fall, says Eamonn Scanlon, education organizer for Metro Justice and Alliance for Quality Education of New York.
The Community Task Force on School Climate, formed by Rochester schools Superintendent Bolgen Vargas, the school board, and the Rochester Area Community Foundation, is rewriting the district's Code of Conduct to more effectively deal with student discipline and in particular, suspensions.
The task force is a group of parents, teachers, students, law enforcement personnel, health and human services providers, nonprofit agencies, and neighborhood and civic leaders.
High suspension rates are directly linked to what some educators and social workers call the school-to-prison-pipeline. When suspensions are combined with low attendance, students are at risk of falling too far behind and often decide to drop out. Suspensions in city schools climbed to about 11,000 students annually by the mid 2000's.
Scanlon says that he is concerned that the code revisions will become engulfed in a process that will take too long to meet the needs of students and families who need relief now.
Metro Justice has been going directly to city parents and students, he says, knocking on doors, and listening to their concerns. And there is a sense of urgency among parents to address the district's high suspension rates and punitive school climate, Scanlon says.
But there is no guarantee that the revised Code of Conduct will be ready for implementation by September, says education activist Rosemary Rivera. The policy is still a draft and multiple revisions will be reviewed by attorneys at Advancement Project, a civil rights group that has worked with several large school districts to improve school climate, before the policy is submitted to the school board for approval.
Rivera says that she understands the urgency, but it is important that the new code be intervention-based, with clear alternatives to suspensions.