Governor Andrew Cuomo didn't get everything he wanted in the state budget in terms of education. The state will develop yet another teacher evaluation system, and it will take four years for teachers to become eligible for tenure instead of three. But that's quite different from Cuomo's starting position.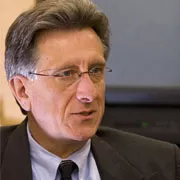 FILE PHOTO
Bill Cala, interim superintendent of Fairport schools
And the impressive pushback against Cuomo's education reforms in the weeks leading up to the final budget was far stronger than Cuomo probably anticipated. Cuomo has tried to spin it in a positive light, but he clearly walked back some of his demands.
And the tension won't end with the passage of the budget. There continues to be strong resistance to testing and the Common Core curriculum, and some of the luster around charter schools may be fading.
Locally, some of the sharpest criticism against Cuomo and his policy ideas comes from Bill Cala, interim superintendent of Fairport schools. Cala skewered Cuomo at an education rally several weeks ago — a video of the event appeared recently on education
historian Diane Ravitch's blog
.
The video is worth the 15 minutes it takes to watch it just to hear Cala talk about a letter he wrote to Cuba's Castro brothers concerning Cuomo's imminent visit.
Cala is something of a local education folk hero, and he has many supporters as well as tough critics. He's not just outspoken; at times, he's been defiant of state and federal authority regarding education. Though Cala lists a number of concerns with Cuomo's education agenda, he also, in the video, zeros in on the main problem that has probably dashed any presidential dreams that Cuomo might have had: credibility. Many people aren't buying what Cuomo is selling, and it's not just teachers and their union leaders, as he so often frames the discussion.
The Democratic governor is still fairly popular in his home state, but he's hardly an authority on ethics — his other big issue. In the video, Cala points to Cuomo's campaign contributions from hedge fund managers – big supporters of charter schools. Cuomo called for adding 100 more charters in New York as part of the budget, but didn't get it. And Cuomo's handling of the Moreland Commission left many questions unanswered, and it seems that at least some of that suspicion has spilled over into perceptions about his handling of education.