Rochester schools Superintendent Bolgen Vargas presented an $800 million
proposed budget
for the 2015-2016 school year Monday night. Vargas told school board members that he could close a $40.5 million budget gap with few layoffs, while investing more than $25 million in a lengthy list of priorities. But all that depends heavily on what happens in Albany with the state's budget negotiations.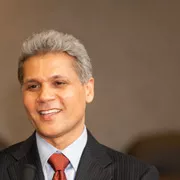 FILE PHOTO
Rochester schools Superintendent Bolgen Vargas
Still, Vargas's presentation was a smartly mixed package that began by reminding board members of his accomplishments over the last three years and segued into a fairly clear spending trajectory. Spending is closely aligned with a vision for turning the Rochester school district around.
Vargas said that he's closed $136 million in budget shortfalls and saved $46 million through various cost-saving measures during his brief tenure, and that he's done so without major layoffs. Opportunities for students to participate in art, sports, and music have dramatically increased under his watch — the latter leading to the creation of the district's first marching band in years.
Next year's budget builds on that foundation, Vargas said. It furthers the district's commitment to reading proficiency by adding 46 reading teachers, with at least one dedicated reading teacher in each school. Three more schools would join the 10 elementary schools that already offer expanded learning and longer instruction time, and programs at Edison Tech, Wilson IB, Leadership Academy for Young Men, and East High school would be fundamentally re-vamped.
City students no longer receive the least amount of instruction time in the county, Vargas said. And full-day prekindergarten, full-day kindergarten, and summer school programs could someday lead to suburban families choosing city schools, he said.
For now, however, families continue to flee city schools. But in spite of a continuing decline in enrollment – the district has lost nearly 9,000 students over the last 15 years, primarily to charter schools — some of the district's expenses continue to rise, such as the cost of transportation and employee health care benefits.
Critics will argue that situation is not sustainable, and Vargas agreed Monday night that the district can no longer maintain the same staffing levels it once had if it can't retain students.
He also said that he can't support the staffing when the number of students enrolled is actually higher than those who attend school, either because they attend sporadically or don't show up at all. Vargas said that during the last 15 years, student enrollment has dropped by 24 percent, while staffing has only been reduced by 8 percent.
There are currently 203 vacancies in the district that aren't likely to be filled, and a projected retirement reduction of 207 employees. Vargas also proposed eliminating 52 positions in the district's central office, cutting seven school administrator positions, and eliminating 17 teaching coaches due to a reduction in the grant that supported those positions.
Vargas said that after adding 131 new full-time positions – 38 for East High alone – there will be a net reduction of 148 total positions.
Though reducing the number of employees and looking for systemwide savings will help Vargas close a portion of the budget gap, he is also relying on some fairly big assumptions. He is counting, for example, on a 7.1 increase in state aid, or $26 million, though he said that he lobbied state officials for $36 million.
Coincidentally, the budget summary separates special funding for East High School under "additional priority actions." The University of Rochester will assume management of East later this year, which will involve a near $10 million investment.
Many school budgets are based on assumptions concerning what districts received from the state in prior years. And the Rochester school district received more than it requested last year.
But this year, a lot hinges on some key assumptions Vargas has made involving Governor Andrew Cuomo's budget wrangling with the Legislature. The budget, which is supposed to be approved next week, is reportedly hung up in negotiations concerning an ethics reform bill and reforms that Cuomo wants to see in education – mainly substantial changes in the way that teachers are evaluated.
If the district doesn't receive the $36 million that Vargas requested, it could set up a tense debate between the board and Vargas over which priorities are funded next year and where further cuts could be made.
The budget requires the approval of the school board and City Council. The board's budget deliberation will be on Tuesday, April 7, and a public hearing will be held on Thursday, April 9. Both meetings will be held at the district's central office, 131 West Broad Street, at 6 p.m.