Updated at 2:05 p.m.; 3/17/15: A statement from Vargas's attorney follows this blog post.
Original post:
If it's true, it's probably one of the strangest things to happen at the Rochester City School District. The
Democrat and Chronicle's Justin Murphy
reported yesterday
that three anonymous sources told him that Superintendent Bolgen Vargas offered to drop his plan to sue the school board if the board extends his contract by two years. Vargas's four-year contract ends in June 2016.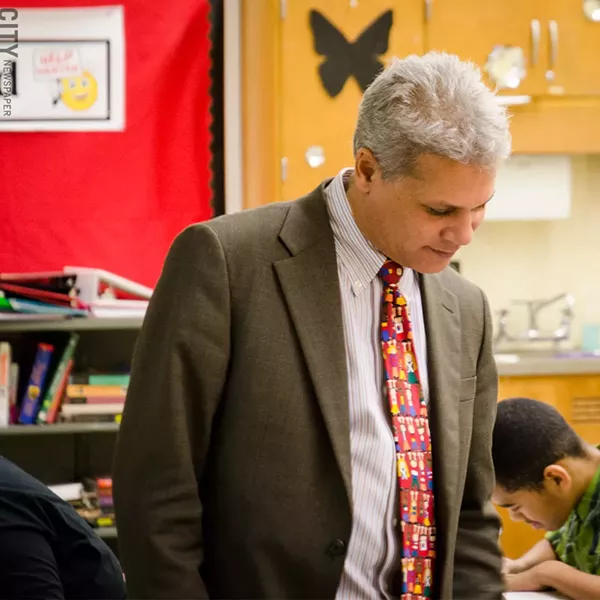 FILE PHOTO
RCSD Superintendent Bolgen Vargas
Vargas's attorney wouldn't confirm or deny the story. Neither would Van White, president of the Rochester school board.
There's more to this than anyone is willing to say on the record, but it's not surprising that the same people Vargas threatened with litigation are not jumping to extend his stay.
The rift between Vargas and board members, which has been brewing for months, erupted recently when the board passed resolutions that White says are intended to bring the superintendent's responsibilities in line with New York State education law. Of particular concern to the board is who is in the Superintendent's Employee Group.
Vargas's camp contends that the board has overstepped its responsibilities by interfering with the superintendent's role, and Vargas filed a notice of claim, which means that a lawsuit may be coming. The board has violated state education laws, the Vargas camp says, and breached the superintendent's contract.
Stepping back for a minute, this board has supported Vargas in some monumental ways: his vision for rebuilding the district's extracurricular activities, for example, and increasing students' access to art, music, and sports.
And they've supported his approach to improving student achievement by providing more students with additional learning time both during the school year and the summer – changes that require a lot of coordination between students, parents, and teachers.
Board members have been down this road many times: superintendents come in, make a lot of changes, and for various reasons, leave within a few years. Then they're left with the upheaval and trying to explain why student outcomes haven't improved.
Many people believe that Vargas is on the right track with his emphasis on improving attendance, reading proficiency by third grade, expanding access to prekindergarten, and requiring city students to attend kindergarten.
But the problem – and the opportunity – for Vargas is that his strategies for improving the district are for the most part, still strategies. There has been a slight uptick in the graduation rate, but the big improvements haven't come, yet. And the city school district remains the lowest performing of the Big Five.
If Vargas stays and uses the next year and three months to mend his relationship with the board and to turn some of his strategies into goals achieved, he would be on much better footing to negotiate his contract.
He would have credibility. More important, so would the district.
ATTORNEY STATEMENT:
Superintendent Bolgen Vargas's attorney, Steve Modica, provided a written statement in response to a call yesterday about the D&C article:
"I will not confirm or deny specific terms included in our settlement discussions. An article online last night substantially misrepresented the settlement terms discussed by the parties. It is NOT correct that Dr. Vargas was willing to leave the Board's ruling intact if they extended his employment contract. I can only assume that the motive of the person who offered this incorrect information was to harm the reputation and professional standing of Dr. Vargas."