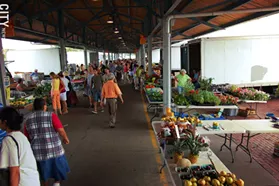 FILE PHOTO
The Public Market is a gem, but the neighborhoods surrounding the market struggle.
I like the idea of a direct connection between Village Gate plaza and the Hungerford Building; the two share a similar sensibility and right now, Hungerford kind of hangs out there on East Main, isolated, like Alcatraz. (Although I think some effort needs to be made to make Hungerford easier to navigate both inside and out.)
The connection is one idea to come out of the city's public meeting Tuesday night on its pending
East Main Arts and Market District Plan
.
The overall goal is to connect Neighborhood of the Arts with the neighborhoods around the Public Market both physically and emotionally, so that the latter shares in NOTA's vibrancy. The Public Market is thriving, but you wouldn't know it by the shape of much of the surrounding housing stock and empty commercial buildings.
The big barrier to this, of course, is East Main — dividing NOTA from the neighborhoods on the other side of Main like a moat. A pedestrian bridge over East Main is another idea to come out of Tuesday's meeting.
Other concepts either suggested by the city or by meeting participants include streetscape enhancements, protected bicycle lanes, beautification of the Main Street bridge, banners, and public art.
"Public art is debatable," one woman said. "I get all excited, but then they unveil it and, 'Oh no.'"
Accompanying the project, according to the city, will be an examination of housing-related issues and opportunities in the area.
The final East Main Arts and Market District Plan is due between August and October 2015, according to the city's timeline.