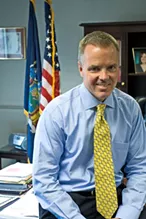 FILE PHOTO
Mike Green
What a race this would be.
Mike Green, former Monroe County district attorney, is considering a run for his old job, according to Dave Garretson, head of county Democrats.
"I would expect an announcement in a month if he is, in fact, running," Garretson says.
Green would not comment.
Green is deputy commissioner of the state's Division of Criminal Justice Services. He was nominated for a federal judgeship by President Obama. He was never confirmed, however.
He was DA from 2003 to 2011, but chose not to run again.
If Green runs, he will face freshly minted Republican Sandra Doorley. Doorley surprised everyone, including Garretson, when she announced her party switch.
But Garretson says that Doorley gave Democrats an unintentional gift. Prior to her defection, he says, the DA race probably would've been a sleeper. But now Garretson says that he expects a hot, lively race, whether or not Green runs.
Interesting races draw people to the polls, Garretson says. And when more people come out, he says, the advantage goes to Democrats.