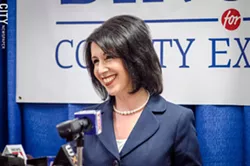 PHOTO BY MARK CHAMBERLIN
County Clerk Cheryl Dinolfo, a Republican, announced today that she'll run for Monroe County executive.
The Monroe County Republican Party has tapped County Clerk Cheryl Dinolfo to run for county executive.
Dinolfo, who's been since 2004, announced her candidacy at a press conference this afternoon. She was introduced by County Republican Party chair Bill Reilich, who touted some of Dinolfo's accomplishments as clerk.
Dinolfo focused on customer service and embraced new technology; her office has generated surpluses that have returned millions of dollars to the county; and she was an outspoken critic of former Governor Eliot Spitzer's proposal to allow undocumented immigrants to get driver's licenses, he said.
Reilich said that Dinolfo is "the only candidate with the qualifications and the moral fiber to lead this county into the future."
Dinolfo's speech centered on some key county GOP messages, which means that taxes got top billing. During her decade-plus tenure as county clerk, her office has generated $30 million worth of surpluses, she said, which has helped keep taxes down. And she made the same pledge that current County Executive Maggie Brooks, also a Republican, made during each of her campaigns.
"Simply put, I will not raise county property taxes," Dinolfo said. "Our families cannot afford it, Our community can't tolerate it. And I will not do it."
After her remarks, Dinolfo clarified that she's pledging to hold the property tax rate flat. Brooks has allowed the tax levy — the total amount the county collects in property taxes — to increase through new development and changes in property assessments.
Dinolfo also emphasized job creation, and said that she would lead a county government that would make smart investments in businesses. She said that when the county provides tax incentives or rebates to businesses for projects larger than $1 million, she'll insist that the businesses "double the amount of jobs that they're required to generate." (Critics of the Monroe County Industrial Development Agency, which awards various tax incentives to new or expanding businesses, often say that the subsidies come with lax job-creation requirements.)
Dinolfo also vowed to eliminate local development corporations and to create a county Office of Public Integrity.
"Our community deserves a government that is the most ethical and the most transparent in the nation," Dinolfo said.
County Legislature Democrats have repeatedly called for the county to create an Office of Public Integrity, but legislation they introduced to do just that was rejected by Legislature Republicans.
LDC's are, theoretically, independent entities established by a government to perform certain tasks. But the LDC's established during the Brooks administration and under her predecessor, Republican Jack Doyle, have worked closely with county government. And they've been a major source of controversy and scandal in recent years.
Monroe County Democratic Committee chair Dave Garretson released this statement on Dinolfo's announcement:
"The people are ready – more than ready – to clean up the mess known as Monroe County government. Cheryl Dinolfo is yet another County Office Building insider who offers no hope to those who want honest and efficient government. The Democratic candidate will be an outstanding leader who can deliver the positive change our community needs. Our candidate will announce his or her candidacy at the appropriate time."
Dinolfo Speech as Prepared by jmouleatcity